Activists renew push to restore Voting Rights Act provision they claim protects minorities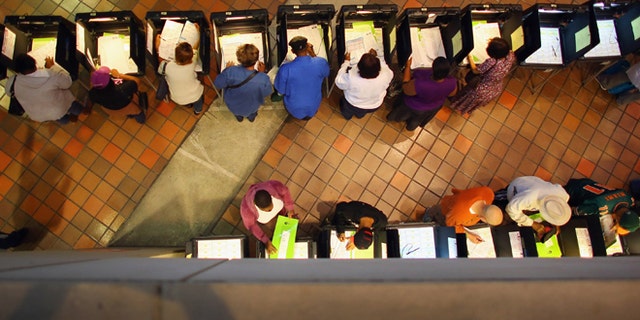 NEWYou can now listen to Fox News articles!
Activists are concerned. This will be the first major election following the Supreme Court decision that struck down a critical portion of the Civil Rights Voting Act. For the first time in almost 50 years, states and localities are not required to prove discrimination before making any changes to their voting process.
This year, advocates say, states have run amok with changes that would greatly impact minorities. And Latinos make up about 20 percent of the total population of the combined monitored states and localities, which were determined by a formula back in 1965.
After the Supreme Court ruling, Texas, North Carolina and South Carolina enacted a photo identification requirement. North Carolina also eliminated same-day registration and reduced early voting period. Meanwhile, Arizona enacted a plan that requires paper proof of citizenship for their state or local elections – voters who can't supply that will only qualify to cast a ballot in the federal election.
However, activists say Texas' photo ID requirement is one of the strictest in the country and will severely impact Latinos. About 11 percent of Americans do not have photo identification and Hispanics are far less likely to have an ID than whites Myrna Perez, director of voting rights and election project at the Brennan Center for Justice at NYU School of Law, told Fox News Latino.
Texas officials claim concern that voters will misrepresent themselves, but Perez said an expert hired by her group, which is challenging Texas' requirement and championing a Congressional amendment, found only about four cases of voter fraud in about 14 years. The Texas voter ID case wrapped up Monday after a two-week trial. The judge will make a ruling before Election Day.
"I think it's a shared American value that when they step into the ballot box, voters should not have to contend with racial discrimination," Perez said, adding she is hopeful the amendment will be taken up.
The proposed amendment, introduced in January, includes a provision that updates the formula to determine the states and localities that need monitoring to prevent discrimination. For instance, persistent low turnout among Latino voters would be a major red flag.
The amendment would also give additional authority to send federal observers to bilingual polling sites and require public notice to be given if there are changes to districts or boundaries, said Erin Hustings a policy analyst from the National Association of Latino Elected and Appointed Officials, NALEO.
By and large, activists say, the amendment has gotten bipartisan support among rank-and-file Congress members. But the leadership hasn't moved the issue forward, some said.

"We were never given a reason as to why," said Scott Simpson, a spokesman for The Leadership Conference on Civil and Human Rights.
"They agree with the premise that voting discrimination is important to fix but they refuse to address it by having a hearing on the [Voting Rights Act Amendment]," he added.
In fact, some activists note, voting rights doesn't seem to be a high priority for Congress this session. In the three short working weeks of September, lawmakers passed a funding measure that would avoid a government shutdown in October and renewed a charter on a bank that fund American export businesses, along with other items. They will be back in session for two more days this month before they return to their homes to campaign and voting rights is not likely to be in the agenda.
Last week, a coalition of voting rights activists went to Speaker John Boehner's (R-OH) office to deliver a flash drive containing half a million petitioners' names hoping to reignite interest in a Congressional amendment.
They knocked on the door, they say, but no one answered.
"Today, the Speaker's office was closed to voting rights," said Wade Henderson, President and CEO of The Leadership Conference.
"This is symbolic of how House leadership has ignored voters who are being discriminated against right now. Since the bipartisan Voting Rights Amendment Act was introduced in January, the House has not held a single hearing on the bill."
The coalition is vowing to press on. Speaker Boehner's press officer did not respond to an FNL email inquiring about the closed-door allegation.