Activists Fasting For Immigration Reform Get Cheered By First Lady, Will Celebrate Thanksgiving With Water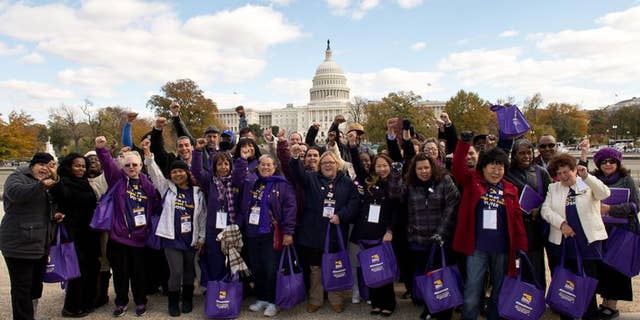 Activists who are fasting in the hope of building momentum for immigration reform got an unexpected tweet expressing support for them – from First Lady Michelle Obama.
"As families begin to gather for Thanksgiving, I'm thinking of the brave #Fast4Families immigration reform advocates. We're with you. –mo" the tweet from Tuesday said.
The tweet from the First Lady was the latest in a series of gestures of support for the activists, who have been in tents fasting since Nov. 12 on the National Mall in Washington D.C. and who call their demonstration the "Fast for Families."
The 10 hunger strikers said they will spend Thanksgiving Day sipping only water.
"What moves us is the hunger for justice," said Eliseo Medina, secretary-treasurer of the Service Employees International Union, who has lost 20 pounds (9.1 kg) so far during the protest.
"Any sacrifice is small and is not comparable to that of the immigrants who lose their lives in the desert seeking a better future or whose families suffer deportation," he told EFE.
Organizers issued a call for citizens all across the United States to ask House Speaker John Boehner to back down and unblock the road to immigration reform that would regularize the status of some 11 million people in this country.
On Monday, President Obama mentioned them in a speech on immigration reform. Vice President Joe Biden stopped by and prayed with them. Other visitors have included Secretary of Labor Tom Perez, Agriculture Secretary Tom Vilsack, and White House Domestic Policy Director Cecilia Munoz. Non-political leaders who also have stopped by are Reverend Jesse Jackson and Gloria Steinem.
Scores of people around the country have joined the fast – or have pledged to fast – for comprehensive immigration reform, which has stalled in Congress.
Though many have set out to fast for 40 days, according to "FAST ACTION For Immigration Reform," some are committing to just a few days or even hours.
Rev. Samuel Rodriguez, one of the nation's most prominent Latino religious leaders, was the first to start fasting as part of the national campaign. He has subsisted on just sparkling water and broth.
Rodriguez told Fox News Latino that he planned to stay on the fast at least 40 days.
"It's an exercise in prophetic activism," Rodriguez said, "for the purpose of raising the moral conscience, or resurrecting the moral conscience, to pass immigration reform."
The Senate passed a bipartisan immigration reform bill in June that would tighten enforcement and provide a path to legal status for undocumented immigrants.
But efforts to draft legislation have stalled in the House, where conservative Republicans have vowed not to pass any measure that gives undocumented immigrants a chance to legalize. They consider a path to legal status for undocumented immigrants "amnesty," essentially rewarding lawbreakers.
Supporters of such provisions, including some Republicans, say that deporting the nation's estimated 11 million undocumented immigrants is impossible as well as not in the interest of the United States, which depends to some extent on such people to do certain jobs.
Another high-profile person who is fasting is Eliseo Medina of the Service Employees International Union, or SEIU.
He has been in a tent for about two weeks and has lost at least 20 lbs.
"Whatever little sacrifice I am making doesn't compare with the sacrifice these immigrants made when they came to this country for a better life and find themselves living in the shadows and being exploited," Medina was quoted as saying in The New York Times.
Follow us on twitter.com/foxnewslatino
Like us at facebook.com/foxnewslatino