Accelerated Troop Surge in Afghanistan Faces Logistical 'Challenge'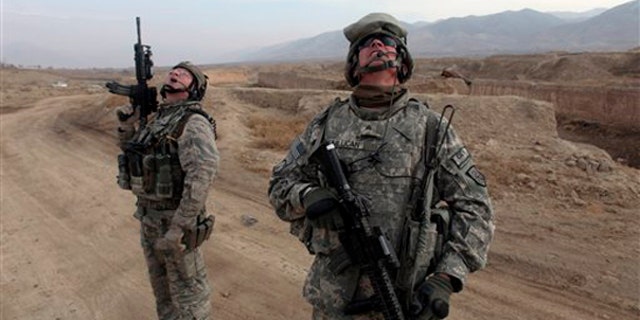 NEWYou can now listen to Fox News articles!
It took four months to plan and now will take only six months to deploy 30,000 more U.S. troops in Afghanistan, a rapid pace that surprises observers both inside and outside of the Defense Department.
One senior defense official said bringing that many troops into the country in that short a time creates a logistical "challenge" that won't be easy. But it won't be impossible either.
Deploying troops to Afghanistan in the next six months will be met by the country's harsh winters. Fighting drops dramatically over the winter months as roads become impassable, and the U.S. will be forced to fly everything in, which takes considerable time, sources told Fox News.
President Obama addresses the nation Tuesday night in a prime-time speech at the U.S. Military Academy in West Point, N.Y., where he will detail the accelerated timetable to dispatch the first Marine units by Christmas. The president will also announce plans to withdraw the surge troops beginning in July 2011.
"What the president will announce tonight is an acceleration of our targeting of Al Qaeda and its extremist allies so the Taliban cannot provide a safe haven, a safe haven that they used to attack us on Sept 11," White House spokesman Robert Gibbs told Fox News on Tuesday.
Military officials said at least one group of Marines is expected to deploy within two or three weeks. Larger deployments won't be able to follow until early next year.
While the heightened pace of Obama's military deployment in the 8-year-old war appears to match the 2007 troop surge in Iraq, the countries provide substantially different challenges.
When former President Bush sent 30,000 additional troops to Iraq, where the infrastructure, roads and entry points are far superior to Afghanistan, the surge took place over five months, which was considered an enormous feat, a defense official told Fox News.
Dan Senor, a senior fellow at the Council on Foreign Relations and the coalition spokesman in Iraq in 2003, said he had been worried by initial briefings that signaled a deployment schedule of a brigade a quarter.
"It seems now like the full deployment may happen or at least could happen by May of 2010, which if that is the case, that is terrific," Senor said during a press conference held by the Republican National Committee.
Retired Lt. Col. Tony Shaffer, a former Army intelligence officer, agreed that the six-month timeline is necessary.
"It's necessary if we're going to get ahead of the enemy to prevent incrementalism," he told Fox News.
Shaffer said the U.S. should take advantage of the winter months to seize the advantage -- similar to the strategy executed in 2003 when he worked with Gen. Stanley McChrystal, the top commander in Afghanistan who had requested that Obama order 40,000 troops to the battlefield.
"The idea was to go into safe havens during the lull in fighting to throw the enemy off balance," he said. "That is keenly important if this strategy is going to work now. We've got to get in there and throw them off balance, make them feel uncomfortable. I don't know if we can do that."
The new infusion of troops had been envisioned to take place over a year, or even more, because force deployments in Iraq and elsewhere made it logistically difficult to go faster. Instead, Obama directed his military planners to make the changes necessary to speed up the Afghanistan additions, said the official, who spoke on condition of anonymity because the details had not yet been announced.
The initial infusion of Marines is a recognition by the administration that something tangible needs to happen quickly, officials said. The quick addition of Marines would provide badly needed reinforcements to those fighting against Taliban gains in the southern Helmand province, and could lend reassurance to both Afghans and the U.S. public.
Troops also will be heading to Kandahar province in the south, where violence has been building. U.S. and NATO forces are holed up and desperately need reinforcements. To the east, a lot of Al Qaeda and Taliban insurgents are drifting back and forth, causing trouble for the troops.
Obama will send another 300 civilians to Afghanistan to assist development efforts, boosting the total to 1,000 from 320 at the start of the war.
More troops will seek to boost security in population centers and train the Afghan army and policy to step in to provide security in these areas beginning in July 2011.
Senor warned that Americans shouldn't become forlorn by mounting casualties as a result of the surge, which will bring the number of U.S. troops to 100,000. NATO allies are expected to add another 5,000-10,000 forces.
"The real kinetic fighting season from the Taliban is from March to November, which means summer of 2010 will probably look worse than summer of 2009," Senor said. "There's going to be a rush to compare 2010 to 2009 and for people to say it's not working. The truth is ... the real comparison should be really ... summer of 2011 to summer of 2010 and summer of 2009."
Larry Korb, a senior fellow for Center for American Progress and former assistant secretary of defense in the Reagan administration, said the 2011 deadline was a good idea because it will force Afghans to take responsibility for security.
"Remember, you have trained close to 100,000 of them already. It is good for them to set a goal to take over. Eventually, they have to run the country," he said.
Shaffer said it remains unclear whether the timetable and the overall troop surge will lead to success.
"The question becomes, Will that have an overall net effect favorable to the overall theater?" he said. "We don't know that yet. So we've got to look at how those go in, how quick they go in, do we get there ahead of the enemy. The enemy knows we're coming now."
Fox News' Justin Fishel, Steve Centanni, Major Garrett, and The Associated Press contributed to this report.