A Texas Congressional Debate in Espanol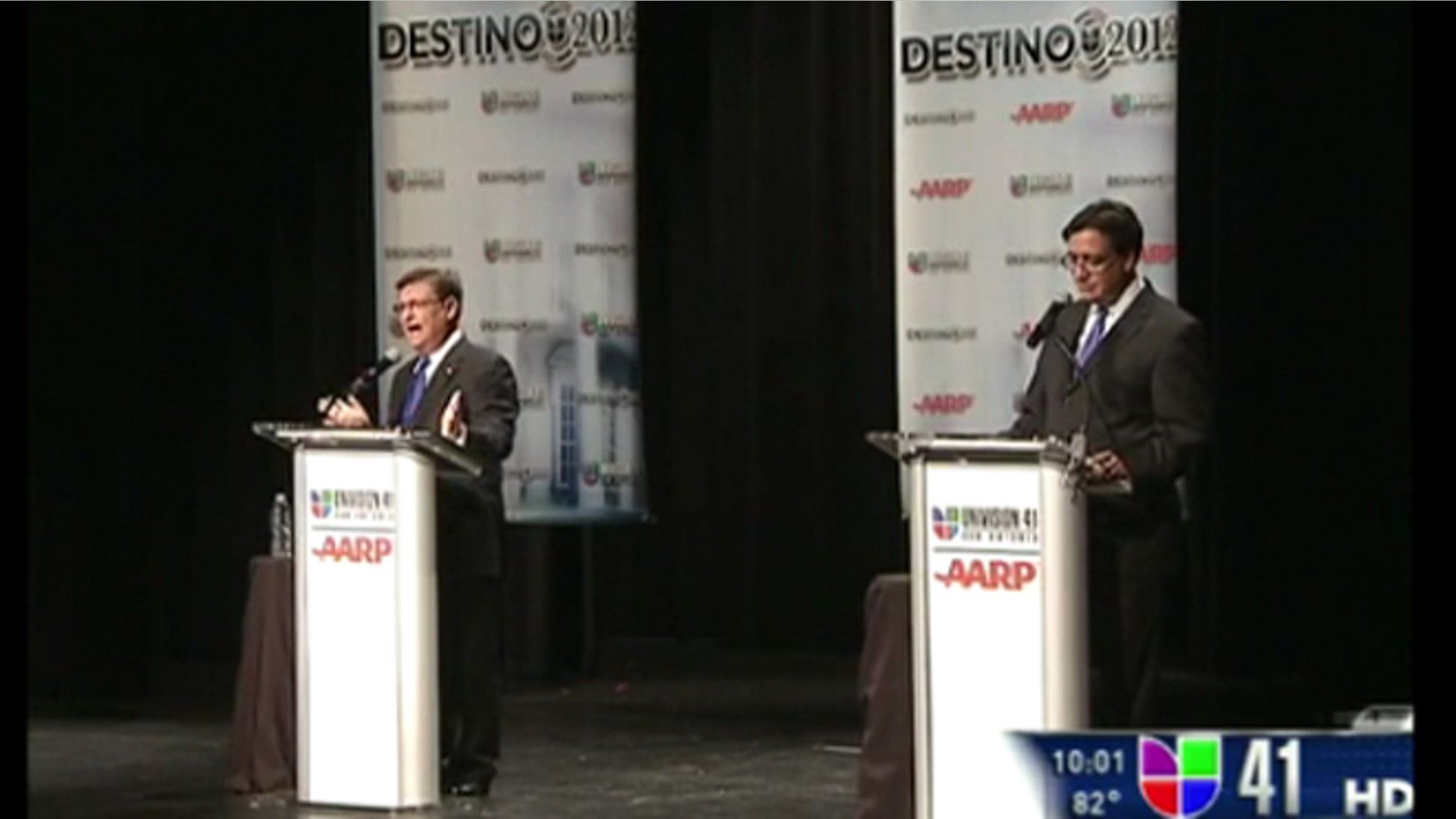 It was typical in many ways – a debate to help Texan voters decide who would represent the 23rd district in the U.S. Congress.
But the twist in this election-season ritual was that it happened in espanol.
Rep. Francisco Canseco, the Republican incumbent, and his challenger, Democrat Pete Gallego, a state representative, debated in the hour long event, which was sponsored by AARP Texas and Univision.
KWEX Univision 41 anchor Arantxa Loizaga, who moderated, proclaimed that it was a "historic event, in Spanish!" The debate between the two men, who are in what so far appears will be a very close race, took place at San Antonio's Palo Alto College on Tuesday.
Those in the audience of more than 200 people who did not understand Spanish used headsets to listen to English translations of the candidates' comments.
The debate covered such topics as border security, social security and Medicare.
Hispanics make up the fastest growing population in Texas, and the Univision television network had suggested holding one debate in Spanish.
The district is 66 percent Latino, with 53 percent of the residents speaking a language other than English at home, according to the most recent census, said a story in the Los Angeles Times.
Canseco, who owns a business, presented himself as a native of the border who knows it well.
"I was born on the border; I was born in Laredo. I know the border quite well; I know the dynamics. It's a machine that could be producing a great deal of jobs," he said, according to the Los Angeles Times.
"The best government is the government which governs less. This is the American dream our families came to this country for," Canseco added.
Earlier this year, Bob Jackson, state director for AARP Texas, touted the virtues of a Spanish-language debate in a Los Angeles Times story.
"There are so many bilingual folks who, even if they're English-dominant, get their news from [the Spanish-language television network] Univision," he said. "It just seemed like a really good mechanism to reach them. It's sort of a reflection of the changing culture of the state and the nation."
The idea of using Spanish in political campaigning has become common in everything from local races around the country to the presidential campaigns. Both President Barack Obama and his GOP challenger, Mitt Romney, have made extensive use of Spanish in their campaigns -- airing Spanish-language ads on television, radio and online, as well as participating in forums on Univision, where the moderators focused many of the questions on topics of interest in the Latino community.
Moreover, the Democratic National Convention livestreamed its gathering in both English and Spanish -- a first for a presidential convention.
The practice speaks to the necessity many candidates feel to appeal to Latinos in whatever language best gets their message across. Hispanics have grown to be 52 million in the United States; 21 million are said to be eligible to vote. Of those, political experts say some 12 million may cast their ballots in November.
Latinos are becoming an increasingly vital part of Lone Star state's population – they number 9.4 million, or nearly 50 percent, of Texas's total population.
Not all candidates – including Latinos – look favorably upon Spanish-language debates.
Univision had also proposed a Spanish-language debate between Texas Lt. Gov. David Dewhurst and former Texas Solicitor General Ted Cruz, who were in tight runoff race.
Ironically, Dewhurst, who is not Latino, welcomed the idea, being a fluent Spanish speaker. But Cruz, the son of a Cuban immigrant, clearly voiced his opposition because he does not speak Spanish well off to handle a debate.
This story contains material from The Associated Press.