46 Days to Decide: Dem Candidate Coons Comes Under Scrutiny in Delaware Senate Race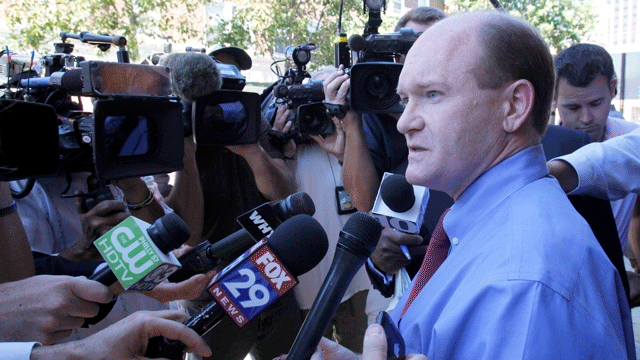 While most of the attention in the Delaware race to win Vice President Biden's old Senate seat has focused on the Republican candidate, Tea Party favorite Christine O'Donnell, her Democratic rival, Chris Coons, is now coming under scrutiny -- a development that could give O'Donnell's lagging campaign a boost.
Coons, 47, has already been targeted by Republicans for an article he wrote for the Amherst College newspaper when he was 21 -- a piece entitled "Chris Coons: The Making of a Bearded Marxist."
Coons wrote about his political evolution from a conservative college student who founded the Amherst College Republicans into a Democrat suspicious of America's power and ideals. The transformation, he said, came during a trip to Kenya.
Coons alluded to his past in a debate Thursday with O'Donnell, saying Delaware residents are interested in what candidates will do to create jobs, reduce the national debt and fix what he called a broken political system in Washington, and that they're not "particularly interested in statements that either of us made 20 or 30 years ago."
Coons is banking on his experience as New Castle county executive -- with an estimated population of 542,000, New Castle is the largest of Delaware's three counties -- and the endorsements of big-name Democrats to defeat O'Donnell, who has no government experience but has the backing of Sarah Palin and Sen. Jim DeMint, R-S.C..
Biden was heading to Delaware Friday to stump for Coons at an event in Wilmington. But Senate Majority Leader Harry Reid, who also supports Coons, may have done more harm than good when he referred to Coons as his "pet."
"I'm going to be very honest with you – Chris Coons, everybody knows him in the Democratic caucus. He's my pet. He's my favorite candidate," Reid told the Hill newspaper.
But Coons' campaign shows no signs of damage yet; a Rasmussen Reports poll shows him leading O'Donnell by 11 percentage points.
"Well, it's always great to be up in the polls," Coons said. "But, frankly, what matters is whether or not I'm addressing the real concerns of working Delawareans. As I've gone up and down this state over the last six months, I've been up in the polls, I've been down in the polls. What really matters is Nov. 2."
O'Donnell doesn't appear fazed by poll, especially since she trailed veteran Rep. Mike Castle before shocking him in the Republican primary on Tuesday.
"Eleven points is a very – a gap that we can certainly close," she said. "You know, about a month before the primary, I was at least 15 points behind my Republican opponent, so I'm very confident that we can win."
O'Donnell, who came under withering criticism from Castle and the state GOP -- whose chairman said she couldn't be elected dogcatcher -- said her goal was for voters to get to know her between now and November.
O'Donnell has been criticized by GOP officials for lying about her background, leaving a trail of unpaid bills that included an IRS tax lien and a mortgage default and misusing campaign contributions for personal expenses.
O'Donnell stepped into the public spotlight in the 1990s as a conservative activist speaking out against abortion, homosexuality and premarital sex.