2018 firewall? New England House race offers rare chance for GOP to swipe seat from Dems
PORTSMOUTH, N.H. – On an early December evening, Eddie Edwards and Andy Sanborn were hard at work – each separately meeting and greeting Republican Party activists at a Rockingham County GOP holiday gathering.
Edwards, a Navy veteran and former local police chief, and Sanborn, one of the most conservative members of the New Hampshire state Senate, are the two Republican candidates running for the open U.S. House seat in the state's First Congressional District.
The district, which stretches from Manchester east to the Seacoast and north to the White Mountains, is one of the highest-profile swing congressional districts in the country. It's ping-ponged between Democratic and GOP control the past four elections.
It's also one of only 12 Democrat-controlled districts won by Donald Trump in 2016. And it's one of the few places where the GOP hopes to go on offense in 2018, as they mostly play defense to try and hold their majority in the U.S. House – which could explain the busy campaign schedule, a year out from the election.
"We are going to be working very hard" to turn the district from blue to red, New Hampshire GOP Chairwoman Jeanie Forrester told Fox News.
A potential pick-up here could be a key factor in whether the party can stave off the kind of Democratic takeover House Minority Leader Nancy Pelosi envisions.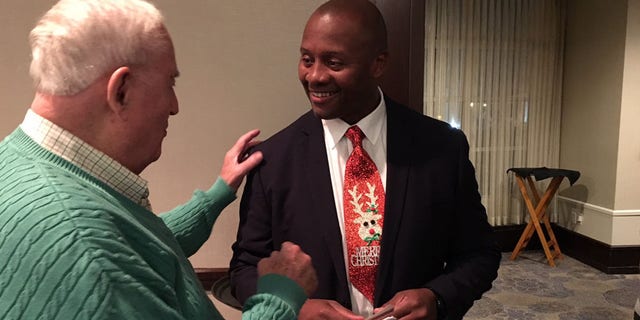 What makes the race even more enticing this time around is that it's an open seat for the first time in 16 years. Incumbent Democratic Rep. Carol Shea-Porter announced a couple of months ago that she would not run for re-election in 2018.
Shea-Porter first won the seat in 2006, but was ousted by Republican Frank Guinta in 2010. She took the rematch two years later, but lost to Guinta again in 2014. Last year, Shea-Porter narrowly edged out Guinta to reclaim the seat. Guinta does not appear to gearing up for another run this time.
Edwards recently told "Fox & Friends" he's stepping into the race out of his "continual belief in service to our country."
From the perspective of the National Republican Congressional Committee – the House GOP's campaign arm – the top priority in 2018 will be assisting incumbents facing difficult re-elections. But party officials say besides playing solid defense, their game plan includes picking up seats where Republicans have made inroads in the past. And they say New Hampshire's first district probably presents one of their best opportunities.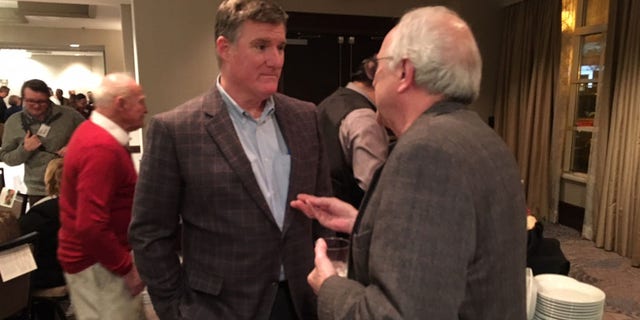 "This was already a top pick-up opportunity for Republicans prior to Shea-Porter abandoning the seat. Now that it's open, we're more confident than ever in our chances to put Democrats on defense and turn this district red in 2018," NRCC spokesman Chris Martin said.
The Congressional Leadership Fund, one of the top outside groups working to protect the GOP House majority, also is keeping a close watch on the district. Right now the organization is concentrating its efforts on defending incumbents facing tough re-elections.
But communications director Courtney Alexander said all options are on the table. "We certainly have our eyes on New Hampshire's first district and we certainly plan to keep our eyes on the Democratic candidates in the race."
With Shea-Porter out, though, a whopping six Democrats quickly jumped into the contest.
'We're more confident than ever in our chances to put Democrats on defense.'
The Democratic candidates faced off for the first time at a recent forum held in Manchester.
"We need a big course correction in this country in 2018 because Donald Trump and Republicans in Congress don't represent our values," said Chris Pappas, a member of the state's Executive Council and the best-known of the Democratic contenders.
The large field of candidates is partially a reflection of an energized Democratic base in New Hampshire. The party had a good 2017, taking eight out of 10 Statehouse special elections and winning big in November's municipal contests.
State Democratic leaders hope that energy will overcome the traditional low turnout of younger voters in midterm elections.
Conventional wisdom also points to gains for the party out of power during midterm contests – the Democrats are the party out of power both in Washington and in New Hampshire, where Republicans control the governor's office and both houses of the state legislature.
But back at the Rockingham County GOP mixer, Fran Wendelboe was optimistic about the GOP chances in the district. The former longtime state lawmaker and party official who's one of the leaders of the conservative 603 Alliance pointed toward President Trump's recent signing of the Republican tax bill.
"The economy has turned around. Unemployment is down. Things are looking up. And that didn't happen in a vacuum," Wendelboe told Fox News. "Republicans are going to be excited to get back in the game."