2 guests kneel during national anthem at White House 'Celebration of America' event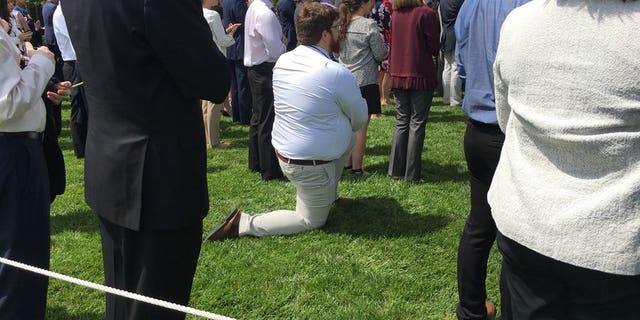 At least two guests at President Donald Trump's event on Tuesday to highlight why Americans stand for the national anthem, which replaced the Philadelphia Eagles Super Bowl LII ceremony, opted to take a knee as the "Star Spangled Banner" rang out across the South Lawn of the White House.
In a video posted to Twitter by a correspondent for SVT, the Swedish national public TV broadcaster, a man, wearing a light blue button down, can be seen kneeling as the national anthem played, before clapping and ultimately coming to his feet after the song finished.
The man, who did not identify himself, left the event immediately after the United States Marine Band performed the anthem, according to a news anchor for TV2 Denmark.
A second man was also captured kneeling in a photo posted to Twitter by a CNN White House producer. The man, who was wearing a light blue checkered shirt and had a little American flag, was apparently the same person who also reportedly heckled Trump.
"Stop hiding behind the armed services and the National Anthem,' the person shouted to the reception boos, according to Daily Mail. "Let's hear it for the Eagles."
The president withdrew his invitation to the Super Bowl LII champions after only about 10 players planned on attending the White House ceremony.
Trump claimed on Monday that the team disagreed "with their president because he insists that they proudly stand for the National Anthem, hand on heart, in honor of the great men and women of our military and the people of our country."
Eagles players rebuffed that notion, pointing out that no one on the team knelt for the anthem during last season.
White House Press Secretary accused the team of a "political stunt" just minutes before Tuesday's alternative event began, claiming the players had chosen to "abandon their fans."