12-year-old Democratic activist takes on NC governor over voting law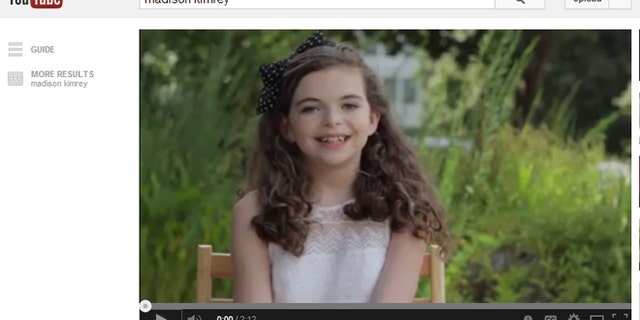 NEWYou can now listen to Fox News articles!
WASHINGTON – The first Republican governor to lead North Carolina in 20 years is being taken to task -- by a 12-year-old girl.
The pint-sized Democratic activist, Madison Kimrey, has become somewhat of a national sensation in recent weeks after videos circulated of her railing against election laws in her home state.
Though she's not yet old enough to vote, the self-proclaimed "suffragette" has been campaigning against those laws while putting the governor in an awkward position -- by calling for a sit-down with him and drawing him into a war of words.
Kimrey's activism quickly has made her a target of criticism from Republicans. Gov. Pat McCrory, suggesting that Kimrey's being put up to this, has called her a prop for the left.
But Kimrey, who spoke with FoxNews.com, defended herself – and said she simply "didn't like what was happening in the state and wanted to take action."
Specifically, she had a problem with a new state policy that took away the ability of 16- and 17-year-olds to pre-register to vote.
Supporters say the law is needed to cut down on voter fraud. The pre-registration program had been called "confusing to teenagers" and "a bureaucratic burden" by some in McCrory's office.
But Kimrey and others see it as a tactic to suppress voter turnout.
"A lot of my friends are 16 and 17 and I thought it was important and I said, 'Hey -- that sucks,'" Kimrey told FoxNews.com.
So Kimrey, a homeschooled Davidson Young Scholar, got involved. She started with a speech at a "Moral Mondays" protest at the state capitol and routinely posted videos on YouTube.
"Moral Mondays" are protests held in North Carolina by people opposed to new laws and policies that came out of the 2013 General Assembly session.
Kimrey also started an online petition at MoveOn.org and has gotten close to 14,000 signature.
"I have always had an interest (in politics)," Kimrey said, adding, "Moral Mondays got me more active."
Kimrey has already had a confrontation with the governor, who turned down her request for a 15-minute meeting. Then he called her a liberal prop.
"This is all … very liberal groups using children as, I think, props to push a very far-left agenda," McCrory said during an interview on WWNC Radio in August. He added, "And I don't agree with conservatives doing that. Nor do I agree with liberals doing that."
Kimrey responded during an Oct. 29 speech, "I am not a prop! I am part of the new generation of suffragettes, and I will not stand silent while laws are passed to reduce the amount of voter turnout by young people in my home state."
When contacted by FoxNews.com, McCrory's office suggested they would respond to Kimrey's charges but later said their only statement would be a "no comment."
Critics have questioned Kimrey's political ambitions and say she's too scripted, and claim her speeches are written and rehearsed ahead of time.
"I feel like the people who say that don't really know me," Kimrey countered.
Kimrey told FoxNews.com that as a child she used to run up to the television whenever President George W. Bush was on and scream, "Bush!"
While her political leanings might have changed, her love of politics has not.
Kimrey's rise as a junior political activist mirrors that of Jonathan Krohn.
Krohn rose to GOP fame after he wrote the book "Define Conservatism" in his early teens.
He gave a speech at the 2009 Conservative Political Action Conference and quickly became the darling of conservative media outlets, which nicknamed him Lil' Limbaugh and Alex P. Keaton, the fictional character on the 80s sitcom "Family Ties."
Today, Krohn is an 18-year-old young adult living in Manhattan. He has renounced most of his conservative ways.
"I started reflecting on a lot of what I wrote, just thinking about what I had said and what I had done," he told Politico during a 2012 interview, adding that he was a 13-year-old kid repeating things he had heard from his parents.
Kimrey's father, Doug Kimrey, says he doesn't coach his daughter on what to say or what to write.
"This is Madison," he told FoxNews.com. "She has her own opinions and I respect that."
When asked about the future, Kimrey, who enjoys acting, dancing and singing, says she's not sure if politics is on the menu.
"I don't know what I want to do," she said. "I don't think it's been invented yet."