Opinion: I Was Not Supposed To Succeed – I Am The Daughter Of Immigrant Parents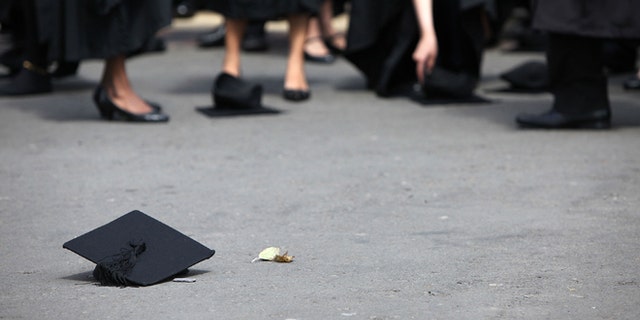 NEWYou can now listen to Fox News articles!
My name is Angely Rosa and I'm a high school senior. On paper, I was not supposed to succeed. I am the daughter of immigrant parents and I live in the South Bronx where only 59 percent of students graduate from high school and only 11 percent complete a bachelor's degree. However, I am the exception.
Today, I am the valedictorian of my graduating class at the Community School for Social Justice. But if you asked me four years ago, I would never have guessed I would be first in my class.
Even though it may seem like we don't care, we just want someone to care about us, to motivate us, and to encourage us to do better. We need someone to believe in us and to show us that we should be aiming higher than 90 percent.
I am ambitious, determined, and focused, but never knew what it took to reach the top of my class. When I was a freshman, I earned a 90 percent in one of my classes and I was really happy. But soon after, my teacher Barbara asked to meet with me about my grades; she was not satisfied.
She asked me what was going on, why I didn't do better. I was surprised, and I told her that I thought a 90 percent was good. She said, "A 90 percent won't get you to be valedictorian, and you can do much better than this. You should never settle." I started laughing. I still thought 90 percent was perfectly fine, but I didn't argue with her.
But, what she said stuck with me. From then on, I didn't settle — if I received a 90 percent, I would look for extra-credit opportunities to improve. I started seeing in myself what Barbara saw in me: belief.
I've learned from a lot of people in my life. My parents are from the Dominican Republic and they never had the opportunities that I have been so fortunate to have in America. They struggled without the resources that they needed to succeed. When they came to America and had my sisters and me, they reminded us that we should always put our education first.
And while my sisters and I have faced challenges, we've never taken our eyes off the prize — a good education. My sister Francesca got pregnant at 18, but she didn't let that stop her. She went to college, something that less than 2 percent of teenage mothers achieve, and is working as a medical assistant. She'll soon go back to school to become a nurse.
She showed me that it doesn't matter what your story is or what happens to you in your life — you can always do what you put your mind to as long as you work hard and never give up.
One of my other sisters, Piffany, was also valedictorian of her high school class and she'll be a junior in college next year. She taught me to always work hard. She showed me that if she can do it, so can I. She also taught me to never give up on my dreams.
Beyond my family and school, I also had the opportunity to meet with Joe Echevarria, CEO of Deloitte LLP, last year during IMPACT Day, the organization's national day of volunteering. I actually interviewed Joe during his keynote speech at last year's event.
While Joe's story of success was not surprising (I hear about many people who overcome obstacles in their lives to become important), it was powerful because he came from my neighborhood. He took an interest in us and spoke about the impact his mentors made on his life. And he helped us understand that just because you come from a low-income family in the South Bronx – like we both do – it doesn't mean you can't be somebody in life.
Now, as I graduate high school and head off to college – I'm going to SUNY Oswego – I think back to what Joe, my family, and Barbara taught me. Their advice and their encouragement will stay with me forever. I will always push myself further.
My dreams now are even bigger, but I know I have the drive and dedication to make them come true. I want to have my own veterinary clinic and research African wildlife. I want to buy my parents a home and open a restaurant for my dad.
So, if I could impart some advice based on my experiences – for students and adults – it's "don't give up." To my fellow students, don't give up on yourself — you are the only one who can limit yourself. To adults, "don't give up on us." Even though it may seem like we don't care, we just want someone to care about us, to motivate us, and to encourage us to do better. We need someone to believe in us and to show us that we should be aiming higher than 90 percent.
On paper, I should not have been the valedictorian. I should not be going to college. I shouldn't even be graduating. But I am the exception because of my motivation and my support system. So, take an interest in a young person like Barbara and Joe did with me. Because, who knows? That may be the push they need to make a difference in the world.