Opinion: A Weekend Of Latino Moments - De la Cruz, Camila And Miss USA Nia Sanchez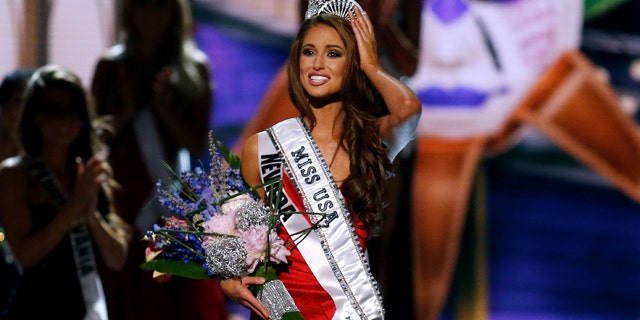 NEWYou can now listen to Fox News articles!
It is evident that Latino influence and culture has penetrated into the mainstream. I find it ironic how while Washington and political parties bicker over matters of race and immigration and corporate board rooms still dabble the waters of Hispanic marketing, everyday American pop-culture is open to embrace and celebrate the diversity that makes our nation so unique.
This past weekend serves as a great example of such phenomenon. While avid sports fans chanted during the NBA finals, pageant aficionados enjoyed a stunning display of beauty, brains and elegance during this year's Miss USA pageant.
Both serve as an example of the increased influence of Americans of Hispanic descent.
The U.S. is the fifth-largest Spanish-speaking country in the world with 37.6 million people over the age 5 speaking Spanish at home.
Despite much social media bickering and ignorant racist comments, the city of San Antonio and the Spurs organization welcomed the talented young-mariachi Sebastian de la Cruz to kick off the game signing the National Anthem. In full 'charro' attire, Sebastian became one more time a strong emblem of a proud city that is currently a majority Hispanic, representing 63 percent of the city's population. Beyond great talent and being an authentic portrait for the city of San Antonio, Sebastian serves as a symbol of America's diversity and multiculturalism, which transcended into the millions who tuned in for the game.
On the same night of basketball excitement, another all-American event took place in the city of Baton Rouge, where 50 beauties competed for the title of Miss USA 2014. A moment of controversy unraveled as Mexican pop/rock group Camila performed in Spanish during the evening gown presentation; making it the group's first performance since the release of their album "Elypse." Similarly to Sebastian's controversy in 2013, this time Camila was taunted by ignorant Twitter comments like this one: "Why do they have this terrible band at Miss USA? Let's sing English not Spanish. We're not in Mexico."
In fact, the U.S. is the fifth-largest Spanish-speaking country in the world with 37.6 million people over the age 5 speaking Spanish at home, according to the Pew Research Center. Ironically, Camila's Latino infusion into the show ended with the victory of a contestant of Hispanic descent, Nia Sanchez.
The 24-year old beauty is a fourth-degree black belt and a very outspoken ambassador to women's self-defense. Born in Sacramento, California, Sanchez moved to Las Vegas and endured a challenging upbringing living at a shelter with her mother, shaping her into the strong woman she is today. Nia is half Mexican, daughter of a military veteran, and she enjoys traveling to Mexico on mission trips as a way to reconnect with her heritage.
Sanchez's title not only turns her into an ambassador of the U.S. abroad but as a great role model to girls, women and Latinas from coast to coast. For example, I was personally impressed with Nia's personal response and re-tweet of my tweet acknowledging that millions of Latinas in the U.S. are proud of her accomplishment.
Evidently Latino influence transcends from the court to the runway and many places of influence in between. This past weekend of Sebastian, Camila and Nia are a snapshot of the contributions Hispanics bring to the beautiful tapestry of America.
Lili Gil Valletta is an award-winning entrepreneur, multicultural marketing strategist, media contributor and co-founder of XL Alliance. She is a World Economic Forum Young Global Leader and member of the Harvard Kennedy School Women's Leadership Board
Follow us on twitter.com/foxnewslatino
Like us at facebook.com/foxnewslatino