Is John Edwards the Ultimate King of Heels?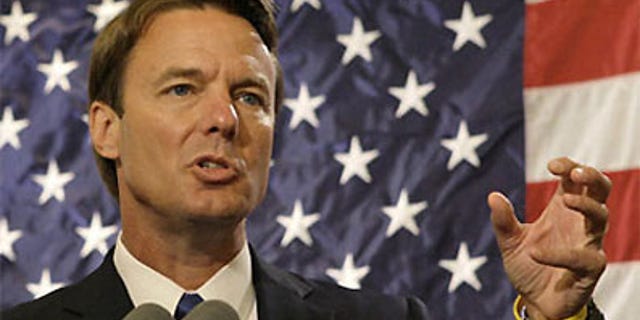 He may not be a politician any longer but America just can't seem to stop talking about John Edwards. First came a spate of salacious new details about his extra-marital affair with Rielle Hunter – and his handlers' desperate, and possibly felonious, attempts at damage control. We learned about them first from the bestselling campaign post-mortem "Game Change" by reporters John Heilmann and Mark Helprin. That book was quickly followed by former campaign aide Andrew Young's tell-all, "The Politician."
We know now that Edwards promised Hunter that he would marry her after his wife Elizabeth succumbed to breast cancer – he envisioned a rooftop wedding in Manhattan with the Dave Matthews Band providing the entertainment. Young recently told Sean Hannity that Edwards is still seeing Hunter, and the National Enquirer reported this week that he has proposed to her. In an interview on "Fox & Friends" on Thursday, Young could not confirm that report.
Edwards is just one in a long line of ambitious pols to cheat on his wife. Other previous political sex scandals that share something in common with Edwards' include:
• James Garfield -- who had his own Rielle Hunter of sorts in the person of an 18-year-old New York Times reporter named Lucia Calhoun. He gave her up when his wife threatened to divorce him, which would have cut his political career short.
• Like Edwards, Grover Cleveland was accused of having fathered an illegitimate child early in his presidential campaign, Ignoring the advice of his aides to lie, he came clean about his affair with Maria Halpin right away and acknowledged being the boy's father. The thing is, Halpin was something of a loose woman (or worse) and the child could have been fathered by several men, but Cleveland assumed financial responsibility for the child because all the others had wives and children to support.
In contrast, when Edwards became aware that the National Enquirer would name his lover and divulge her pregnancy a couple of weeks before the 2008 Iowa primary, he strong-armed Young – a married father of three – into a public declaration of paternity. In an interview on "Good Morning America" this week Young said he agreed to the ruse out of loyalty to Edwards, compassion for his cancer-stricken wife and because "two very powerful people" assured him that "every viable Democratic candidate" had a skeleton in his or her closet.
When Frances Quinn Hunter was born on February 27, 2008 in California, no father's name is given on the birth certificate.
In an interview with ABC's "Nightline" some five months later Edwards admitted to an affair with Hunter, but denied fathering her daughter or making child support payments.
At one point, Edwards asked Young to steal one of the girl's diapers for a secret DNA test and get the doctor to fake the results if necessary, but the increasingly disenchanted and disgusted aide refused. Edwards finally confessed that he was the father of Hunter's child a couple of weeks before Young's book was published.
• As mentioned earlier, Edwards promised Hunter that he would marry her after his wife Elizabeth succumbed to breast cancer – he envisioned a rooftop wedding in Manhattan with the Dave Matthews Band providing the entertainment. When Woodrow Wilson began dating Edith Bolling Galt just seven months after his wife, Ellen Louise Axson, died of chronic nephritis (known then as "Bright's disease"), the media rumor mill blamed Ellen's death on heartbreak over the affair. (And some people darkly suggested that Wilson killed his wife so he could be free to marry Galt.)
• Warren G. Harding, failed to tell the Republican National Committee of his long-standing affair with Carrie Fulton Phillips, the wife of a friend, before he accepted the party's nomination for president. To prevent anyone getting wind of the affair before Election Day, party officials sent the Phillips family off for an extended, all-expenses paid (and then some!) holiday. As with the Harding-Phillips scandal, during the first primaries of 2008 Hunter and the Young family were kept on the move until the baby was born to keep the media off their trail -- with campaign finance chairman Fred Baron and other Edwards backers bankrolling their living expenses.
Young told "20/20" that Edwards' supporters shelled out $1 million in cash, private jets and hotel rooms to conceal the affair and pregnancy. A federal grand jury investigation is under way to determine whether these payments – which were made to maintain the viability of Edwards' candidacy – should be considered campaign donations and disclosed under campaign finance regulations.
• The MSM got scooped by non-traditional media in reporting Bill Clinton's affair with White House intern Monica Lewinsky, as well as Edwards' affair with Hunter. In Clinton's case, upstart Internet tip sheet "The Drudge Report" broke the news that Newsweek had spiked a story by investigative reporter Michael Isikoff about the affair hours before publication on Saturday, January 17, 1998; the first newspaper stories about the affair wouldn't be published for another three days. On October 10, 2007, the National Enquirer was the first paper to report that Edwards had been involved with another woman for a year-and-a-half – and for months the Enquirer was the only print or electronic media outlet to chronicle Edwards' affair and Hunter's pregnancy.
Both the Clinton and Edwards peccadilloes were caught on tape. In Clinton's case, 37 secretly recorded telephone conversations totaling more than 22 hours between Lewinsky and her then-confidante Linda Tripp.
With Edwards, an alleged sex tape and voice mail messages recorded on a disc, that had been in Young's possession were handed over by his lawyers to a North Carolina court on Wednesday. Young and his wife, who watched the tape together, claim that while the face of the woman having sex with Edwards is not visible, she is clearly pregnant and they saw bracelets and a thumb ring belonging to Hunter in the video.
While it's true that more than a few pols and presidents in both parties have been philanderers, the particulars of Edwards' affair – the terminally ill wife plus the illegitimate child plus the elaborate cover-up of his paternity plus not taking responsibility for his daughter Quinn until she was two years old plus the sex tape plus the latest bombshell allegation that he became enraged and struck Elizabeth during a heated argument – make it the most sordid sex scandal in the annals of American political history.
And a recent survey in Edwards' home state of North Carolina by Public Policy Polling finds that he is viewed positively by only 15 percent of voters, making him the "most unpopular person we've polled anywhere, at any time." In other words, you do the math, John Edwards is King of the Heels – now, and probably for all time.
The Stiletto blogs at TheStilettoblog.com.