A senior Biden-appointed Pentagon official – Gil Cisneros – was forced to read and explain divisive statements against White people from one of his employees in a grilling hearing at the House Armed Services Committee Thursday.
Cisneros – Under Secretary of Defense for Personnel and Readiness – was responsible for determining the outcome of a probe into former DEI chief Kelisa Wing over divisive tweets about White people, which called them "Karen[s]."
"Mr. Cisneros, are you familiar with the tweet? Can you please read the tweet aloud?" asked Rep. Elise Stefanik, R-N.Y., about one of Wing's controversial posts.
Cisneros read the post verbatim at the hearing, which said, "So exhausted at the White folks in these PD sessions. This lady actually had the caudacity to say Black people can be racist, too. I had to stop the session and give the Karen the business. We are not the majority. We don't have power."
'WOKE' DEPARTMENT OF DEFENSE EQUITY CHIEF WRITES ANTI-WHITE POSTS: 'EXHAUSTED WITH THESE WHITE FOLX'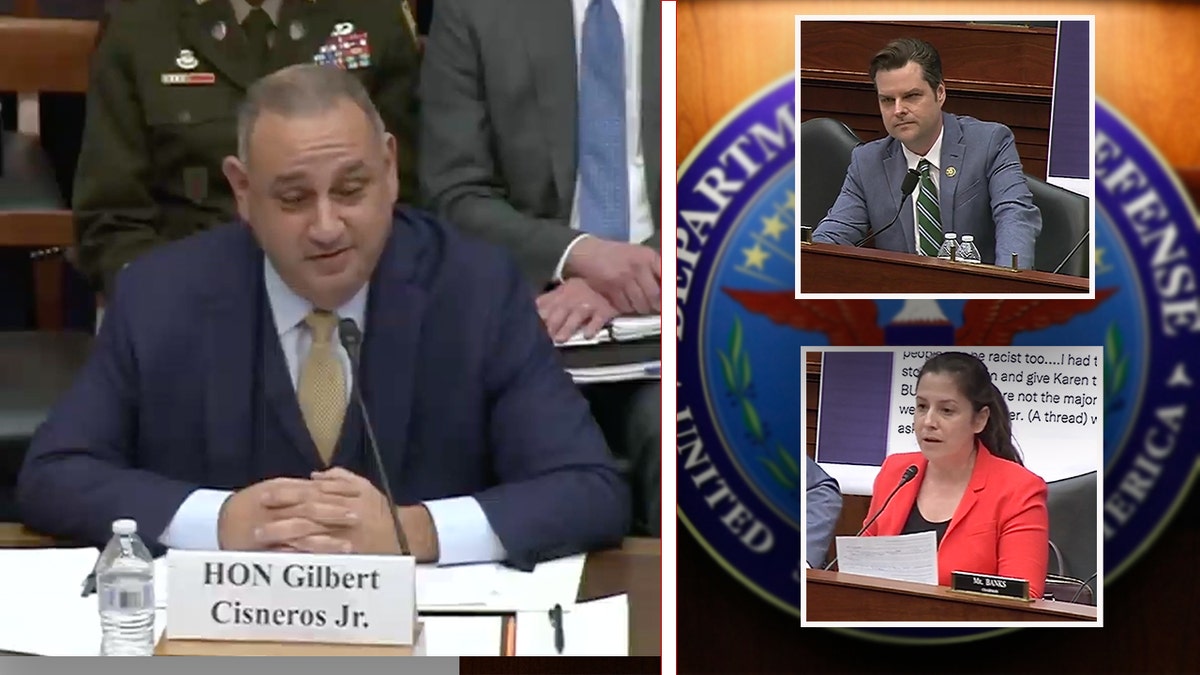 "This is wildly inappropriate and unacceptable. Do you agree with that, Mr. Cisneros?" Stefanik asked.
"I do agree that that is not acceptable. It's not condoned by… the Department of Defense," he said.
However, the Pentagon said it will issue no disciplinary action to its former diversity, equity and inclusion chief, Wing, over her statements about White people.
Matt Gaetz, R-Fla, said, "I would like to go back to the tweets of the racist person that works for you. What does 'Caudacity' mean?"
"I have no idea," Cisneros said.
"You took six months to investigate one tweet. You didn't even figure out what the words meant?" Gaetz asked.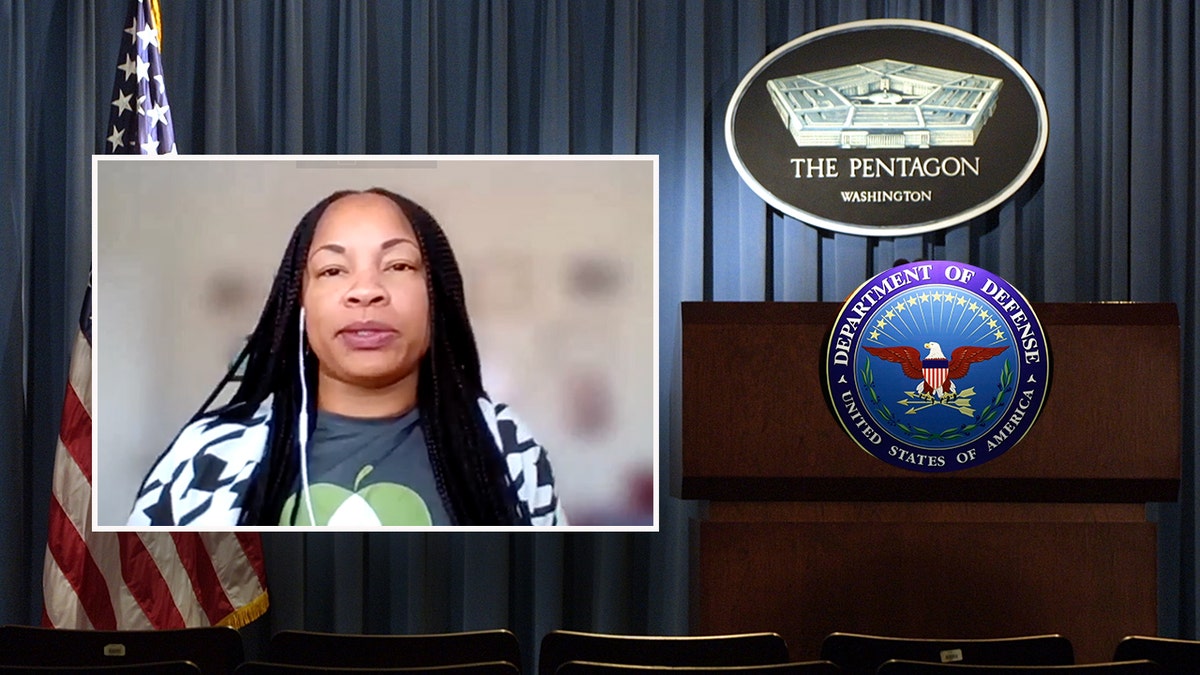 Cisneros claimed he was not involved in investigating. However, the Pentagon repeatedly cited him as responsible for determining the outcome of the probe.
The GOP congressman said, "Someone at the Pentagon is throwing your name out there as being responsible for this? And now it looks foolish that you're suggesting you don't know what that means."
"You said in a Fox News Digital article that you were going to take 30 days to investigate, and it took you six months in a six-month investigation. You guys didn't learn what the word 'Caudacity' meant?" Gaetz said. "I think, you know. I think every person that's going to watch this exchange knows, you know, it's she's trying to lash audaciousness with someone being Caucasian, isn't she?"
"I have no idea," Cisneros said. "We do not support racist tweets. We do not support racism."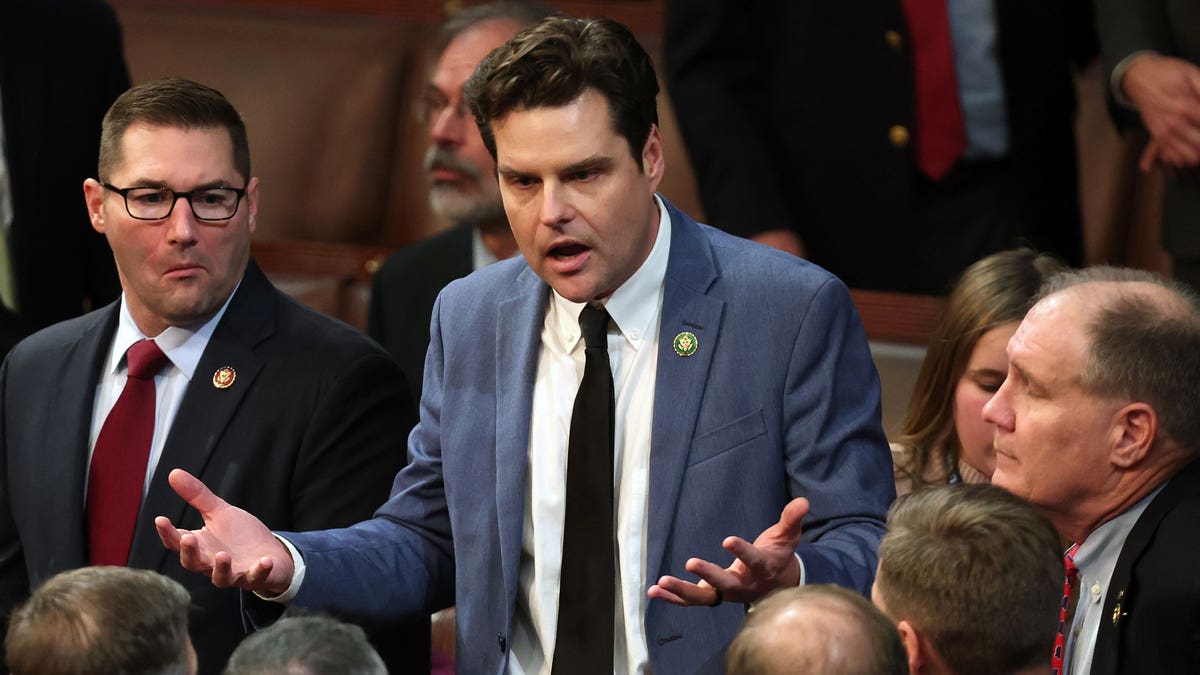 Gaetz said, "Well, did you fire this lady?"
"I did not hire her," Cisneros said.
Gaetz pressed, "Let's go to the next claim. 'The audacity to say that Black people can be racist too.' Mr. Cisneros, can Black people be racist, too?"
"I'm not going to answer that, congressman," Cisneros said.
REPUBLICANS ACCUSE DEFENSE DEPARTMENT OF PUSHING 'WOKE GARBAGE' AFTER DEI CHIEF BLASTS WHITE PEOPLE
On another occasion, Wing has previously said, "If another Karen tells me about her feelings… I might lose it..."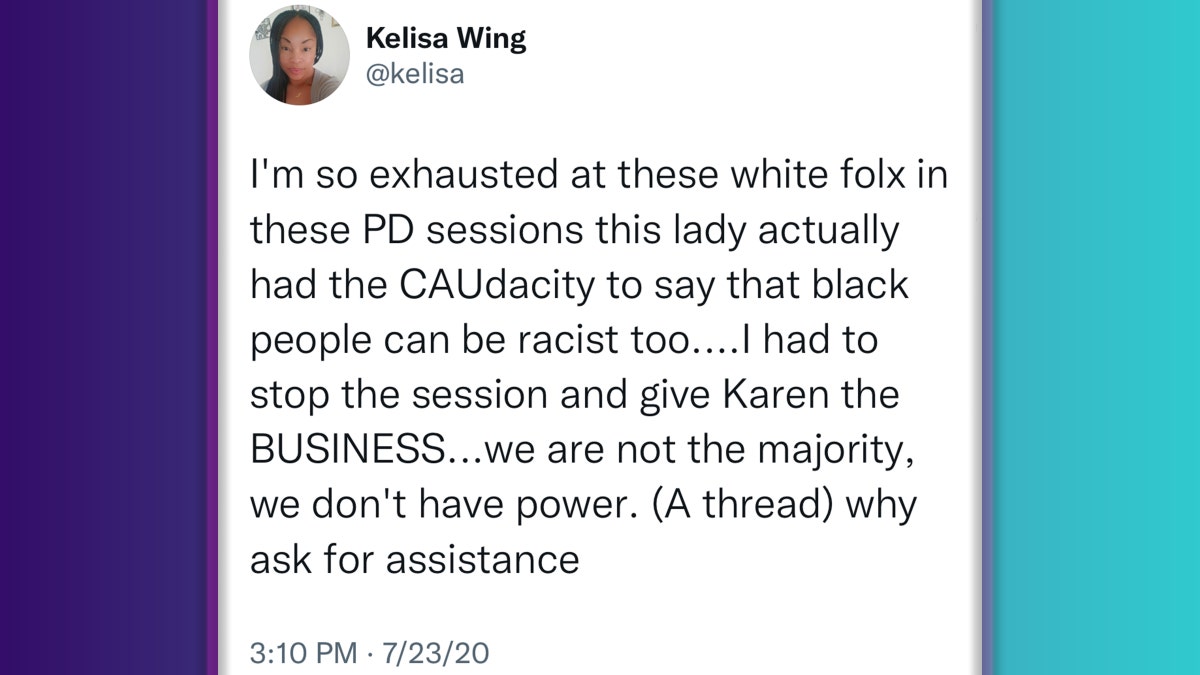 Cisneros said the Pentagon "determined the employee ws speaking in a personal capacity... As a result, the Director, DoDEA took no disciplinary action. Separately, as part of headquarters restructuring, the employee was reassigned to another position that does not include diversity, equity and inclusion-specific responsibilities."
REPUBLICANS ACCUSE DEFENSE DEPARTMENT OF PUSHING 'WOKE GARBAGE' AFTER DEI CHIEF BLASTS WHITE PEOPLE
It remained unclear what Wing's new responsibilities were.
Former CIA director, Mike Pompeo, released a statement to Fox News Digital, said, "The Pentagon's decision makes obvious that the Biden administration agrees with Kelisa Wing and her statements on race."
"This lack of accountability for her racially charged remarks are another sign that President Biden wants to make the Pentagon more about wokeness, green energy and racism than national defense and readiness. The men and women who serve deserve better."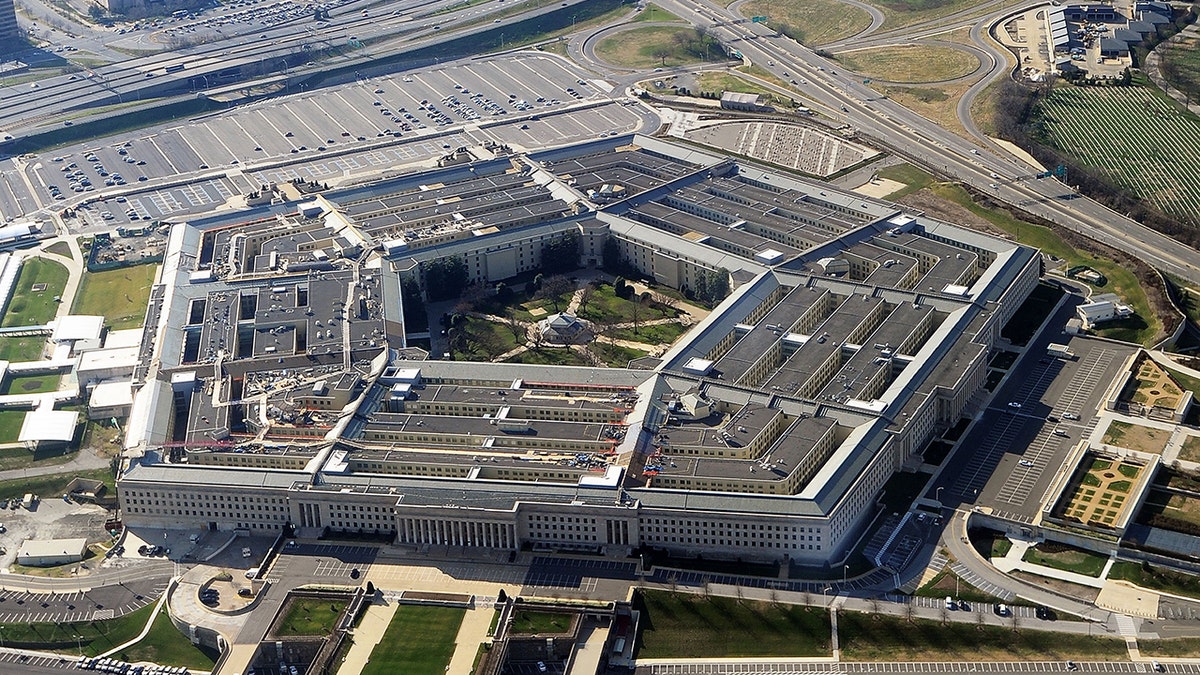 Wing has previously denied her posts were divisive, stating, "No, I did not make disparaging comments against White people."
"I would never categorize an entire group of people to disparage them," she said.
BIDEN'S EQUITY-OBSESSED EDUCATION SECRETARY DODGING ACADEMIC PRIORITIES AMID 'CATASTROPHIC' READING SCORES
In June 2021, Biden signed an executive order which "reinvigorate[d]… the approach… first established in the Obama-Biden Administration" and directed all federal agencies to "establish or elevate Chief Diversity Officers," among other priorities.
A few months later, Wing was selected for the high-ranking position that was involved in "every aspect" of the Pentagon's schools for military-connected children, including curriculum, professional development and hiring.
Stefanik believes there is a woke indoctrination agenda at DoDEA schools. As a result, she introduced a Servicemember Parents Bill of Rights, which increases transparency and accountability in Pentagon schools.
As DEI chief, Wing was involved in curriculum at the Pentagon's 160 schools for military-connected children. Wing has stated that her goal was to "tear down the system" in education. When asked about whether it was time for a "racial reckoning" and "revolution," she responded in the affirmative.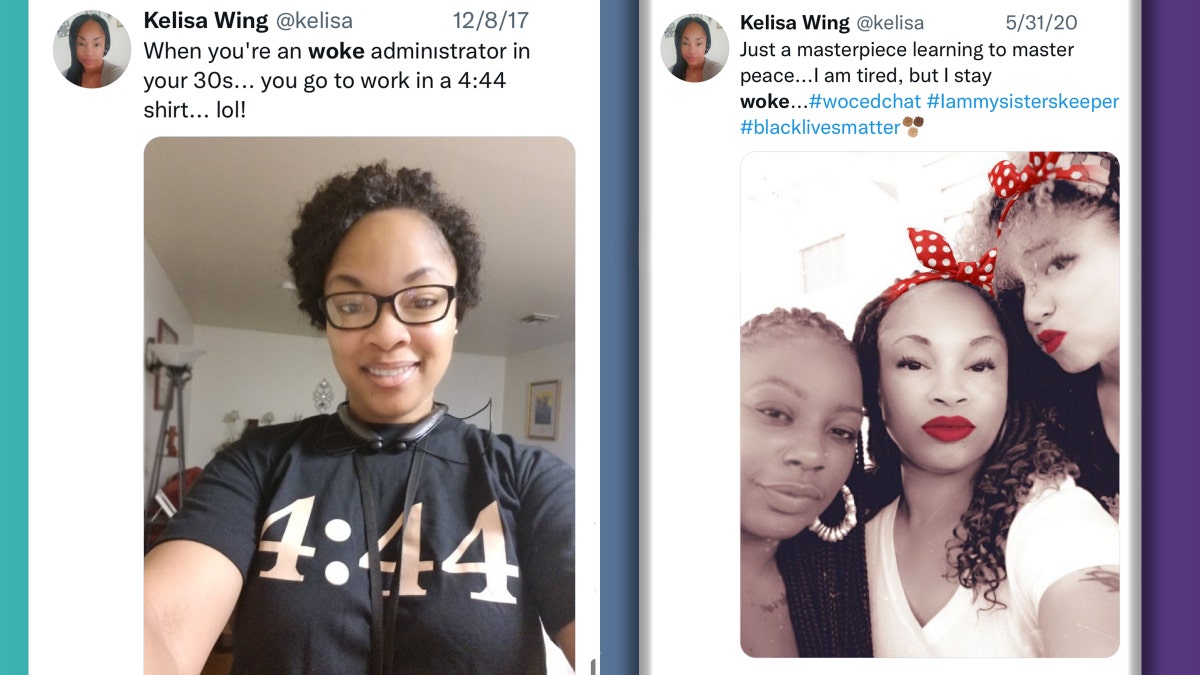 Fox News Digital also found that on two occasions Wing promoted the anti-police book "Between the World and Me" by Ta-Nehisi Coates while representing herself as an employee of the Pentagon's education wing.
Coates called 9/11 first responders "menaces" in the book. He wrote, "They were not human to me. Black, white, or whatever, they were menaces of nature; they were the fire, the comet, the storm, which could — with no justification — shatter my body."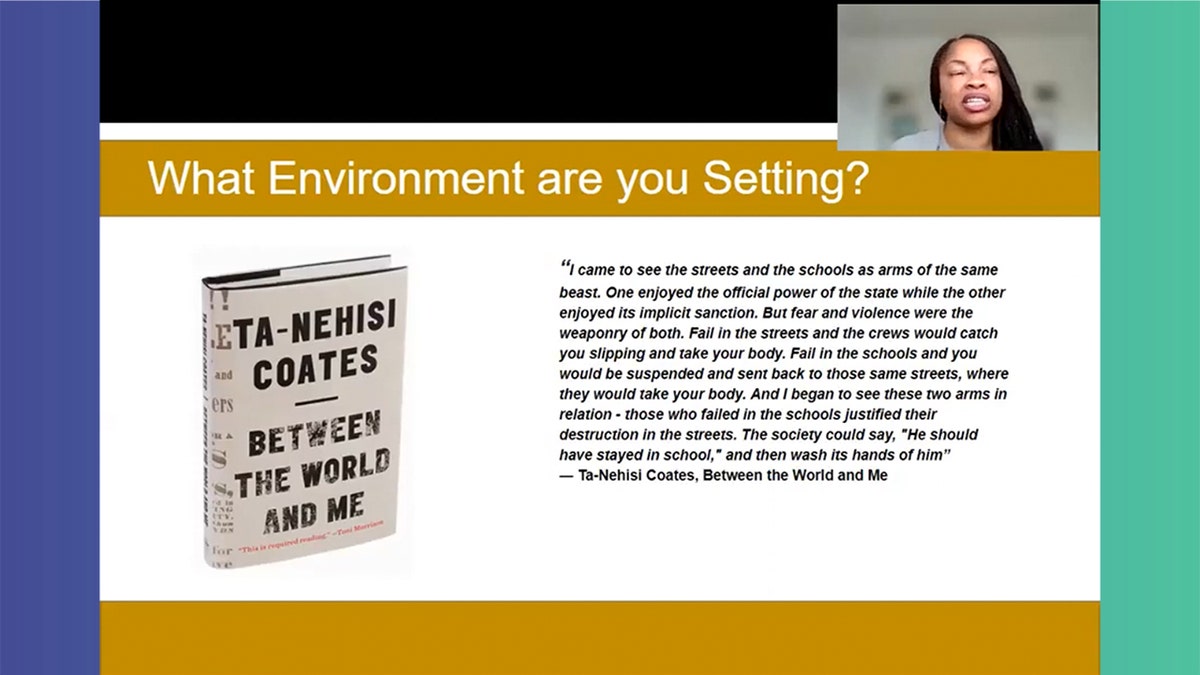 Wing also advocated for "Between the World and Me" to be used in classrooms in 2018.
The Pentagon was one of the targets of radical Islamic terrorists on Sept. 11, 2001; 59 people aboard American Airlines Flight 77 and 125 people in the Pentagon were killed.
DOD BLASTED FOR TWEET TOUTING 'DIVERSITY' AND 'INCLUSION' AS 'NECESSITY' IN THE MILITARY.
Wing wrote children's books that said that White people must confess their privilege and were de facto hurting Black people by being benefactors of unearned advantages, which were also placed in the Pentagon's schools.
Cisneros was asked, "Have you read Kelisa Wing's books titled What is White Privilege? What Does it Mean to Defund the Police? What is the Black Lives Matter movement? Have you read those books?"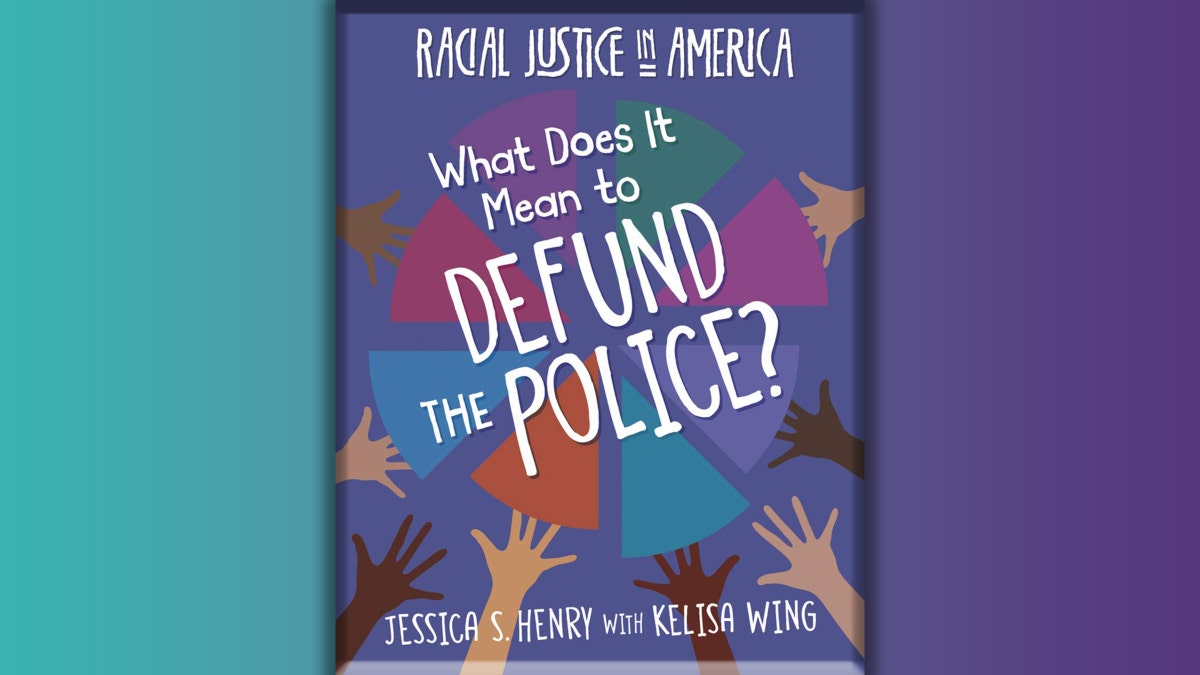 "I have not read those books," he said. He added that he was not aware her antiracist collection was in Department of Defense schools.
"I'm telling you they are. That's why I asked you the question. You should know. You're a DoD official. I'm informing you. You should know the answer," Stefanik said.
She went on to say that Wing advertised her books in a government meeting illegally.
"Are you aware that this is illegal for DoD employees to advertise and promote their personal books, that they will profit off of those sales?"
Cisneros said, "I'm not aware of that. But I can look into it, and I'll get back to you."
"You seem to not know a lot of what's happening in the department," Stefanik said. "So my expectation is that we'll continue educating you on what's happening in the Biden administration, Department of Defense. But this is absolutely unacceptable. We expect that report and I will take it as a result that we delivered, making sure that she should have been fired completely, but she was at least moved somewhere else, not dealing with our kids educational system."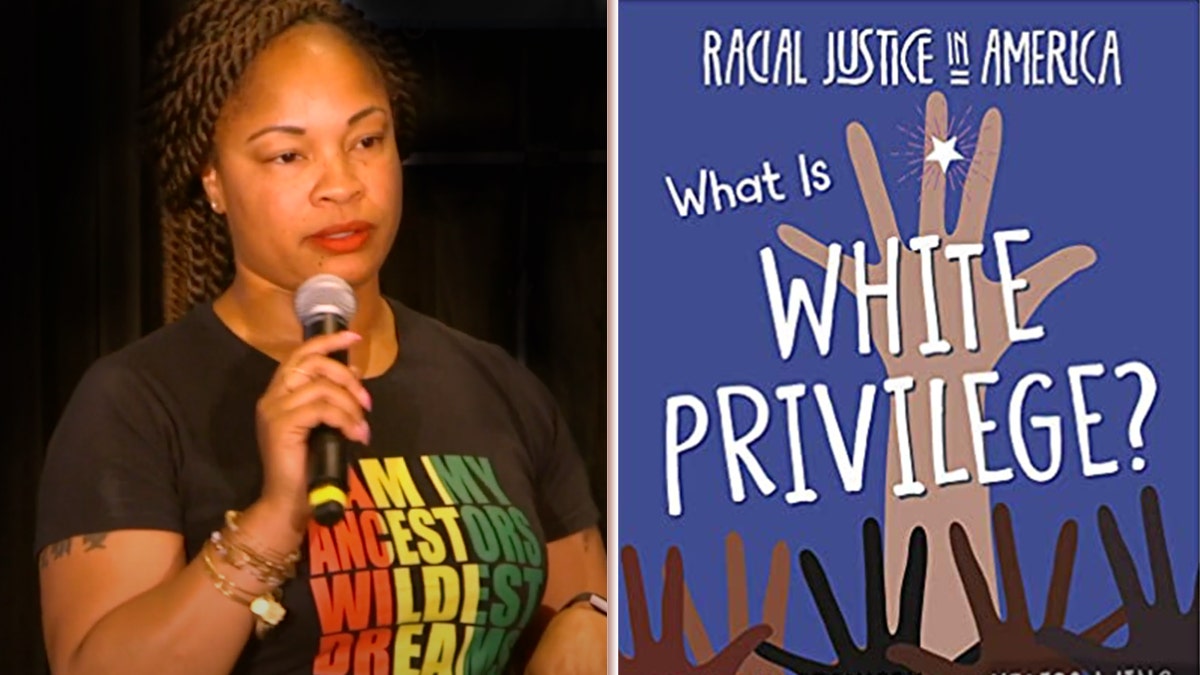 "White privilege hurts a lot of people. If you are White you might feel bad about hurting others or you might feel afraid to lose this privilege," the book "What is White Privilege?" said.
It also said, "Overcoming White privilege is a job that must start with the White community."
"[W]ill you really feel good at the end of the race when you look back and see others fighting obstacles that you didn't even have?" the book added.
The book was reportedly taken down for review along with other radical-left titles by a Florida district, according to a nonprofit that monitors books taken down from the shelves.
PENTAGON SHOULD END 'WOKE' HUNT FOR MILITARY EXTREMISM, SAYS FMR GREEN BERET
"Honored to be involved with work that causes good trouble," Wing said on Twitter about the report.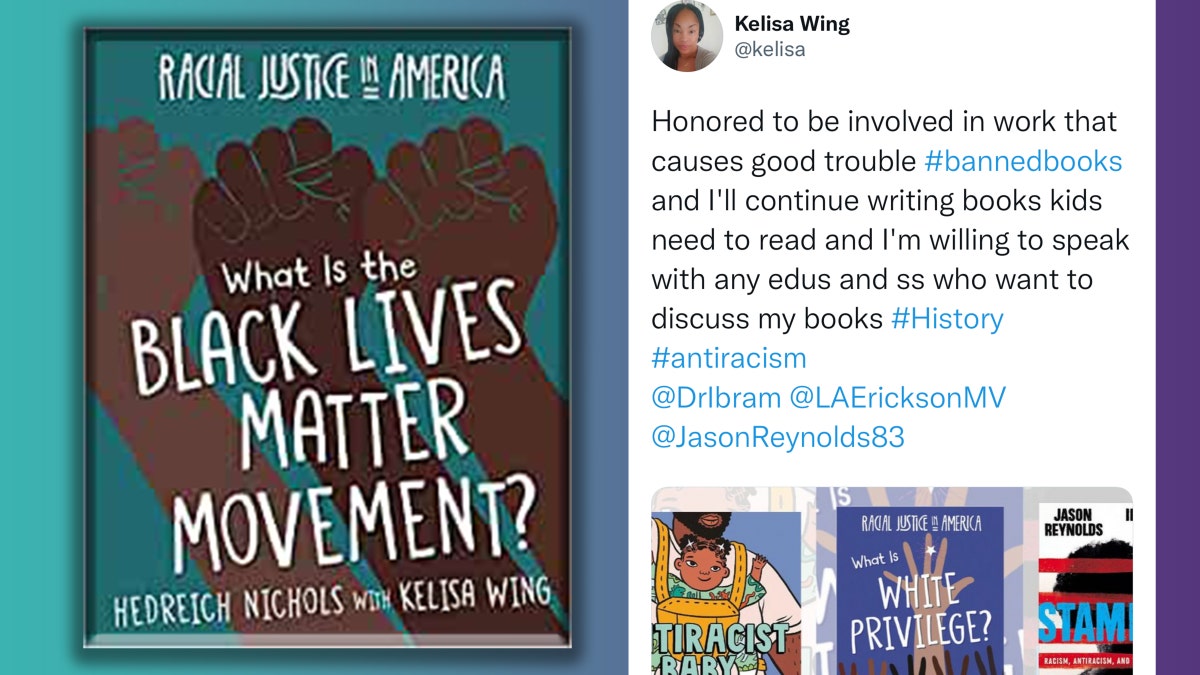 "What is White Privilege?" also encourages White kids to "unpack" their "backpack" of privilege and referenced an article by Peggy McIntosh that said that White women are "justly seen as oppressive" and "enjoy unearned skin privilege."
McIntosh's article also lamented that White students are not taught in schools to see themselves as "an oppressor," a "participant in a damaged culture" and "unfairly advantaged."
"This is a popular phrase that means to think about all the advantages you have every day because you are White," the children's book said about privilege.
The book provides children with an assignment to create an "identity map" and ask "What parts of my identity have provided me with privilege?"
The book also states that White people must "spend" their privilege by becoming social justice activists: "Address how your identity can help you achieve racial justice."
"There is hope! By learning more about White privilege we can work to spend it," the book said. "Privilege is like extra money in your pocket that you didn't earn."
ANTI-DEFAMATION LEAGUE LAUNCHES REVIEW OF EDUCATION CONTENT AFTER FOX NEWS DIGITAL INVESTIGATION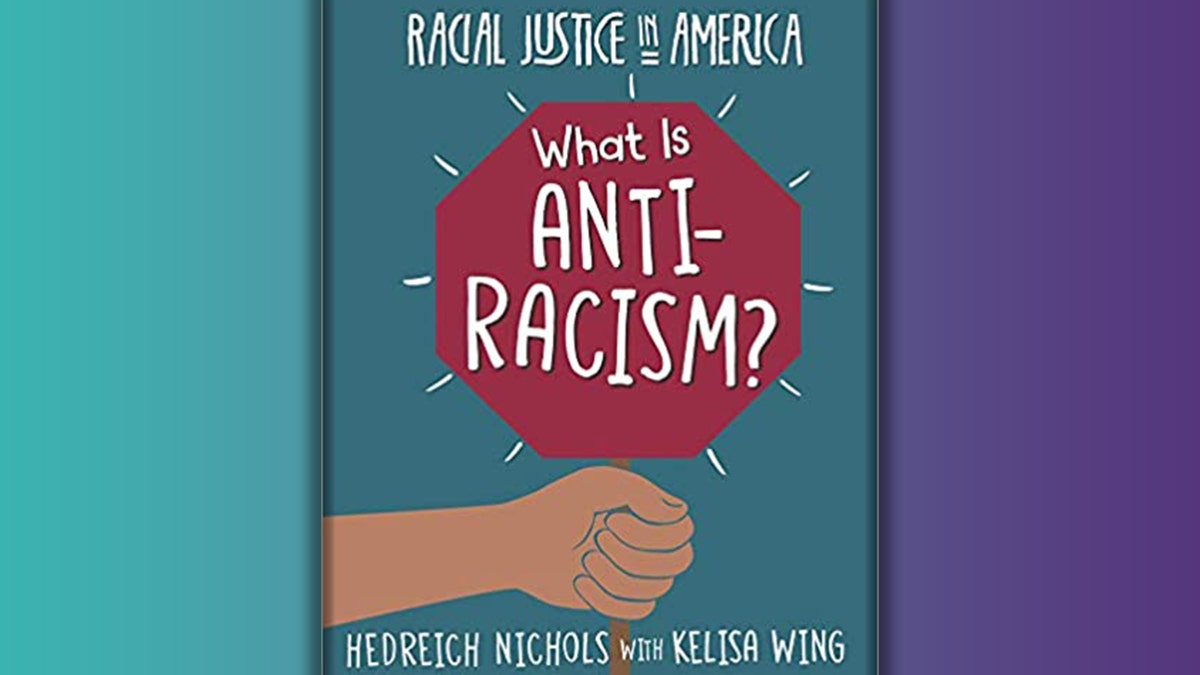 Wing has also co-written a children's book about defunding the police, in which she explains to a young audience the differences between abolishing, defunding, disbanding and reforming police with anti-racist policies.
Some of Wing's children books she co-created contain misleading information or glaring omissions.
For example, "What is Black Lives Matter?" said "almost all" the protests after George Floyd's murder were "peaceful." However, according to Axios, the pro-BLM riots that erupted in 2020 amounted to more than $1 billion in damages, "the most expensive in insurance history."
When Wing was promoted to chief in December 2021, the DoD said she "has been involved with diversity, equity and inclusion efforts for students and schools over many years, authoring several books on the topic."
CLICK HERE TO GET THE FOX NEWS APP
The director of DoDEA, Thomas Brady, said, "Kelisa Wing is exactly the right person to lead our efforts in building on the foundational work done to support meaningful change in our organization."
"This new position will take a holistic approach to identifying and improving how we integrate the practice of diversity, equity and inclusion in every aspect of DoDEA, from curriculum and assessment to hiring and professional development," he continued.