Food shoppers who visit supermarkets and grocery stores see several potato varieties stacked in produce aisles, but not many people can say they truly know the differences between white potatoes and sweet potatoes apart from color and taste.
Are white potatoes "better" for health-conscious diets because they contain less sugar?
Or are sweet potatoes "better" because they're packed with "good-for-you" vitamins and minerals?
The simple answer: It depends on your nutrition requirements and health needs.
BROWN RICE VS. WHITE RICE: NUTRITIONISTS SETTLE THE GREAT FOOD DEBATE
Whether you're trying to lose weight or make a more informed food decision plays a role in what nutrition and health professionals will tell you.
Here's what food and fitness experts have to say about white potato versus sweet potato questions.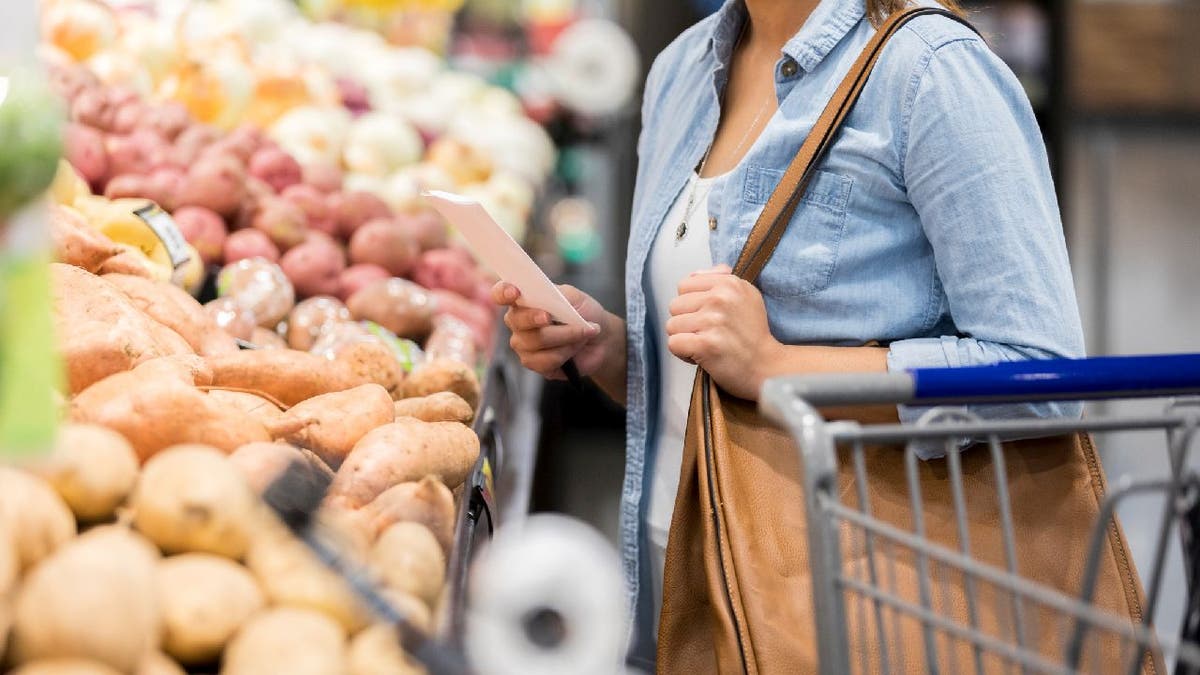 Nutrient breakdown: White potatoes vs. sweet potatoes
Dr. Katrina Nguyen, a board-certified pediatric gastroenterologist from Loves Park, Illinois, told Fox News Digital that white potatoes and sweet potatoes are both "considered healthy."
They're "almost tied" when it comes to nutrition, she said.
Approximate nutrients in 1 medium-sized white potato
Approximate nutrients 1 medium-sized sweet potato
"Some experts think the sweet potato might hold a slight edge because of its high Vitamin A and beta-carotene content," said Nguyen. "Both potatoes are equivalent in Vitamin B6, Vitamin C and fiber."
Vitamin A, Vitamin B, Vitamin C and beta-carotene are considered antioxidants, compounds that inhibit oxidation and offer health benefits such as reduced cell damage and inflammation.
DRINKING A GALLON OF WATER PER DAY: DOES IT REALLY HELP WITH WEIGHT LOSS AND FITNESS?
White potatoes are generally higher in calories, carbohydrates and potassium than sweet potatoes even with its lower sugar content, according to Nguyen.
White potatoes also have "more magnesium and slightly higher iron," she added.
Sweet potatoes generally contain over 100 times or 1,000 times the amount of Vitamin A than their non-sweet counterparts, depending on size.
"Baking them is most nutritious, but you still need to be careful with the toppings."
Nguyen noted that sweet potatoes also have higher amounts of calcium and manganese compared to white potatoes, but they're slightly lower in protein.
"The differences between the two potatoes appear minimal, so it really depends on how they are prepared," said Nguyen.
BRAIN-BOOSTING FOODS FOR FIGHTING MEMORY LOSS, PREVENTING ALZHEIMER'S DISEASE
"Both potatoes can be turned into an unhealthy food when they are fried. Baking them is most nutritious, but you still need to be careful with the toppings you add to it."
Weight loss vs. weight management: Which potato is better for each health goal?
Mary Sabat, of Alpharetta, Georgia, a registered dietitian nutritionist and personal trainer who's the president of BodyDesigns, a health coaching business, told Fox News Digital that individual health goals play a factor in which potato should be chosen.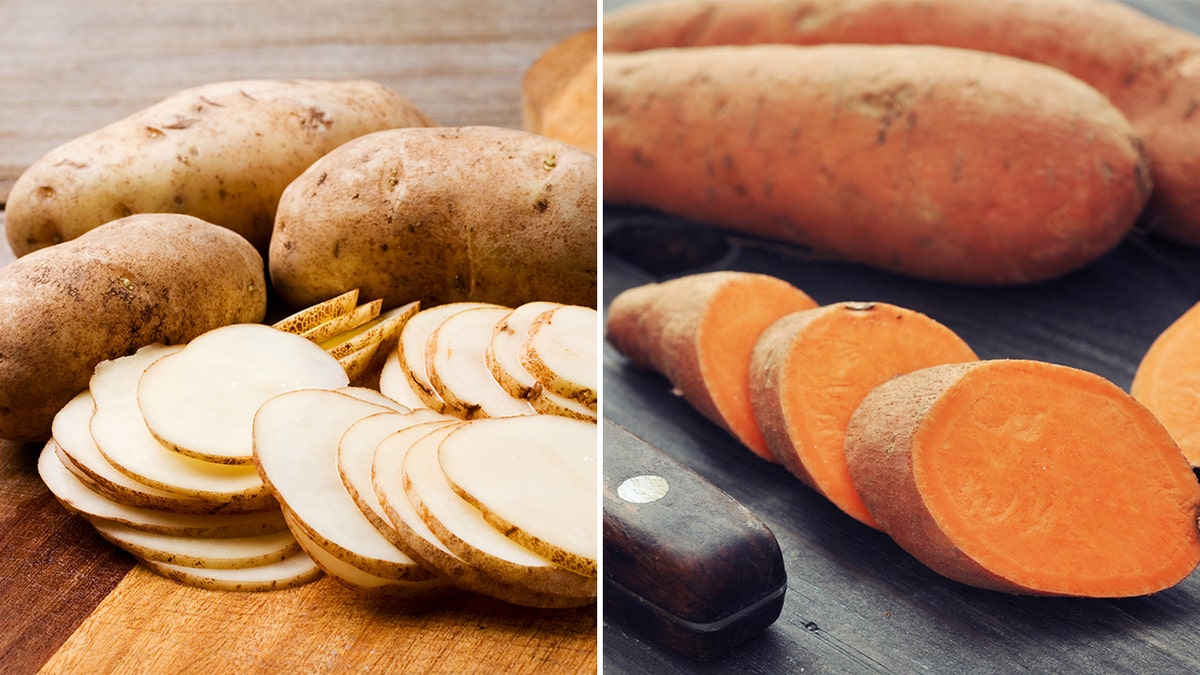 "White potatoes and sweet potatoes can be part of a healthy diet for weight loss and weight management when consumed in moderation and prepared in a healthy manner," said Sabat. "Individual nutritional needs and preferences may vary."
Sabat noted that white potatoes tend to have a higher glycemic index than sweet potatoes, which means "they can cause a more significant spike in blood sugar levels."
TOM BRADY REVEALS HE DOESN'T 'EAT MUCH BREAD' AND EXPERTS SAY IT CAN KEEP YOU YOUNG
Despite having a higher sugar content, sweet potatoes have a lower glycemic index compared to white potatoes and "have a less pronounced effect on blood sugar levels," according to Sabat.
"The presence of dietary fiber in sweet potatoes also contributes to better blood sugar control and increased satiety, which can be beneficial for weight management," she continued.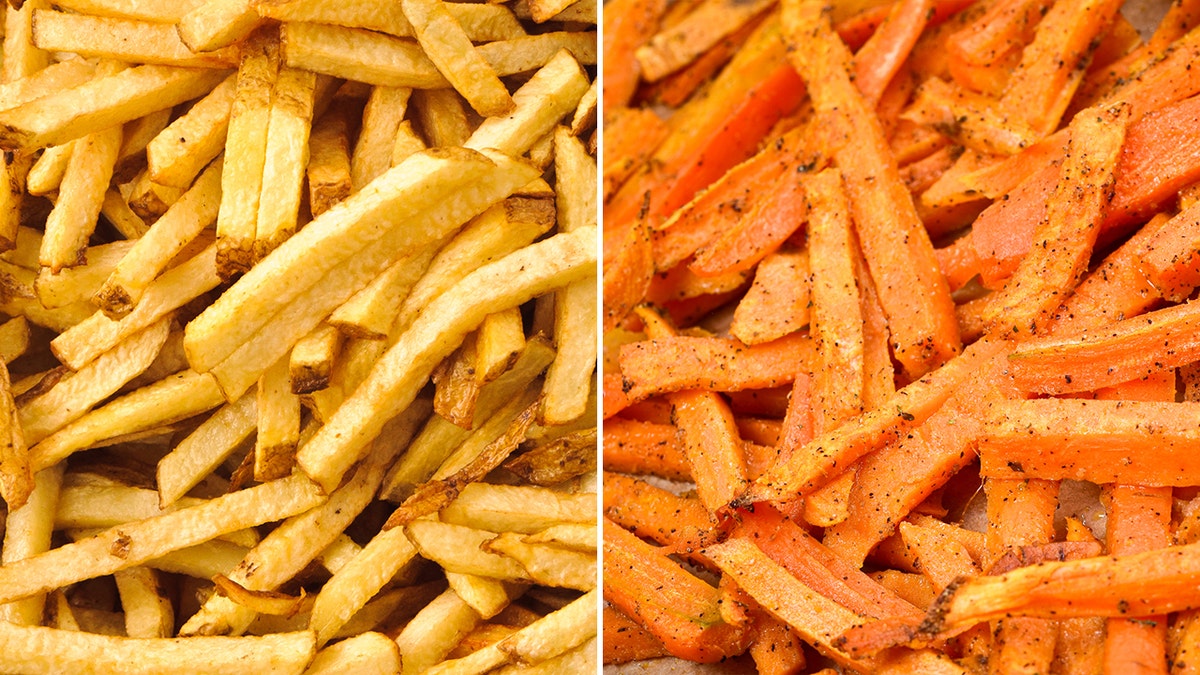 Cooking methods and the presence of other ingredients or foods that make up a complete meal also play a role in blood sugar spikes, Sabat explained.
"It's important to note that the glycemic index alone does not dictate the overall healthfulness of a food," she said.
"Both white potatoes and sweet potatoes can be part of a balanced diet, and the overall diet quality, portion sizes and preparation methods are crucial factors in achieving weight loss or weight management goals," said Sabat.
EATING PUMPKIN MAY HELP YOU LOOK YOUNGER AND LOSE WEIGHT, EXPERTS SAY
"Boiling or steaming is generally recommended as healthier options compared to deep-frying, as it helps retain more nutrients."
Weight gain or muscle building: White potatoes have an edge
While white potatoes and sweet potatoes can work for people who actively trying to lose weight or maintain their weight if prepared correctly, white potatoes might be a better option for someone who's looking to bulk up, according to Deniz Efe, founder of Fitness Equipped, an online exercise guide.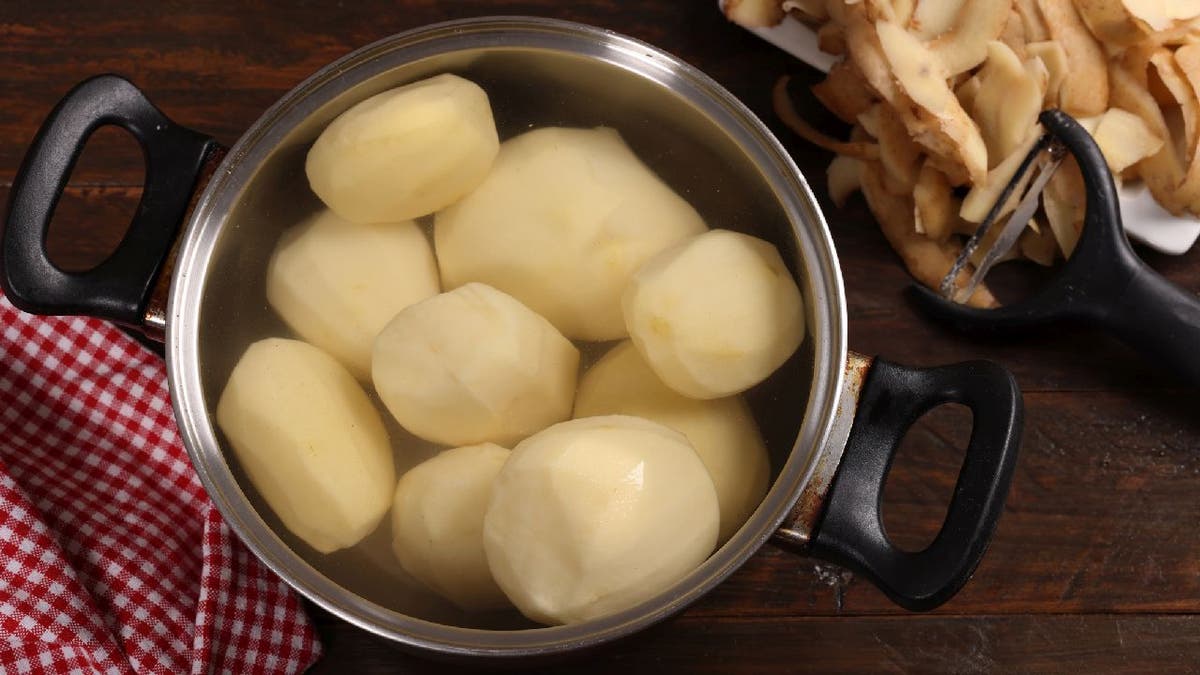 "For those looking to gain weight or increase muscle mass, white potato may be the better option because its higher carbohydrate content provides more energy per serving than a sweet potato," said Efe, who's based in Vienna, Austria, and has previously worked with the Austrian Football Association.
The "extra energy" white potatoes provide "can help fuel activity and build up muscle with regular strength training exercises," according to Efe.
Want to feel fuller longer? Some side with sweet potatoes
Jennifer Pallian, a registered dietitian, food writer and influencer from Vancouver, Canada, who runs the popular cooking blog Foodess, told Fox News Digital the fiber content in sweet potatoes is slightly higher in sweet potatoes.
AGE-DEFYING LIFESTYLE AUTHOR LOOKS DECADES YOUNGER THAN HE IS
"Both types of potatoes are high in fiber, which can help to increase feelings of fullness and aid in weight loss or weight management," said Pallian.
"A medium white potato provides about three grams of fiber while a sweet potato offers around four grams."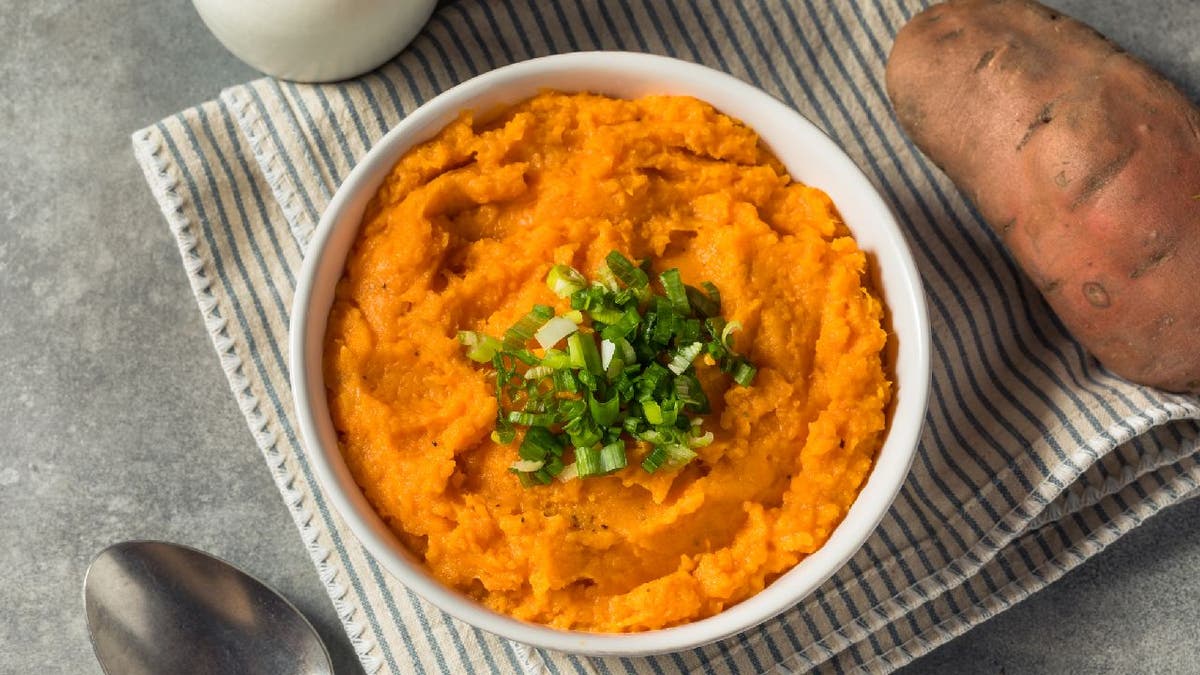 "Since sweet potatoes have a lower glycemic index and slightly more fiber, they might be a better option for weight loss or management because they can help to control blood sugar levels and keep you feeling full for longer," Pallian also said.
CLICK HERE TO SIGN UP FOR OUR LIFESTYLE NEWSLETTER
Michelle Saari, of Winnipeg, Canada, a registered dietitian with a master of science who runs The Dietitian Prescription food blog, also agreed the slightly higher fiber content in sweet potatoes might satiate an appetite for longer, which "reduces the amount of times you're visiting the pantry after eating."
Final verdict: Both potatoes are good
Bonnie Johnson, of Denver, Colorado, director of nutrition at Potatoes USA, a marketing and research organization representing potato farmers throughout the country, told Fox News Digital that most Americans don't eat enough vegetables in general.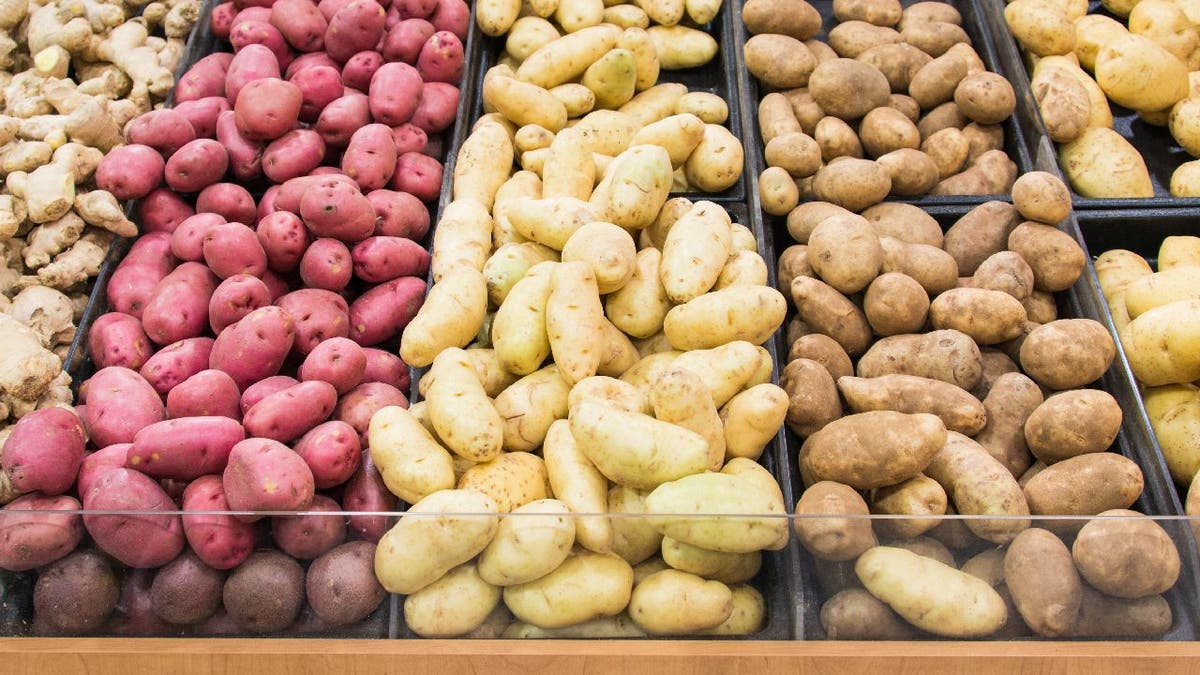 "We don't believe in pitting one against another," Johnson wrote in an email.
CLICK HERE TO GET THE FOX NEWS APP
"Both have a place in healthy eating patterns," she said.
"Research shows that when white potatoes are served with other vegetables, more total vegetables are eaten," she also said.