World's Deadliest Snake Suspected in Owner's Death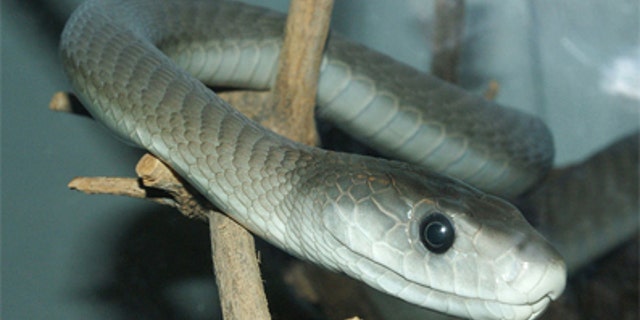 PUTNAM LAKE, N.Y. – A black mamba, widely considered the world's most poisonous snake, was suspected in the death of a woman who kept 75 snakes as pets at her suburban New York home, authorities said on Thursday.
Aleta Stacey, 56, was found dead in her home in Putnam Lake, New York on Tuesday by her live-in boyfriend when he returned home from work, a spokesman for the Putnam County Sheriff's Office said.
Police were called to the home, about 65 miles from New York City, and discovered approximately 75 snakes in glass aquariums and acrylic snake pens.
RELATED: Treating a Poisonous Snake Bite
Stacey's boyfriend, Vito Caputo, 46, told investigators that he discovered locks open on an enclosure that housed a 5-foot long African black mamba, indicating Stacey was handling the snake and it may have bitten her.
"Possible snake bit wounds on one of her forearms" were found on Stacey's body, according to a statement by the sheriff's office.
Authorities did not rule out foul play in Stacey's demise. They were awaiting the autopsy results to determine the cause of death.
The black mamba is considered the world's most deadly snake, according to the National Geographic Society. Its bite kills nearly 100 percent of victims unless they are immediately treated with an antivenin. Untreated, victims typically die within 20 minutes.
The black mamba and the rest of the snakes - some of them venomous - were turned over to the Bronx Zoo, at the direction of the New York State Department of Environmental Conservation.