'World Cup' trophy presented to 5-year-old boy battling cancer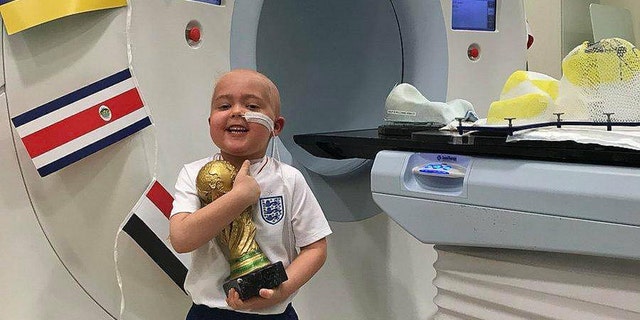 And the World Cup goes to ...
After surviving six weeks of radiotherapy treatment, a five-year-old British boy received his very own "World Cup" trophy and touching encouragement from soccer star Harry Kane.
Before receiving treatment for a brain tumor, Ben Williams was unable to walk or talk, but last week he made one request - his very own World Cup!
On July 5 the staff at Queen Elizabeth Hospital, in Birmingham, England granted Ben's wish by surprising him with a soccer-themed ceremony in honor of his bravery.
The heartwarming video of little Ben unwrapping the trophy went viral after Liam Herbert, a pediatric radiographer, shared the video on Twitter. "A week ago he asked for the World Cup," Herbert wrote, "so we delivered."
Sam Williams, Ben's father, shared his gratitude with the Independent, saying, "They had already done more for Ben than we could ask for, so this was just such a kind and thoughtful gesture. As you can see from his face, he was just delighted with it."
But if taking home his very own World Cup wasn't enough, Kane retweeted the video later that day. He labeled Ben an "inspiration," and encouraged him to "Carry on fighting and we'll do everything we can on Saturday to keep a smile on your face #BensWorldCup."
Ben's father also told the news source that his son "really liked football before he got ill and has suddenly gone England crazy in the last couple of weeks, so much so that 'England' and 'Harry Kane' are some of the first words he learned to say again as his speech came back."