When Cheryl Hile was diagnosed with multiple sclerosis (MS) in 2006, she thought her running career was over. Instead, she got an orthotic brace, ramped up her training, and has run 36 marathons in the 10 years since. Next up: seven marathons on all seven continents— all of which she's set to complete in the next year.
"I've always known that I wanted to do something really big," Cheryl, 42, of San Diego, California, who ran the first in the series in Africa on Sunday, told FoxNews.com. If Cheryl finishes the seven marathons on all seven continents, she will be the first person with MS to do so.
Inspired by her longtime marathoner husband, Brian, Cheryl began running in 2000. She loved that it was an activity she and Brian could do together, and it filled her with joy.
"I guess I'm one of those people that reaches that runner's high, where you just feel so good, and you feel like a machine and you want to keep running forever," Cheryl said. "It's a little different with MS because you don't feel like a machine as much, but it's something that elevates your spirits."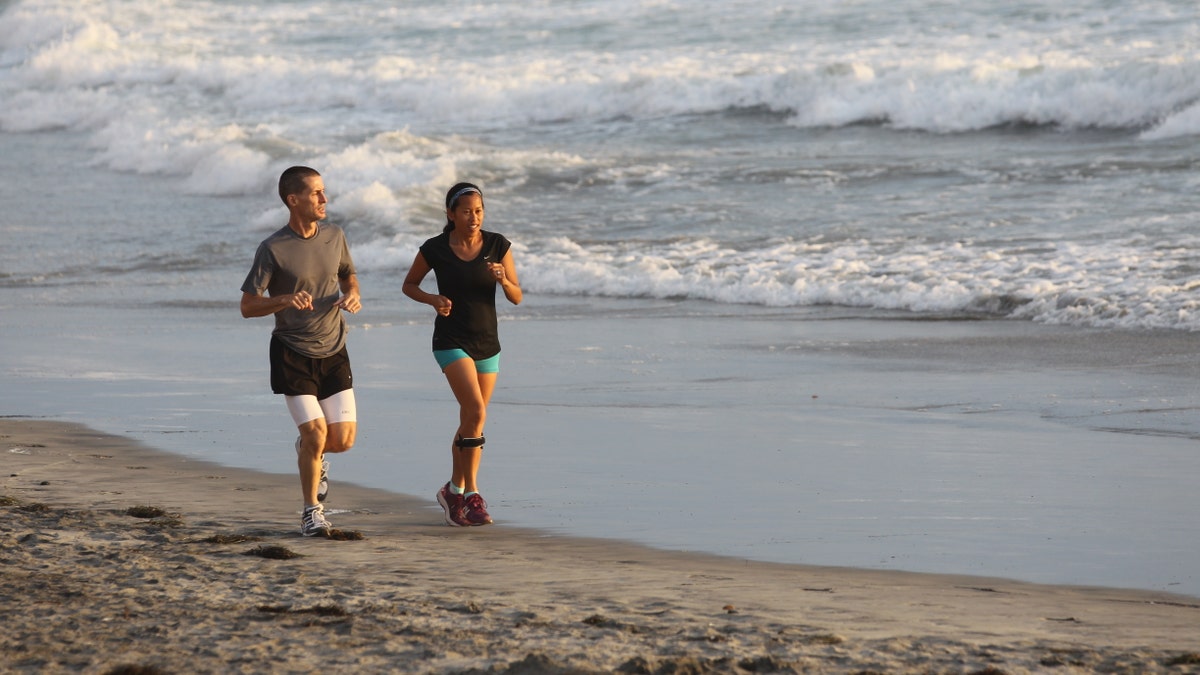 MS is a neurodegenerative disease wherein the immune system attacks the protective sheath of nerves, called myelin, which hinders communication between the brain and the body, according to the Mayo Clinic. For Cheryl, MS manifests by weakening her muscles on the right side of her body, including her right foot, which she trips over due to drop foot, a common symptom of MS. The 1.2-pound orthotic brace that the Hanger Clinic created for her slightly elevates her right toes so she can't trip and fall.
"Pretty much, I push off with the left side of my body, and my right side follows along," said Cheryl, whose right-leg muscles have atrophied as MS prevents them from activating.
After Cheryl was diagnosed with MS, her first neurologist advised her to lower her expectations.
"I'm not the right person to say that to because she just pissed me off," said Cheryl, laughing. "I wanted to prove her wrong, and I think I have."
Her orthotist Ara Mirzaian told her he thought she could continue running, but he was skeptical about Cheryl's wish to run a marathon.
"She's always been active, and when she came to me, I said, 'I can see you running, but running a marathon is pretty much impossible with drop foot,'" Mirzaian, who works at the Hanger Clinic's Encinitas location, told FoxNews.com. "[She] said, 'I can do it; give me a brace.'"
Cheryl went through about five different brace designs, breaking several, until she got her current model for running, which is made of carbon graphite. For each upcoming marathon, she'll carry two backups as a precaution.
"She's risen above it, and that's hard to see in patients," Mirzaian said.
Brian, 56, Cheryl's husband of more than 10 years and partner of more than 20, said his wife is determined when she sets her mind to something.
"She's stubborn in the sense that the doctor is not going to dissuade her from doing the things she has said [she's going to do]," Brian, 56, told FoxNews.com. Brian and Cheryl work as fund managers at the University of California, San Diego, and the two plan to run Cheryl's seven marathons together.
The Hiles said Cheryl has cleared the seven-marathon goal with her neurologist, but her neurologist could not be reached for direct comment.
To prepare for the races, Cheryl lifts weights every other day and had previously biked for cross-training. But she and Brian have stopped running and cycling to rest their legs, with the idea that each marathon will offer cardiovascular training for the next.
After completing her first race in Cape Town, South Africa, on Sept. 18, Hile will travel to Buenos Aires, Argentina, in October, and then Honolulu in December, Antarctica in January, Tokyo in February, and Vienna in April. The last scheduled race is in Christchurch, New Zealand, in June.
"Just having MS, just in case something were to happen, I wanted to give myself an extra three months to accomplish this, but I'm pretty confident I can do it in nine months," Cheryl said.
To train and test their gear for the Antarctica race, where the equivalent marathon was -4 degrees F last year, the Hiles plan to do long runs in Denver over the holidays. Cheryl is worried about her symptoms there as well as in the heat in Honolulu, as extreme temperatures can cause her leg to become heavier and her arm to become number. But she takes comfort in knowing Brian will be by her side to encourage and help her open her water bottle, which MS makes tougher.
Cheryl is most looking forward to the New Zealand race— not only because it's the last race but also because it falls on her birthday, June 4.
Before her MS diagnosis, Cheryl could complete a marathon around 4:15 or 4:20. Now, she's aiming for 5:00. Cheryl finished her Cape Town race in 4:51:51.
Whenever she's done with all seven races, she and Brian may plan a cross-country trip on their bikes. Cheryl recently met another woman with MS who climbed all seven summits in the United States.
"I've completed 49 marathons in such a short time span, and it's because I have that sentiment in my heart that, 'I better do everything I want to do now before something bad happens,'" Cheryl said. "Some people wake up, and the next morning they can't move their legs. There is a bit of a rush to do everything I want to do, but at the same time, Brian tells me he feels that I'll stop running on my own terms— I'll decide I don't want to run marathons anymore, rather than the disease dictating when I have to stop."
Brian agreed.
"She's a fighter," he said.
Cheryl is fundraising to cover travel expenses for the marathons. To donate, visit CrowdRise.com.