Woman told to terminate pregnancy after heart attack conceives healthy child
After giving birth on Sept. 18, 2011, Jara Herron was basking in the joy of motherhood, but 10 days afterward, as she went to pick up her newborn for nursing, a heavy weight overcame her chest, her left arm went numb, she vomited and, after screaming for help, everything went black.
Herron, 41, had only ever been in the hospital to give birth. This time, she found herself admitted to the ICU after suffering spontaneous coronary artery dissection (SCAD), a type of heart attack that disproportionately affects young women without heart disease risk factors, and cardiogenic shock, a potentially deadly condition wherein the heart's pumping function fails.
"She was on death's door," Dr. Tom Kalapura, an interventional cardiologist at St. John Medical Center, who treated Herron, told FoxNews.com.
Herron fell into a coma for 30 days as doctors tried to revive her— repeatedly performing CPR, placing six stents in her coronary artery, implanting a heart pump to reverse organ failure, putting her on dialysis, and removing three-fourths of her large intestine. She defied the odds not only to live but to conceive a daughter, her seventh child.
"I knew that after going through all of that, I was not going to die of pregnancy," Herron, of Tulsa, Oklahoma, told FoxNews.com of her decision to have the child despite the possibly fatal risks. "It seemed so implausible in the grand scheme of life and in God's plan for me."
On Jan. 30, 2014, Herron welcomed her to the world in the same hospital room where she almost died nearly two years before.
"They had seen all this life"

Although doctors aren't sure what causes SCAD, the condition appears to affect peripartum women, said Dr. Robert Haas, medical director at St. John Medical Center. Haas worked on Herron's case but did not treat her directly.
Hormonal changes during pregnancy lead to a softening of tissues around the pelvis to aid in childbirth, but sometimes, they can cause other tissues, like the coronary artery, to soften too. In some cases, the layers of these tissues can soften so much that they separate or tear from one another, and that was the case for Herron, who at the time was 39 and had no heart disease risk factors, Haas said.
"[Herron] had a massive dissection of the main coronary artery," Haas told FoxNews.com. "That supplied two-thirds, or [about] 65 percent, of her heart muscle with blood. That much was deprived."
Haas said the effects of SCAD are transient, meaning this softening isn't cumulative with each new pregnancy. Put differently, Herron's multiple pregnancies didn't put her at a higher risk of experiencing the condition.
Although she was unconscious at the time, Herron said her husband has recalled to her being rolled out on a gurney in the driveway of their home as her five older children looked on in horror. Two neighbors saw the ambulances, and took the five children and infant in their care as Herron's husband, Jason, followed the ambulance.
"Jason said the EMT driver was crying in his steering wheel," Herron said. "They had seen all this life in the house— they were so worried that the mother was going to die."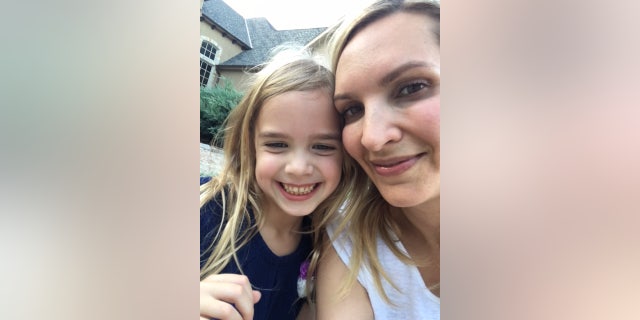 At St. John Sapulpa Hospital, a smaller sister hospital for St. John Medical Center in Tulsa, doctors identified the tear in Herron's left coronary artery, and implanted six stents to restore blood flow to and from her heart. She began suffering from cardiogenic shock, a condition that occurs in 5 to 10 percent of heart attack cases. Cardiogenic shock has a death rate of nearly 50 percent, Haas said.
Herron was transferred to the cardiovascular ICU at St. John Hospital, and within 24 hours doctors placed her on a heart transplant waiting list as her organs began to fail. She was immediately rejected because, based on her diagnostics, doctors did not expect her to survive.
"They kept preparing my family that I might not make it through the night," Herron said.
As Herron filled with fluid, doctors placed her on dialysis and administered treatment for hypothermia by lowering her body temperature. They put 28 IV bags worth of cardiac medicine into her body— a record for the hospital, Herron said that was notable enough to include in their newsletter.
The medication meant to help save Herron's life ruined the lining of her stomach, causing internal bleeding. Herron said her husband and father witnessed her begin to drool pink saliva as her heart coded again and again, and doctors tried to resuscitate her.
"It was like a horror movie," Herron said. "They were doing the defibrillators, they were pumping my chest, and there was fluid flowing from my mouth. They were thinking, 'This has to be it.'"
To rest her heart during the necessary gastrointestinal surgery that followed, doctors implanted the Impella 2.5, a heart pump that helped reverse Herron's organ failure. Doctors ended up salvaging her colon, which had become damaged from internal bleeding and swelling, but removed three-quarters of her large intestine.
The next few days were touch-and-go, Herron said, as she experienced respiratory distress, was switched from using a respirator to a tracheotomy, and suffered a life-threatening blood clot in her left arm.
Four weeks after the initial event, she began coming back to life. But the fight wasn't over.
"God gave me a grace"
Herron, a small business owner of a beauty salon in Tulsa, said one of her first concerns when she came to was whether her 35 employees were being paid.
But Herron also worried about her children. She knew her then-newborn daughter, Paloma, now 4, was being looked after, as were her other kids, Josephine, 14, Genevieve, 12, Penelope, 11, Jonas, 9, and Gemma, 7. Her main concern was her older children— those who could understand what was going on— see her look weak. When Herron regained consciousness, she limited their visitation hours to the hospital during her stay.
"I feel one of my biggest responsibilities as a parent is that my children don't have to worry about the life of an adult," she said. "I was very concerned about my children seeing me in any kind of state that would scare them."
Upon being discharged from the hospital 60 days after she was admitted, she required a wound vac and a trach to help her breathe post-surgery. Doctors prescribed a blood thinner, beta blockers and mild diuretics, and she received a pacemaker and an implantable cardioverter defibrillator (ICD), a battery-powered device that's connected to the heart with wires. Together, the devices worked as a two-step system to keep her heart rate in check.
"It's been five years this month since that happened, and it's been a process of living with heart failure now," said Herron, who has since received a biventricular defibrillator that synchs the upper and lower chambers of her heart.
In May 2012, Herron returned to work full time, hiring a handful of new employees and scaling back on her hours. As she grew her business, she learned she was pregnant again.
"I have a faith-based system where I do not use birth control, and I've always been very trusting in that," said Herron, who said, given her health issues, the prospect or possibility of another child had never been part of the conversation among she and her physicians.
"I was 40 with six children," she said. "[Pregnancy] wasn't on my radar or my physicians'."
While the news scared her and she faced criticism from friends, family and her primary care doctor— who advised her to terminate the pregnancy— she decided to go through with it.
Kalapura, who attends the same church as Herron, said he warned her of the risks, but she wanted to go through with the pregnancy regardless.
"[Kalapura's] response was very surprised, but he also said it was an amazing sign of how much my body had healed and recovered," Herron said. "Mentally and emotionally I liked his to take on it."
Haas, the doctor at St. John who didn't directly treat Herron, said, after a woman experiences SCAD, having children would not be remotely safe unless the individual's heart pumping function becomes significantly restored. But, he said, "For me, even if the pumping function had recovered fully, I'd still say there's a risk because she had SCAD. It's high enough that it doesn't make sense to have more kids safely."
Kalapura said Herron's pumping function improved by 5 to 10 percent after she suffered SCAD.
The first half of Herron's pregnancy felt normal, but by the third trimester, "I felt what someone experiences at end-stage heart failure," she said.
"I didn't work; I couldn't even stand," Herron recalled. "I really believed that I would get immediate relief once I delivered the baby. Having gone through that many pregnancies, I know that feeling of immediate relief."
She and her doctor planned to induce labor six weeks early, and on Jan. 30, 2014, she welcomed newborn daughter Winnie, who would stay in the ICU until her term date.
Herron gave birth in the same room where she had nearly died about two years before.
"It was an amazing experience coming full circle, experiencing life and death in that room," said Herron, who described her recovery as a "miracle."
Herron knows that she will need a heart transplant eventually, but for now, she said her faith and family are helping her live in the present.
"I believe God gave me a grace as a child, that I have a strong sense of faith and trust, and knowing when things are out of your control and when they aren't," she said. "I try to enjoy this moment and not worry about the future— that's wasted energy on my heart. I want that to reflect most importantly to my children: that how you face adversity and how you handle it is a complete reflection of your personality."