What to do about aging parents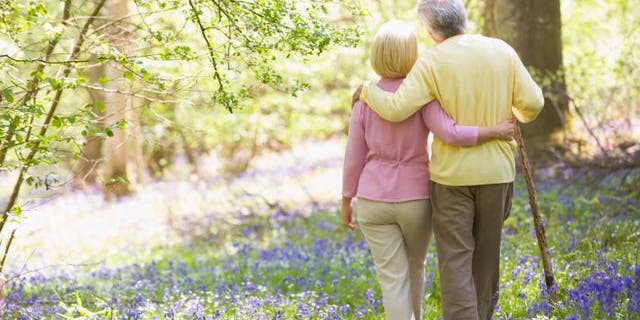 Even if you've spoken with your parents about aging, the signs can still surprise you. This advice will help you get through five common scenarios.
If You're Concerned About Your Parents' Safety at Home…
Don't rush to the conclusion that they have to move out. If a parent is physically frail but cognitively intact, you may have to swallow your fears, Dr. Joan Teno, professor of community health and medicine at the Brown University Medical School, said.
"If they are able to weigh risks and benefits, then let them make the decisions," she said.
For example, how likely is it that your parent will fracture a bone in a fall? How much happier would he be staying in a familiar setting?
Related: How to Make Positive Changes in Your Life

There are ways to ensure safety while respecting a person's autonomy. Inspect for hazards, such as loose rugs, and install handrails on all stairs and reflective nonslip tape on uncarpeted steps. Replace dim bulbs with bright ones, and add night-lights. Rearrange closets to make everything accessible.

If a parent suffers from Alzheimer's or some other form of dementia, you may indeed have to move him or her or arrange for live-in help. Small crises can also be red flags. For instance, if Dad burns the toast and starts a little kitchen fire, that's the time to reevaluate safety―before disaster strikes.

If You've Noticed the House Isn't as Clean as it Used to Be…
Try to discern if the problem with cleaning is physical, as with arthritis or some other condition that makes reaching, bending, and sweeping hard. Mom and Dad may not even notice the dust or the mustiness as their senses deteriorate, Charlotte Spiegelman, a clinical social worker in Los Angeles, said.
Related: 5 Mistakes Everyone Should Make

You can also pay for household help as a Mother's Day or birthday present, suggested Lisa Gwyther, an associate clinical professor of psychiatry and behavioral sciences at Duke University, in Durham, North Carolina. Give a gift certificate for a cleaning service and schedule the appointment. If your parents are worried about prying strangers, hire someone you know or get a referral.
If You're Worried That Your Parents Are Eating Poorly or Irregularly…
Take a discreet look around their kitchen, Ginzler said. Is the pantry stocked, or do you see fast-food wrappers? Is there healthy food in the refrigerator, or are many items expired? Go shopping with your parents and stock up on foods that are convenient and nutritious. Or order groceries online and have healthy prepared or frozen meals delivered. Share recipes, particularly quick and simple ones, and freeze single servings of home-cooked meals. "Visit and cook together" if you live near one another, Ginzler said.
Related: 5 Great Things About Growing Old

Eating out frequently is not a problem in itself, but steer them toward healthy options. Older people, especially, should not load up on foods high in calories, trans and saturated fats, sugar, or sodium, which can raise the risk of heart disease, diabetes, and hypertension. Fast foods can lead to all three, Bonnie Liebman, director of nutrition at the Center for Science in the Public Interest, in Washington, D.C., said. One way to have hassle-free healthy meals―and a chance to socialize―is at community and senior centers that offer lunch. (Do a Web search for "congregate meals" in your community.)
If You're Afraid Your Parents Are Not Taking Their Medication…
People living with a chronic illness often make the mistake of stopping medication for that illness when they feel better, only to have serious or dangerous symptoms reappear, Dr. Barbara Supanich, medical director for palliative medicine at Holy Cross Hospital, in Silver Spring, Maryland, said. Make sure the doctor explains to your parents that they have to keep taking the pills to control the disease, perhaps for the rest of their lives.

Related: 5 Ways to Win People Over

Pain drugs are a special challenge. People often don't take them because they fear becoming addicted or they don't realize that most side effects, such as drowsiness, dissipate in a few days, said Joan Panke, the palliative-care coordinator at George Washington University Hospital, in Washington, D.C. (If the side effects don't go away, consult the doctor about switching medicines.) Let your parents know that controlling pain can help them maintain a good quality of life and stay active, happy, and healthy.

If You Think They Are Making Poor Financial Decisions…
Injecting yourself into your parents' financial affairs is a touchy subject because it can undermine their sense of control, Richards said. Ask them if they would consider allowing a friend or a relative to help pay bills. See if they'll consider a joint checking account or a two-signature account, which would still let them write the checks but require your approval for any large amounts.

Fraud, scams, and identity theft are also threats.
"Seniors are seen as prey. They have assets, but they are less likely to blow the whistle or report a crime, because they are often embarrassed," Jean Setzfand, director of financial security for AARP, said.
Report identity theft not just to the local police but also to the Federal Trade Commission (call 877-438-4338). If you suspect a scam, call the credit-card company to challenge large charges, suspicious items from companies you've never heard of, and items your parents clearly don't need.

You should also make it a priority to consult with a registered dietitian or a licensed nutritionist at least once, said Connie Bales, a registered dietician (RD) and a senior fellow at the Duke University Center for the Study of Aging and Human Development. Parents may be more open to the advice of a professional.
"They may not want to take advice from the person they fed strained peas to," Bales said.
With that guidance, they can make healthy diet choices at home and when eating out.