We're not prepared for future Ebola outbreaks, experts warn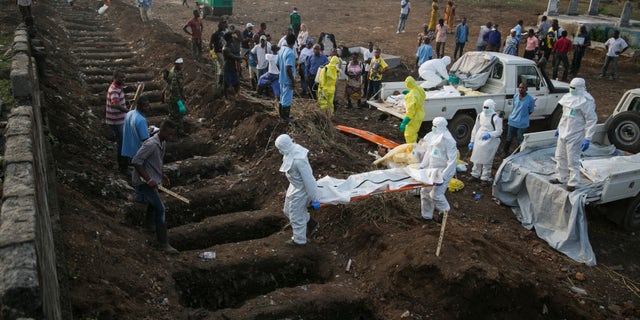 NEWYou can now listen to Fox News articles!
Despite recent headlines declaring the success of an experimental Ebola vaccine, the world is not fully prepared for future epidemics — and not in position to use vaccines to prevent another deadly outbreak, a report published Tuesday warned.
The report raised serious concerns about the work that remains to be done on Ebola vaccines.
Among the challenges: Protocols for maintaining stockpiles of Ebola vaccine and deploying it when needed aren't complete. The experimental vaccines haven't received emergency use authorizations yet from the World Health Organization or the countries where outbreaks occur. No decision has been taken on whether manufacturers will be protected from liability should lawsuits arise.
And, critically, no one is clear on how to ethically test and license additional Ebola vaccines once the first such product has been approved.
A study published just before Christmas confirmed that one experimental vaccine — called rVSV-ZEBOV and being developed by Merck — is highly effective in preventing Ebola. While welcome news, it doesn't warrant popping champagne corks just yet, the report's findings suggest.
"There was a sense that we're all done. We've taken care of it. We've got a 100 percent effective vaccine," said Michael Osterholm, co-chair of the group of experts that wrote the report. The reality, he said, is far different: "There is still a lot of work, with a lot of very hard questions and some important financing, that still needs to be done to get us to a point of Ebola preparedness."
The report is the third from a panel that calls itself Ebola Vaccine Team B. The Team B concept, which arose within government intelligence agencies in the 1970s, involves pulling together people who are expert on an issue but who are not involved in day-to-day operations to provide fresh eyes and independent analysis.
This Team B, made up of 25 international experts from the fields of vaccine development and use, has been monitoring work on Ebola vaccines since November 2014, during the West African Ebola crisis. The work is funded by the Wellcome Trust.
When it was put together, multiple companies and independent research teams were scrambling to test several experimental Ebola vaccines that has been studied in primates but for which no human efficacy data existed. The West African outbreak was so large — infecting more than 10 times the number of people sickened in all previous known outbreaks combined — that health authorities thought vaccines would be needed to bring it under control.
But the outbreak effectively ended a couple of months later. And in the two years since, the sense of urgency surrounding the development of Ebola vaccines has dissipated.
"I can't say that all the momentum has been lost. But it's pretty hard to run a semi-truck on a lawnmower motor. There's not enough push and pull right now. Things are happening in more of what I'd call a routine matter of trying to follow through on this," said Osterholm, who is also the director of the Center for Infectious Diseases Research and Policy at the University of Minnesota.
For instance, the World Health Assembly still has not granted the Merck vaccine an Emergency Use Assessment and Listing designation — its equivalent of the Food and Drug Administration's emergency use authorization — despite the fact that the company submitted an application in December 2015. (Johnson & Johnson, which is also developing an Ebola vaccine, submitted its application in September; it hasn't received a ruling either.)
Dr. Marie-Paule Kieny, the WHO assistant director general whose department oversees this project, told STAT she expects the Merck vaccine to get an EUAL designation within the next couple of months. But she added that once the emergency in West Africa ended, so did the capacity to bend rules to speed up this work.
"It's not an emergency anymore. What happens when it's not an emergency is that the normal processes kick back in," she said.
One of the crucial issues the report highlights is the difficulties that will arise for other manufacturers once the Merck vaccine is fully licensed — if it reaches that stage. (The company is compiling its licensure application dossier, which it plans to file this year.)
There is general agreement that several Ebola vaccines will be needed. The Merck vaccine generates a quick immune response with one dose, which is paramount in an outbreak. But it's not clear how long that immunity lasts.
Vaccines that generate long-term protection are also needed. That's because the best way to prevent future large outbreaks of Ebola is to vaccinate health-care workers in countries where Ebola erupts. Initial cases which often go unrecognized as Ebola end up infecting health care workers, amplifying the outbreak. It is thought a two-dose vaccine will be needed to confer long-term protection.
(Also needed: vaccines against other strains of Ebola that cause human disease and a vaccine to protect against Ebola's cousin, the Marburg virus. The ideal would be a multivalent vaccine that protects against Marburg and two or three strains of Ebola.)
But once the first Ebola vaccine is in use, testing a second or a third in people may be next to impossible.
The only time to test if an Ebola vaccine works is to conduct a clinical trial when Ebola is spreading. But when faced with an outbreak, countries may refuse to allow such studies, demanding instead that their citizens are given a vaccine that is known to work. Some might argue it would be unethical to use an untested vaccine on some people when there's another option of known efficacy.
"We don't have a game plan of how to move forward with this. And Ebola vaccine is really, in a sense, pushing the envelope on regulatory science in terms of some of these questions," Osterholm said.
Another huge question mark hanging over Ebola vaccines is liability and indemnification — in other words, who should take responsibility if something goes wrong and a recipient of one of these vaccines sues?
Kieny said the WHO's position is that after Ebola vaccines have been licensed, the buck stops with the manufacturer.
"Once a product is registered, it's their responsibility. This is one of the risks of the business of being a vaccine manufacturer," she said. "I think it would be a very slippery slope to start, for any product which is licensed, to provide indemnification. Because this will be a never-ending story."
But manufacturers — who know Ebola vaccine sales will never cover costs, let alone generate profits — will certainly balk at the prospect of being liable for producing a product that is effectively a good deed.
Dr. Mark Feinberg explained the thinking. Feinberg used to be chief science officer for Merck, and led work there on the Ebola vaccine until he left to become president of the International AIDS Vaccine Initiative in September 2015.
Vaccines that are being created to respond to emergencies are developed on shorter timelines, with smaller clinical trials than one would conduct to test a new vaccine meant to protect against a long-known threat — which increases the risk for manufacturers, he said.
"It's very frustrating to see that it's still not resolved," Feinberg said of the liability question. "Because this is something that will affect every single vaccine that people want to see developed for emerging infectious diseases or pandemic flu.
"Part of it that it's complicated. And part of it is that I don't think there's adequate alignment and trust among the different stakeholders. And part of it is … that the impetus to solve it diminishes when the issue is no longer in the headlines."
Feinberg said the obstacles outlined in the Team B report must be overcome, if the world wants vaccine manufacturers to answer the call the next time a new infectious disease emerges.
"If you can't figure it out for Ebola, there's no reason to think that you're going to be able to figure that out for any other emerging infectious disease response," he said. "And unless the private sector of vaccine developers — who are going to be critical partners in this effort — have confidence that you're actually going to be able to finish the job, then they're going to be much more hesitant to involved."
The report also suggested the need for a new public-private partnership to champion completion of the work. One such organization is the newly formed Coalition for Epidemic Preparedness Innovations, established with funding from a number of heavy-hitter foundations and several governments. Its goal: to spur development of vaccines for emerging disease threats.