US agencies to study safety of artificial turf fields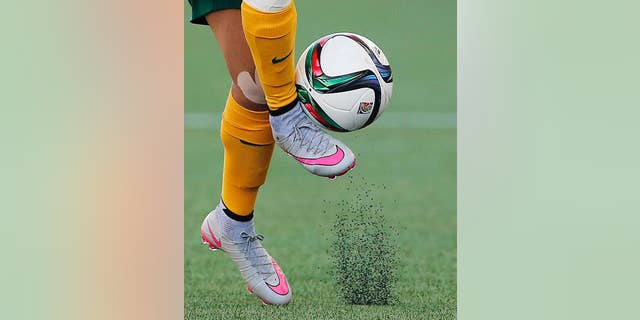 NEWYou can now listen to Fox News articles!
Three U.S. government agencies will team up to study whether artificial turf fields and playgrounds that use bits of recycled tires are exposing children to dangerous chemicals.
The Environmental Protection Agency, the Consumer Product Safety Commission and the Centers for Disease Control and Prevention announced on Friday they will study the issue, CPSC Chairman Elliot Kaye said in a statement.
"I am very pleased that we are joining forces to investigate crumb rubber, as millions of children are exposed to it on playground surfaces and as infill on playing fields," he said.
Limited studies have not shown an elevated health risk from playing on fields with the bits of recycled tires, known as tire crumb, but more comprehensive research is needed, EPA said in a news release.
Artificial turf playing fields have become a popular alternative to grass fields for their durability, lower long-term cost and ease of maintenance.
U.S. Senators Richard Blumenthal and Bill Nelson last month called on the Obama administration to conduct a comprehensive study on whether crumb rubber poses a health hazard.
In their letter to the White House, the senators cited research from a University of Washington soccer coach who found 153 reported cases of cancer involving athletes who spent significant periods of time playing on crumb rubber turf.
"Unfortunately, recent reports indicate that these surfaces may pose serious health risks, including cancer, to individuals who come into frequent contact with them," the senators wrote.