University rallies to present disabled honor student with new high-tech wheelchair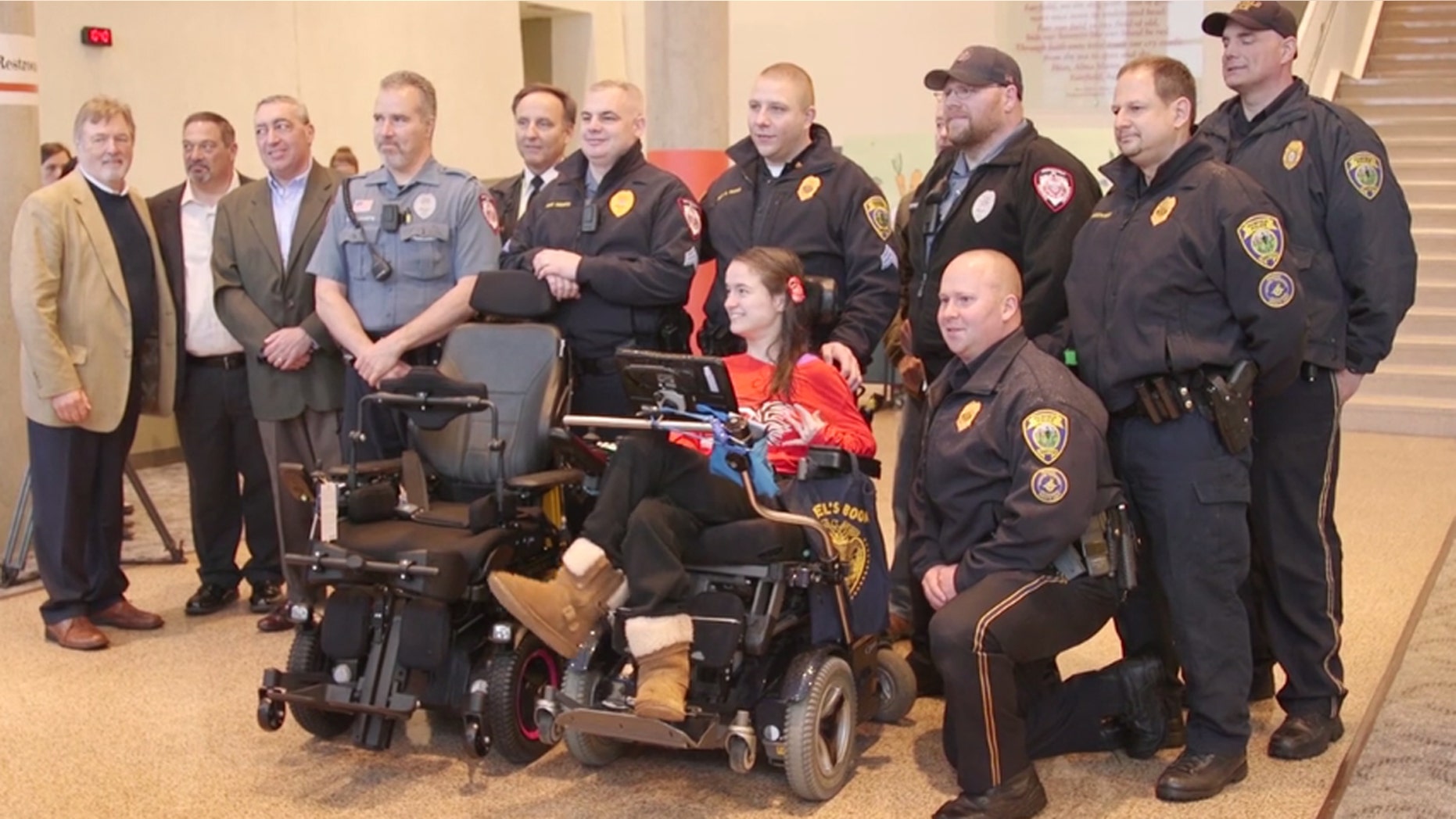 Students and staff at Fairfield University came together last week to surprise a sophomore student with a new wheelchair equipped with communicative technology, meaning she could ditch her damaged unit, which was being held together with duct tape.
"I was not expecting any of this," Meg Moore, 20, told the school's media department, with the help of a communication device. "My mom and I were still trying to fight the insurance, and the old motorized wheelchair was falling apart."
Sgt. Rob Didato, of the Connecticut university's public safety department, said he and others in his department noticed Moore struggling with the outdated chair, and decided to step in and help her.
TEEN WITH CEREBRAL PALSY GETS HELPING GETS HELPING HAND FROM 'MODERN FAMILY' STAR
"A couple of guys just got together and said it's ridiculous that this girl can't get a new chair, I guess it was insurance issues, and they said, 'We should start a campaign,'" Didato said in a shared video.
Didato said that, in addition to Moore's classmates pitching in and helping to raise thousands in funds, two Fairfield alumni, Bryan LeClerc '84 and Robert Bercham '62, stepped in to help negotiate the price of the $60,000 chair with the manufacturer.
"Without those two gentlemen getting involved, I don't know if we would be presenting Meg with the chair so soon," Didato said in the video.
Moore, who lives with her mother in a handicap-accessible dorm on campus, is a Dean's List student and takes a regular class load. She also is a member of the school's Varsity Pep Band and is a Campus Ministry lector, The Fairfield Daily Voice reported. Moore founded the school's Yes You Can Club, which connects students with cancer patients and disabled members of the community to form a support group.
FAMILY IN RACE AGAINST TIME TO SAVE TODDLER FROM 'CHILDHOOD ALZHEIMER'S' 
LeClerc, who was able to negotiate the price of the chair down to $40,000, said it felt good to help Moore and bring the Fairfield community together.
"That's something we learned a long time ago from the Jesuits when we came here – helping others and doing good for other people, it's nice to do that for Meg," LeClerc said in the video.
Moore was presented with the chair in a ceremony last Friday that included a blessing from one of the University's resident Jesuits. The safety department as well as many members of the school's staff were on hand.
"The Fairfield community came out of the woodwork at just the right time, and I could not be more grateful," Moore said in the video. "There are some really wonderful people here."