United Nations Experts Condemn El Salvador For Denying Ill Woman An Abortion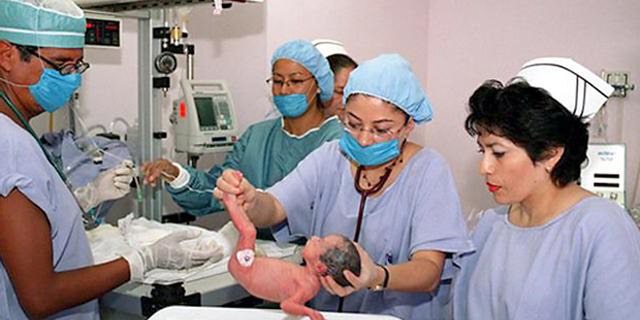 Following the much publicized case of an ill Salvadoran woman who was denied an abortion, the United Nations has called on the Central American nation to reconsider its abortion laws.
The 22-year old woman, who suffers from lupus and kidney failure and whose lawyers said the pregnancy was threatening her life, was eventually allowed to undergo a cesarean section when she was about 26 weeks pregnant. The baby, who was born without a brain, survived for five hours before passing away.
The country's Supreme Court initially prohibited Beatriz's abortion. Her plight drew international attention and a ruling from the Inter-American Court on Human Rights that El Salvador should protect her life and help her end the pregnancy.
"It is high time to reconsider the serious consequences on women's rights of the abortion legislation and practice in El Salvador, and to afford the legal protection that all women in the country deserve," a United Nations press released stated.
The United Nations recommendation comes from independent experts working with the international organization and who strongly condemned the ruling of the Constitutional Chamber of the Supreme Court of El Salvador rejecting the woman' request to terminate the life-threatening pregnancy.
"This Court ruling exposed the physical and mental health of Beatriz to serious risk, which could eventually threaten her life," said the UN experts on right to health, torture, and discrimination and violence against women, Anand Grover, Juan E. Mendez, Kamala Chandrakirana and Rashida Manjoo in their statement.
They said the Supreme Court's initial decision to deny the abortion could have had serious consequences.
"The court's decision is in clear contravention of El Salvador's human rights obligations, including article 12 of the International Covenant on Economic, Social and Cultural Rights, which recognizes the right to the highest attainable standard of physical and mental health," they warned, "and article 12 of the Convention on the Elimination of All Forms of Discrimination against women to which El Salvador is party."
The Health Ministry stepped in late last week after the ruling and said it would allow the C-section because the pregnancy was already at 26 weeks and the country's strict abortion laws were no longer at play. Ultrasound images had indicated her fetus was developing with only one brain stem.
The Health Ministry can determine what is most medically sound for a mother vs. the unborn baby and was lauded internationally for working to save the woman's life.
El Salvador's laws – like many throughout Latin America - prohibit all abortions, even when a woman's health is at risk. Beatriz and any doctor who terminated her pregnancy would have faced arrest and criminal charges.
The Associated Press contributed to this report.
Follow us on twitter.com/foxnewslatino
Like us at facebook.com/foxnewslatino