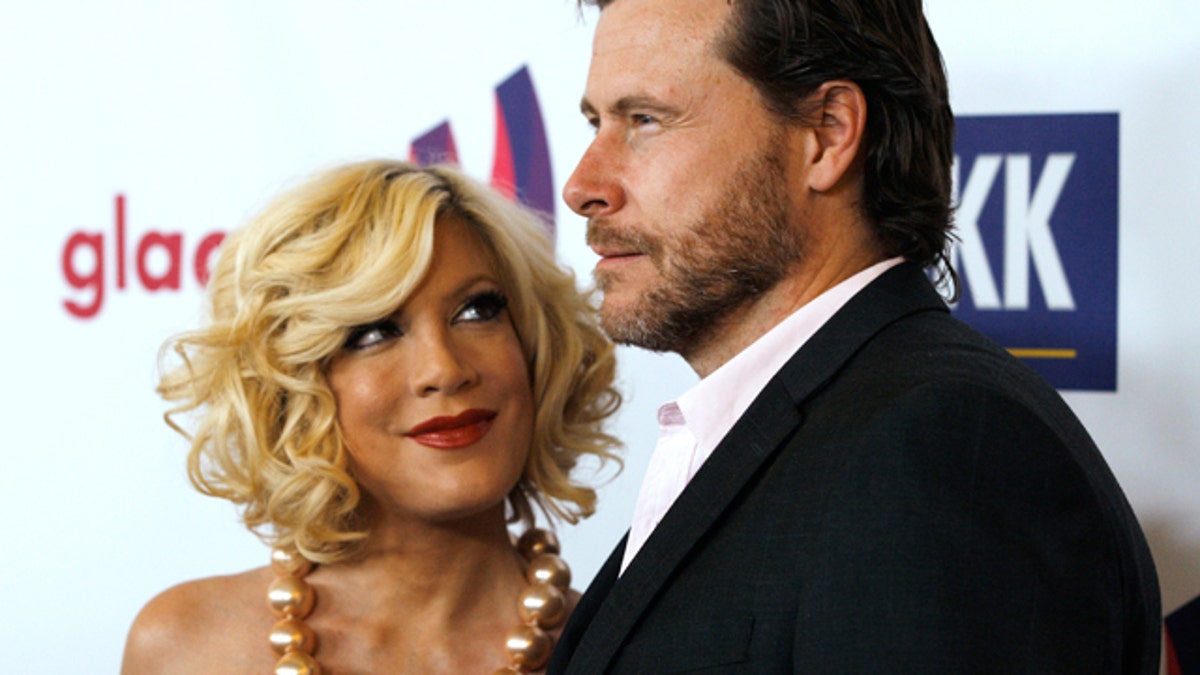 Actress Tori Spelling is back in the hospital nearly three weeks after giving birth to her fourth child, son Finn Davey, People.com reported.
Finn was born August 30 via caesarean section; this was her second C-section in one year. Spelling, who is married to actor Dean McDermott, gave birth to baby Hattie in October 2010.
Spelling's rep confirmed to the magazine Tuesday that the Craft Wars host and former Beverly Hills, 90210 star "underwent emergency surgery over the weekend due to complications from her C-section. She remains in the hospital and is resting comfortably."
Experts say while it's not uncommon for women to have multiple C-sections, the procedure can become dangerous as the frequency of the procedure increases.
"If there are short intervals in between, it can make the healing process more difficult," said Dr. Manny Alvarez, senior managing health editor of FoxNews.com.
Although Spelling's rep did not elaborate on the reason for Spelling's emergency surgery, Alvarez, chairman of the department of obstetrics and gynecology and reproductive science at Hackensack University Medical Center in New Jersey, said there are only four reasons a woman would return to the hospital for surgery after a C-section.
These reasons include:
• Persistent vaginal bleeding
• An infectious abscess formation that needs to be drained
• Bowel obstruction
• Bladder injury
"The most extreme case would be if [the doctors] left an instrument or something inside, but that's highly unlikely," added Alvarez, who has not treated Spelling. "The consequences in any of these issues are that there's a period of instability; and also, depending on what the problem is, you may end up losing the uterus."
Every year in the United States, more than 4 million babies are born, with an estimated 30 percent of newborns arriving via cesarean section. That means 1.2 million C-sections are performed annually.
It's a trend that has increased by more than 50 percent since the 1950s, and many believe it will go even higher in the future.
Doctors used to say 'once a C-section, always a C-section,' as the scar from the previous surgery could tear during labor, but the debate has changed dramatically in the past few years.
The American College of Obstetricians and Gynecologists has been forceful in recommending that obstetricians have an in-depth conversation with their patients about trying a vaginal birth after a C-section.
Dr. Abdulla Al-Khan, section chief of the division of maternal fetal medicine and surgery in the department of obstetrics, gynecology and women's health at Hackensack University Medical Center in New Jersey, said he agrees with this theory – if the conditions are adequate.
"I think you have to be cautious," Al-Khan told FoxNews.com. "You have to look at the size of the baby and the woman's history – but if she is the right candidate, she should be encouraged to deliver vaginally."
The National Institutes of Health's website states: "The maternal mortality rate after cesarean section is currently very low, but caesarean section is more hazardous than vaginal delivery by a factor of 2-11."
Spelling and McDermott have two other children together: Liam, 5, and Stella, 4, who were also reportedly born via C-section. McDermott has a son, Jack, 13, from his previous marriage.
Click here for more on this story from People.com.
FoxNews.com's Jessica Ryen Doyle contributed to this article.