Toddler on life support after contracting E. coli infection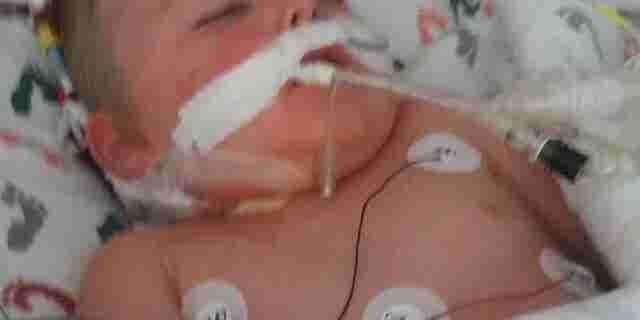 NEWYou can now listen to Fox News articles!
A 2-year-old boy is on life support after contracting an E. coli infection from an unknown source while on vacation in Oklahoma with his family. Landon Huston, of Ennis, Texas, was experiencing stomach virus-like symptoms when a fecal sample tested positive for E. coli, WFAA reported.
Huston was taken to Children's Medical Center Dallas where doctors discovered the infection had progressed to Hemolytic Uremic Syndrome (HUS), an abnormal destruction of red blood cells that leads to kidney failure, WFAA reported.
FAMILY SUES WATER PARK AFTER TEEN'S BRAIN-EATING AMOEBA DEATH
"We can't hold him. We can't love on him. All we can do is just stand at the bedside," Lindsey Montgomery, Huston's mom, told WFAA.
Huston underwent the first of two surgeries on June 14 and has had a blood transfusion. He was placed on life support after doctors discovered fluid in his lungs, a post on the family's GoFundMe page said.
The Texas Department of Health Services is investigating any potential source of the bacteria. E. coli can be found in the environment, foods, and intestines of people and animals, according to the Centers for Disease Control and Prevention (CDC).
"Most parents like us had no idea, you know, the dangers of something like this," Montgomery told WFAA. "And it's everywhere. E. coli is something that's everywhere."
FDA ASKS DRUG MAKER TO TAKE OPIOID OFF MARKET
While most strains of the bacteria are harmless, others can cause diarrhea, urinary tract infections, respiratory illness and pneumonia. About 5-10 percent of patients who contract E. coli will develop (HUS), which could present as decreased frequency of urination, feeling tired and losing color in cheeks and inside the lower eyelids. Patients can recover in a few weeks but others may suffer permanent damage or die.
"I have faith he's going to come out on top," John Huston, the toddler's dad, told WFAA.