The sweetener that may boost your athletic performance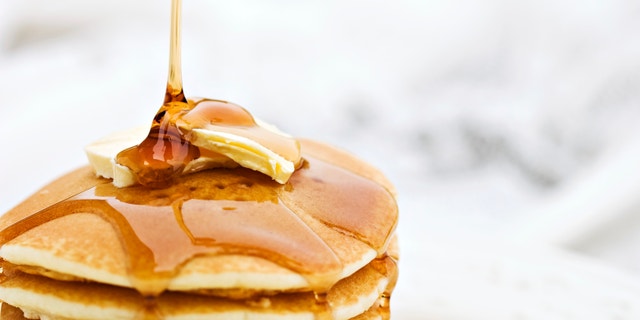 NEWYou can now listen to Fox News articles!
Maple syrup is having a moment. From stories about Tour-de-France cyclists incorporating itinto their racing diets, to the creation of new companies like UnTapped, which sells its "athletic fuel" of 100% pure Vermont maple syrup in 100 calories gel packets, the amber, sticky-sweet substance has even garnered praise from science, with one study claiming to find anti-inflammatory properties in certain syrups. But, before we start slathering everything in syrup, we thought it'd be a good idea to talk with Jim White, R.D., certified health-and-fitness specialist, owner of Jim White Fitness & Nutrition Studios, and national spokesman for the Academy of Nutrition and Dietetics.
RELATED: The Only 5 Exercises You'll Ever Need
First, we need to clarify something: when we talk about maple syrup, we're talking 100% pure maple syrup, not the processed stuff. With that out of the way, let's address one of the biggest advantages maple syrup has over sugar or other sweeteners, namely, that it actually contains vitamins and minerals.
RELATED: Eat Your Way to a Better Sex Life
"Minerals found in maple syrup include potassium, calcium, magnesium, manganese, zinc, and iron," says White. "Vitamins such as B2, amino acids, and organic acids are also found in maple syrup." The presence of these nutrients is what sets maple syrup apart from other sweeteners, though White was still hesitant to call it anything close to a "super-sweetener."
RELATED: Shirtless Nick Jonas Explains How He Got His New Buff
Body
"Evidence suggests that there are significant antioxidant levels found in maple syrup, based on a study using maple syrup to inhibit the growth of cancer cells in colon cancer," stated White. "Some data suggests that the use of maple syrup does not cause the same blood sugar spike as is seen with other sweeteners, such as sugar. [Overall], it is still unknown how consumers can benefit from using maple syrup as an alternative to sugar, other than the vitamin and mineral content found in pure maple syrup."
If you're looking for a mid-race energy boost, maple syrup is certainly one answer, but White offered up a few more firmly established ideas, too.
RELATED: 14 Healthiest Snack Foods to Buy
"There are many other foods that could be used as an energy supplement with less sugar and more vitamin and mineral values. Blueberries, known for their antioxidant qualities, contain magnesium, significant amounts of potassium, and 4 grams of fiber in a 1 cup serving with a total of 84 calories," explains White. "In comparison, maple syrup contains less magnesium, potassium, and no fiber in a 1 ½ tablespoon serving with 78 Calories."
RELATED: 7 Easy Ways to Boost Your Metabolism
Downing a shot of maple syrup sounds great, but when you really break it down, unless you're in the middle of an endurance race, it really is just sugar, with some vitamins and minerals to boot. Hey, at least now you know you're getting some nutrients with those chocolate chip pancakes.
RELATED: Brad Pitt Is Back and Sexier Than Ever