Texas mom's viral sunburn hack works, but it's not 'magical cure,' dermatologists warn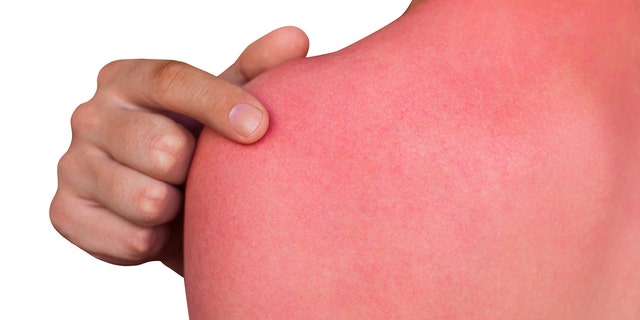 NEWYou can now listen to Fox News articles!
A Texas mom's "miracle" trick to soothe a sunburn within just 30 minutes seems odd — but it actually may work, dermatologists say.
Cindie Allen-Stewart, of Mount Calm, shared her decades-old family secret on Facebook hoping to help some friends who, like her, are prone to sunburn despite using sunscreen.
The June 22 post has since been shared nearly 230,000 times.
First, Allen-Stewart advised people to apply menthol foam shaving cream on the burned area and let it just "sit on your skin."
"It will start bringing all that heat out (you'll be able to feel it). You may feel like you are itchy too, but that's a good thing! Itching means healing," Allen-Stewart, 34, explained.
THIS FAKE FINGERNAIL CAN HELP PEOPLE AVOID SUNBURNS
After about 30 minutes, the area covered by shaving cream may start to feel cold and dried out, she said, and that's when you should rinse it off in lukewarm water.
If you still feel discomfort from the sunburn the next day, Allen-Stewart recommended repeating the routine.
"Usually after that second treatment, the sunburn disappears," Allen-Stewart claimed.
Dermotologist Lauren Eckert Ploch, who works at the Georgia Dermatology and Skin Cancer Center, agreed that menthol-containing products can help ease pain associated with sunburns.
"[These] products cause a cooling sensation on the skin and can also numb the skin to pain," Ploch told Fox News.
However, this hack isn't a "magical cure," Ploch warned.
"Menthol should not be applied to a blistering and/or peeling sunburns, as it can irritate the skin," Ploch said.
MAN SHARES VIRAL PICTURES OF SUNBURN SO SEVERE, IT LEFT A DENT IN HIS HEAD
Joshua Zeichner, director of cosmetic and clinical research in dermatology at New York City's Mount Sinai Hospital, also said menthol-based products have anti-inflammatory benefits. The cream is designed to hydrate the skin to prepare for shaving.
"Because of these properties, it may also be useful in treating the skin after a minor sunburn," Zeichner told Fox News, though he emphasized that it's not meant to sit on the skin for an extended period of time.
Backing Ploch's advice, Zeichner said the cream should never be directly placed on "a severe burn, blisters, or any open or raw skin."
While the trick seems like a perfect short-term solution, both dermatologists said it wouldn't be their first line of treatment.
"Traditional, after sun products are more effective, for example Vaseline intensive care aloe sooth with lotion with triple purified petrolatum to protect the skin along with the calming benefits of aloe," Zeichner suggested.
SUNBURN REMEDIES AND PREVENTION
"My treatment of choice for sunburn (including blistering ones) is cold white petrolatum jelly. White petroleum jelly is inert, hypoallergenic, and it cools well in the refrigerator. It is also not dangerous to apply to wounded skin if the skin does peel or blister," Ploch added.
But the best course of action, Ploch said, is to try to avoid getting burnt altogether.
"Sunburn is completely avoidable," she said. "I recommend avoiding sunburn by applying a sunscreen with an SPF of greater than 30 that contains zinc oxide for broad-spectrum coverage. I also recommend sun protective clothing labeled with a UPF of at least 50."
Ploch said she realizes it's unrealistic to ask people to avoid the summer sun, admitting that she's spent the past two weeks at the beach, kitesurfing with her husband. However, she said, a conscious effort to protect yourself from the sun's harmful rays can go a long way.
"As long as someone puts forth a little effort to prevent sunburn, then home remedies like applying menthol shaving cream to the skin won't be necessary," Ploch said.
Allen-Stewart said she realizes her method isn't foolproof and said people can still use aloe and other cooling products, which work just as well.
"I stand by this method. If you want to try it, go for it! If not, that's fine too! I just figured I'd help my friends out a bit to show them the way I use," Allen-Stewart continued. "Everyone is different."