Tennessee dad faces fatal, untreatable illness as family hopes for cure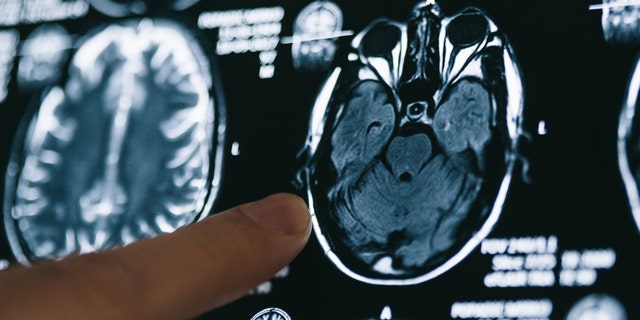 NEWYou can now listen to Fox News articles!
A Tennessee father who was given a year to live after being diagnosed with an extremely rare degenerative illness now requires 24-hour care at a nursing facility as his family hopes for a cure for the currently untreatable condition. Tony Gibson, a 32-year-old welder and ironworker, initially showed symptoms of confusion and forgetfulness earlier this year, his wife, Danielle, told News Channel 5.
Gibson was diagnosed with Creutzfeldt-Jakob Disease (CJD), which according to the National Institute of Neurological Disorders and Stroke, is a degenerative, fatal brain disorder that strikes in about one in a million per year, worldwide. It's estimated that 350 Americans are diagnosed each year, although it's typically diagnosed in older patients with symptoms beginning at around 60, and death occurring within one year.
BIKINI MODEL CLAIMS 'BREAST IMPLANT ILLNESS' LEFT HER WITH RASH, BALD SPOT
Patients may first exhibit memory issues, behavioral changes, visual disturbances and lack of coordination before it advances to mental deterioration, blindness, weakness of extremities and coma. Gibson told the news outlet doctors believe her husband's case is sporadic, which occurs in patients with no known risk factors and accounts for about 85 percent of all CJD cases. There are two other types of CJD, with one often compared to mad cow disease.
According to NINDS, symptoms of sporadic CJD are comparable to those of Alzheimer's and Huntington's disease, but deterioration occurs more quickly in CJD patients. While there are studies underway, no successful treatment has been developed.
TEXAS GIRL'S INOPERABLE BRAIN TUMOR VANISHES
In a Facebook post honoring CJD Awareness Day on Nov. 12, Gibson wrote that her husband went from being a strong man to a 90-year-old within months.
"This is the most devastating thing I've ever seen," Danielle Gibson, who is caring for the couple's four children at-home, told New Channel 5. "I've seen a lot of terrible things. I've seen ALS, but this has to be the worst."