Teen with rare skin disease fulfills wish to be train engineer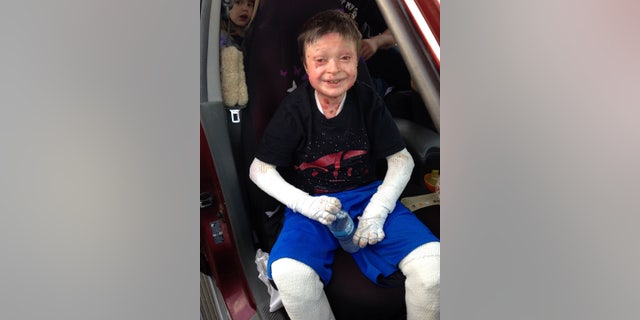 In spite of a rare skin disease that leaves him vulnerable to even the smallest bump, one 16-year-old Connecticut teen still dreams to of being a train engineer. On December 4, Jonathan Gionfriddo— who has a life expectancy of 20 to 30 years— got the chance to try out the career.
Gionfriddo, who lives in Stafford Springs, Conn., was born with epidermolysis bullosa.
"If he gets bumped or itches or any kind of trauma he will either blister or the skin will tear," his mother, Brenda Gionfriddo, told WTNH. "It's internal and external."
Last week, Jonathan visited the Valley Railroad Company in Essex, Conn., rode aboard one of the steam engines and took controls during a ride down the tracks.
"He wasn't at that moment playing engineer," Kevin Dodd, president of the Valley Railroad Company, told WTNH. "He was the engineer."
Dodd gifted Jonathan his pocket watch.
Jonathan's interest in trains started when he was a toddler, his mom said.
"For his dream to come through is just wonderful," she added.
A GoFundMe page was started for Jonathan, to cover medical bills and for a van to transport him to his numerous and frequent hospital and doctor visits.
"He has had to deal with a tremendous amount of suffering and pain. Our hope is that with everyone's help we can bring some happiness and comfort to his life," the fundraising page reads.
According to his mother, Jonathan has kept a positive outlook, in spite of having gone through multiple surgeries and suffering a great deal of pain.
"At least I'm able to have a chance at a life at this moment," Jonathan told WTNH. "Other people wouldn't have had a chance at living and could've died at the age of one or two."