Teen undergoes innovative eye surgery in hopes of achieving US Air Force dream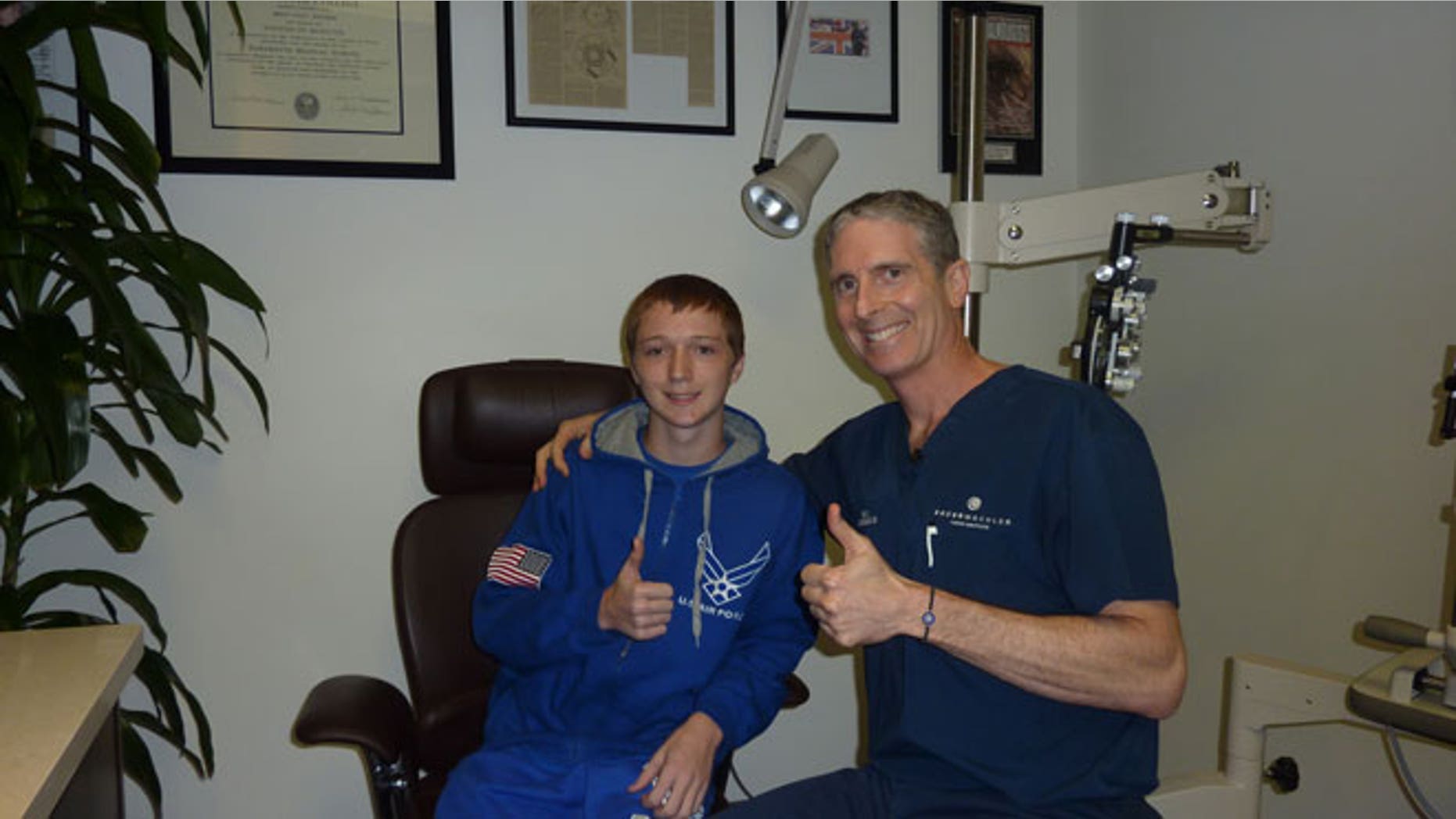 When 15-year-old Jon Dase told his mom he was having trouble seeing his math homework about a year ago, she thought he was making up excuses.

"She told me to finish it up," Dase, who lives in Jacksonville, N.C., told FoxNews.com, "but I couldn't."
When Jon's vision became progressively blurred, his mother took him to the eye doctor, who found that glasses didn't help. Later, an ophthalmologist offered clarity: Jon had keratoconus, an eye disease that causes the cornea to bulge.
Keratoconus causes vision loss, distortion, double-vision and multiple images, impacting everything from reading text on paper to driving at night. The condition is the result of insufficient enzymes in the cornea that are meant to protect the collagen. Today, it occurs in one in 500 people, compared to just one in 2,000 people 20 years ago.
In some ways, keratoconus robbed Jon of a normal life. When he turned 15, he wasn't allowed to get his learner's permit for driving like his peers. He had trouble taking notes in school. He couldn't play football, his favorite sport.
"He didn't go out as much as he used to when it started happening," Chris, 17, Jon's brother, told FoxNews.com. "He would seclude himself in his room."
After learning he needed corrective eye surgery, most devastating for Jon was the prospect of not being able to join the military.
Jon comes from a long lineage of soldiers. His father is an active-duty U.S. Marine. His paternal grandfather was also a Marine, and both of his maternal grandparents were in the U.S. Army. His brother Chris plans on joining the U.S. Marines Corps when he turns 18.
Eager to take a different route, Jon has wanted to join the U.S. Air Force since he was 10.
The military, however, maintains a policy that prevents men and women from entering the service if they have had keratoconus— even if they've received corrective surgery, according to the U.S. Air Force website.
"It was hard to watch all of his dreams being taken away from him," Jon's mom, Billie, 35, told FoxNews.com. "Chris has his permit; Chris is going into the Marine Corps. Chris has nothing holding him back from fulfilling his dreams. My other son, Jon, is so close in age. I watch one get all of his dreams crushed in less than five minutes. The other has everything that Jon wanted to do."
In an email statement to FoxNews.com, the Department of Defense Instruction (DoDI) wrote: "We cannot address nor speculate on any policy changes that may or may not occur in the future. While this DoDI is reviewed and updated periodically as needed, at this time, the policy states that this condition is disqualifying."
After learning of Jon's diagnosis, the Dase family didn't surrender to keratoconus. They began researching different surgeries and first considered a cornea transplant, but they knew the procedure was high-risk.
It wasn't until Billie heard from a friend about a specialist in California who performs a keratoconus-corrective surgery that her son's future began looking clearer.
One of Billie's friends shared a post about Jon's condition on Instagram, Facebook and Twitter, and she tagged celebrities who previously served in the military. One of those celebrities was TV talk show host and motivational speaker Montel Williams, a U.S. Marine Corps veteran.
Within five minutes of posting the Instagram photo, Williams commented on the post and advised the Dase family reach out. He said he knew a doctor who could help.
Dr. Brian S. Boxer Wachler, of the Boxer Wachler Vision Institute in Beverly Hills, Calif., invented the surgery— called Holcomb C3-R— that would eventually halt the progression of Jon's Keratoconus. The procedure serves as an alternative to a cornea transplant.
"The dirty little secret about cornea transplants is they [can] cause a very high degree of astigmatism that's unpredictable, and that can defeat the whole purpose of having a cornea transplant," Boxer Wachler, also the author of "How We Conquered Keratoconus," told FoxNews.com.
Boxer Wachler has performed Holcomb C3-R on thousands of patients over the past 11 years with over a 99 percent stabilization rate. The non-invasive surgery involves applying a crosslinking solution to the cornea, which is activated with a special light. That combination strengthens the eye's collagen fibers and prevents further bulging, thus stabilizing the keratoconus.
The typical recovery period for a cornea transplant is six months, Boxer Wachler said. For Holcomb C3-R, a 30-minute procedure, recovering takes one day.
"The only thing we've seen is in some patients— a minority— [is] their eyes are a little scratchy for a few days," Boxer Wachler said.
Doctors determined that Jon would need the surgery and INTACS— a clear, semicircular plastic ring that is placed in the outer areas of the cornea — in his right eye, the worse eye. That procedure takes seven minutes.
After getting the surgery on Oct. 14, Dase's first words when he sat up were: "I can see," Billie recalled.
"It was a release of all of the buildup," she said. "Those were the three best words I had heard in a long time."
About three weeks after his surgery, Dase's vision is 20/50 in his right eye and 20/20 in his left. He has a glasses prescription, which will help him over the next six months as his vision becomes clearer. Prior to the surgery, he had 20/80 vision in his right eye and couldn't get a prescription for glasses.
Dase, who was awake during the procedure, said it was painless. He has to wear special glasses that protect his eyes from harmful UV rays, but he is studying for his learner's permit test, which he wants to take in a month, and plans on trying out for defensive end on his high school football team next year.
He also still has his sights set on joining the Air Force. He and his family have reached out to their local representatives in the hopes of petitioning the military to make changes in their eyesight policy for people having corrective surgery.
"The next step is to contact the highest personnel of each branch of the military," Billie said.