Teen chooses homeschooling to help paralyzed mom diagnosed with 2 cancers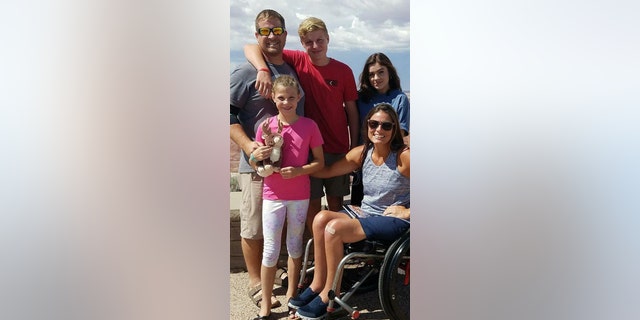 NEWYou can now listen to Fox News articles!
A Michigan teen will forgo attending her junior year of high school with friends and instead be homeschooled so that she can help take care of her paralyzed mother, who was recently diagnosed with two different types of breast cancer.
Emma Burkholder, whose 42-year-old mother Jennifer is also paralyzed from the waist down due to a car accident at age 18, said it's a small price to pay for her best friend.
"I would gladly give up this little piece of my life to help my mom," Burkholder, 17, told 9 and 10 News, of her decision.
Jennifer Burkholder, who has two other children in addition to Emma, was diagnosed with inflammatory breast cancer and invasive ductal carcinoma in July. Inflammatory breast cancer is a rare, aggressive disease in which the cancer cells block lymph vessels in the skin of the breast. According to the National Cancer Institute, the cancer accounts for 1 to 5 percent of all breast cancers in the U.S., and leaves patients with a swollen and red, or inflamed breast. Invasive ductal carcinoma is the most common type of invasive breast cancer, and begins in the lining of the milk ducts before spreading to the surrounding tissue.
Her husband, Army veteran Kevin Burkholder, said the family was told Jennifer's cancer had spread to her lymph nodes.
CANCER SURVIVOR LEFT CRIPPLED BY TREATMENT UNDERGOES LIFE-SAVING SURGERY
To help the family maintain an income and pay for Jennifer's medical care and associated travel costs, Emma decided to stay home and help care for her mom. This way Kevin could keep his job.
The family also said that because of Jennifer's ailments, which also include the removal of her large intestine after complications from a prior surgery led to sepsis, it's helpful that Emma knows her mom's medical history.
"Just to have somebody here like Emma, that knows Jennifer and knows all her ailments and that's that happen, it's peace of mind," he told the news outlet.
On Monday, Jennifer arrived at the Cancer Treatment Centers of America in Chicago. The trip had been jeopardized after Jennifer's white blood cell count dipped on Friday and she was admitted to the hospital. But in a video posted to her Facebook page on Monday, Jennifer had let her supporters know that she had arrived and was "going in for battle gear."