Teen cancer survivor seeks to change school hat policy after alleged punishment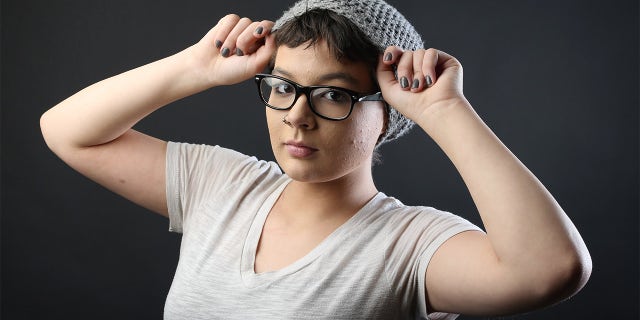 A 15-year-old cancer survivor is seeking to change the way her school handles its dress code policy after she allegedly spent several days in trouble over a grey knit beanie that she was wearing, which was specifically designed for cancer patients.
Chloe Terpenning, who lost her hair in March during chemotherapy treatment for stage 2 Hodgkin's lymphoma, has already obtained more than 220 signatures on a hard copy petition, and an additional 100 online, The Hawk Eye reported.
Terpenning is a student at West Burlington High School in Iowa, where policy states that "Hats, caps, HOODS (sic), sunglasses, hairnets, head scarves, headbands (other than those worn by females to hold back hair) and other headgear," are inappropriate for school, according to the news outlet.
'MAN FLU' IS REAL? RESEARCHER SAYS MEN TAKE LONGER TO RECOVER FROM VIRUSES, COLDS
Terpenning, who is now in remission, claims she transferred to the school from Burlington High School after she was bullied over her hair. She claims she had a conversation with the school's associate principal and her mother at the beginning of the year to discuss what she could wear without causing a disturbance.
But last week, Terpenning alleges that she was stopped by school principal Bruce Snodgrass and sent to the office for the remainder of the school day. She claims that she continued to wear the hat and said she spent several days in the office as a result.
"In the office, it is a very small room and I don't get any lessons in there," she told The Hawk Eye. "I just get the assignments and am expected to have them done the next day. And the door's wide open. So anyone who walks by can see me sitting in there."
DAD OF 4 BATTLING ALS GIFTED $10G FROM 'SECRET SANTA'
She alleges that she was told she could wear a bandana or kerchief on her head until Christmas break, but that when she returns to school only a wig would be acceptable. Terpenning has tried to avoid wearing wigs because of headaches, and she believes that it hinders her hair growth, The Hawk Eye reported.
Superintendent David Schmitt told the news outlet that going forward the policy will be open-ended and each student will be considered on a case-by-case basis. He said Terpenning can continue wearing her knit hat, and scheduled a meeting with both her and her mother for Friday.