Susan Bayh, former Indiana first lady, has surgery to remove brain tumor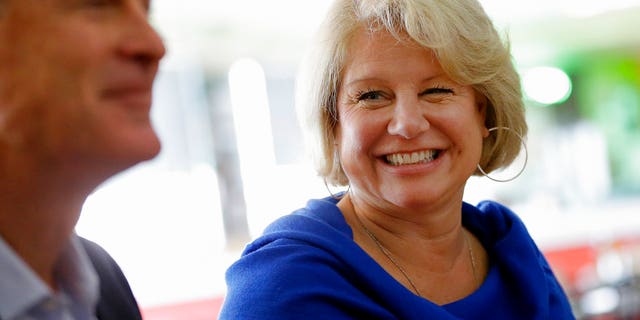 NEWYou can now listen to Fox News articles!
Former Indiana first lady Susan Bayh had surgery Tuesday to remove a malignant brain tumor, her family said.
The wife of Evan Bayh, a Democratic former senator and Indiana governor, Susan Bayh had a malignant glioblastoma removed. It is the same deadly cancer that former Democratic Sen. Ted Kennedy battled and that GOP Sen. John McCain is currently fighting.
"She will fight this disease with the same courage, grace, and optimism that have always characterized her," Evan Bayh wrote about his wife in a Facebook post. "We ask for your prayers for Susan as she fights this fight."
Susan Bayh is an attorney who's been a member of several corporate boards.
The Bayhs have lived in Washington since Evan Bayh was elected to the U.S. Senate in 1998. The Democrat didn't seek election to a third Senate term in 2010, but briefly returned to politics in 2016 in a bid to retake his old seat. He lost that election to Republican Sen. Todd Young.
The Bayhs have twin 22-year-old sons, Beau and Nick, who were born in 1995 while their father was governor.
Susan Bayh, 58, previously underwent brain surgery in 2015 to remove a benign tumor. At the time, Evan Bayh, 62, said she had headaches so severe that she basically stayed in bed for two or three days before the tumor was found during a scan.
"I got an emergency call from her doctor that there was a large mass on her brain and they were very fearful that it was malignant," Bayh said in 2015. He said further scans determined that the tumor likely wasn't cancerous but still needed to be removed soon because of its size and the risk of it causing seizures, he said.
On Tuesday, Indiana political figures paid their respects.
"On behalf of Hoosiers, we are praying for a full recovery," Democratic Sen. Joe Donnelly said. "She exemplifies courage, grace, love of family, and devotion to country. Please keep her and the Bayh family in your prayers."
Young, who beat Evan Bayh in 2016, tweeted: "Please join me in praying for Susan, Evan and the entire Bayh family."
Indianapolis Mayor Joe Hogsett, a former aide to Bayh, said in a statement: "Our thoughts and fervent prayers are with former Indiana First Lady Susan Bayh."
The Associated Press contributed to this report.