Surgeons in India reattach man's foot after sawing accident severs bones, nerves, tendons
Surgeons in India have reattached a man's foot after a sawing accident left it hanging on by a flap of skin.
The 27-year-old carpenter was working when his saw slipped and he almost severed his right foot at the ankle. The man cut through bones, nerves, tendons and blood vessels, and was in grave danger of losing his foot.
VETERAN REGAINING MOVEMENT IN HANDS AFTER DOUBLE ARM TRANSPLANT
Surgeons spent six hours stabilizing the bones and reattaching his blood vessels, and miraculously his foot was saved.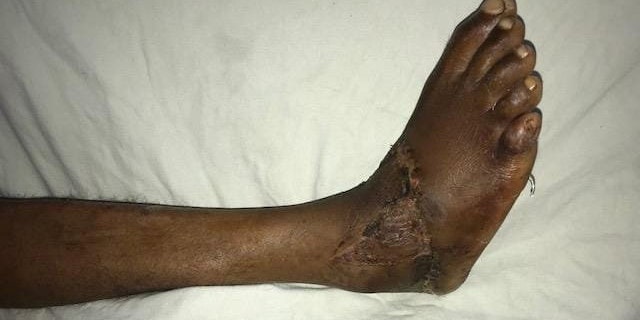 Three weeks later, he has been discharged from RN Cooper hospital in Mumbai and is recovering at home.
"The operation was a race against time to get the blood supply back to the severed foot, with chances of failure," said Dr. Nitin V. Ghag, a consultant plastic surgeon.
MOM GIVES BIRTH AT GROCERY STORE WITH HELP OF CASHIER
The accident took place September 15. Sources said the man arrived at the hospital "distressed, disturbed and depressed," and was begging doctors to save his foot.
After surgery, his foot regained blood supply. Two weeks later he had a second operation to repair nerves and graft skin.
"The patient has been discharged from the hospital," a source confirmed. "He was very happy and thankful to all the doctors and the staff who worked hard together in saving his foot."