Surfers Healing: Camp offers bonding experience for autistic children and parents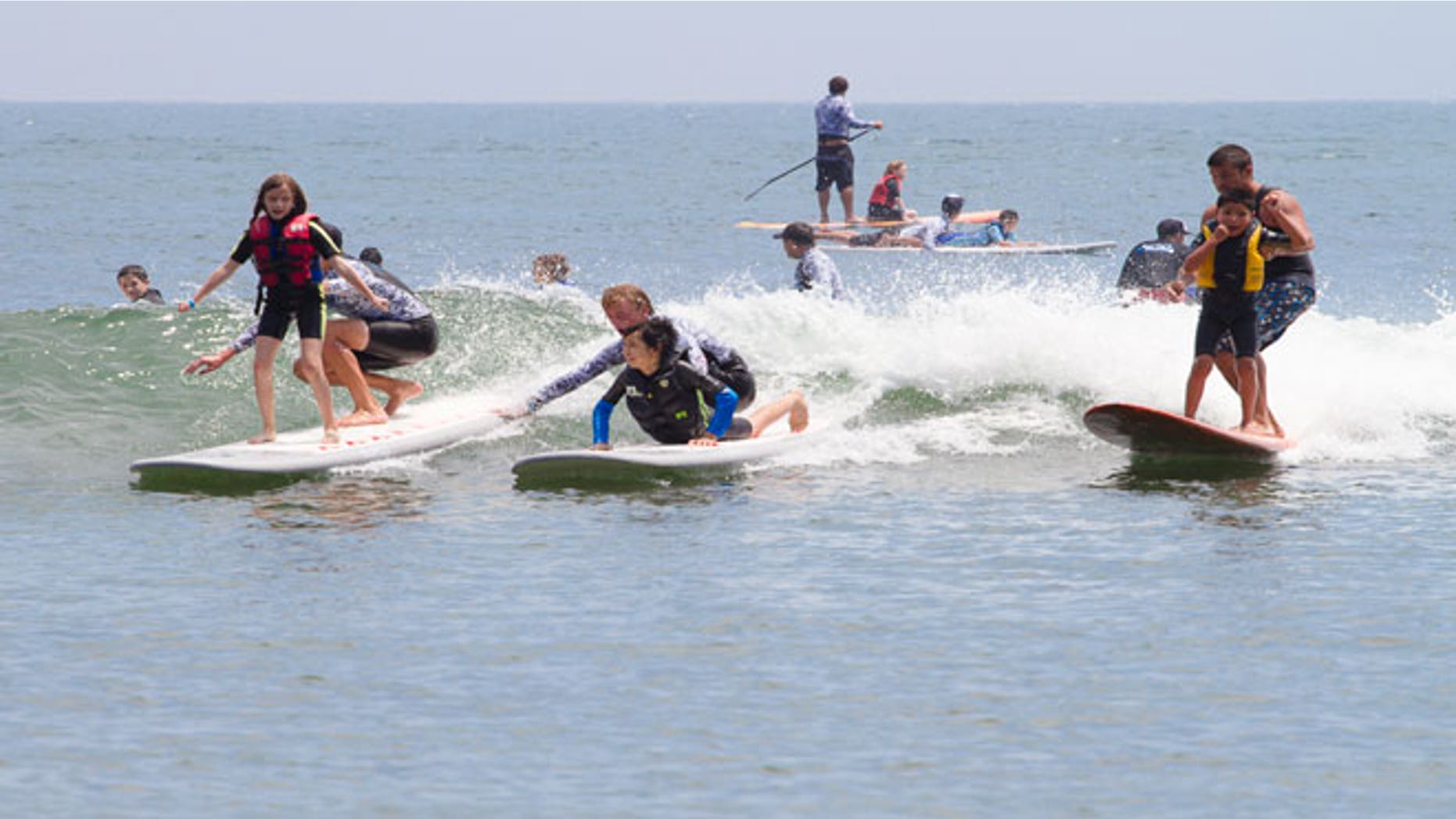 When former professional surfer Israel "Izzy" Paskowitz's son Isaiah was diagnosed with autism at age 3, knowing that his son wouldn't follow in his footsteps was "heartbreaking," he said.
But, little did Paskowitz know at the time, surfing would eventually play just as big of a role in his son Isaiah's life as it had in his own.
One day when Isaiah was 5, Paskowitz took his family to a surfing competition in Haleiwa, Hawaii, and Isaiah was throwing a fit.
"I threw him in the water, and to an observer it probably looked like I was trying to kill him," Paskowitz joked. "But he goes under, and he popped up and he was happy. I put him on my board and we caught a few waves. He rode on his stomach. I stood up, and we rode together."
"It was right there under my nose— the way I could connect," Paskowitz, 51, told FoxNews.com. "It didn't matter if he was going to be a good surfer, or a champion or the best. He was just in the water, and he was just like any other boy when he was in the water."
Paskowitz grew up in the water. His father, the late Dorian "Doc" Paskowitz, a World War II veteran, and his wife, Juliette, started the Paskowitz Surf Camp in San Juan Capistrano, Calif., in 1972 with their nine children. The family says it's the longest-running surf camp in the United States, and people in the community call the Paskowitz clan the "first family of surfing." Today, Izzy Paskowitz runs the camp with his wife, Danielle, 48.
After seeing the effect surfing had on Isaiah, starting another camp for children with learning disabilities was a natural decision, Paskowitz said. So around the time he took over his father's camp in California in 1999, Paskowitz and his wife also created the nonprofit Surfers Healing, a year-round series of daylong camps that are held around the United States, Mexico and Puerto Rico.
Surfers Healing began with a handful of camps, and in 2014 it grew to 26 camps. The largest camps, in Virginia Beach and New Jersey, take as many as 250 surfers each.
"We don't have any age restrictions, but the sweet spot is the 4 to 16 age range," Surfers Healing director Jeff Ekberg told FoxNews.com. "We surfed with a 50-year-old guy this year. We don't turn anyone away."
More than 4,000 surfers went out in the water with Surfers Healing in 2013. Slots for some camps can sell out within minutes, and this year there were nearly 3,000 people on the waitlist.
A typical Surfers Healing camp day begins at the crack of dawn, when anywhere from 50 to 60 volunteers prepare the beach for the campers' arrival. Life vests, wax, beach tents, merchandise and refreshments are organized for the taking. Surfers get split into numbered groups of about 20, and every half-hour to 45 minutes from about 9 a.m. to 3 p.m., campers get suited up with life vests and ride on surfboards, usually tandem with an instructor standing at the back of the board to help steer.
"We call it the chute," Ekberg, 49, of Fort Worth, Tex., said, "and everyone starts getting the safety equipment on, and as they get closer to the end of the chute it's time to get into the water. My team that works that area [is] talking to the parents about what to expect, about trying to create some separation from the child."
"Some kids are really scared and don't want to go, and we work with the parent— especially if [the kid is] starting to cry or throw a fit. Ninety-nine percent of the time, they come back with a huge smile on their face and don't want to get out of the water."
Patrice Thompson, of Cherry Hill, N.J., remembers the first time her son Matthew attended a Surfers Healing camp four years ago, in Belmar, N.J. Matthew, who is now 16, has autism, Down syndrome, Attention Deficit Hyperactivity Disorder (ADHD) and speech apraxia, which impairs his ability to speak. Matthew uses sign language to communicate.
"I remember it exactly because being a mom … you get a little nervous," Thompson, 56, told FoxNews.com of Matthew's first time at Surfers Healing. "He was riding out as a surfer, and he got slammed in the face with water, and I could see him signing, 'All done, all done.' The surfer was hugging him and patting him on the back. He went out there, and he had a blast. He loved it. When he [went] in, he was standing when they asked him to stand. When he came out, he was smiles from ear to ear. He said, 'Mommy surf, mommy surf!'"
Dennis C. Maher, of Honolulu, Hawaii, said unless you see it, it's hard to explain what it's like to see the effect that surfing has on his 12-year-old son Spencer, who has autism.
"The first time he went surfing, he was very reluctant," Maher, 51, told FoxNews.com. "He had sensory issues. He didn't really like the feel of sand on his hands, and he was a little afraid of the water. But when he got up and stood on the board— the exhilaration, he just loved it."
Maher is also a volunteer at the Waikiki camp. He helps coordinate the events and assist the surfers into the water and onto their boards.
He said Surfers Healing is just as therapeutic for the parents as it is for the kids. At the camps, disabilities support groups and doctors will often set up tables and tents, and pass out brochures.
As the parents watch their kids out in the water, they chat on the beach and bond over similar experiences.
"Nobody can ever really understand what it's like until you walk a mile in our shoes," Maher said. "You don't know what it's like, and when you take your child places and people look at 'em funny— especially when they're having a meltdown or something like that— it's really disheartening."
"These kids didn't ask to be born with autism, and it's a 24-hour job and it can really be a challenge. Sharing this experience with other families makes it that much more rewarding," he said.
To meet the increased demand of Surfers Healing, Paskowitz and Ekberg said the camp will expand even further, with potentially six to seven new camps in 2015. Two to three new camps may be added in Australia, as well as two in Florida, one in North Carolina, and another in New Jersey.
"That one day of surfing has such an impact and a takeaway," Paskowitz said. "For that whole damn year it lasts— I think because our kids think that way and because our kids are ingrained that way and put pictures in their brains and file it and draw from it all year long."
Paskowitz still goes out in the water with his son Isaiah, who is now 23 and enjoys riding the waves alone on a boogie board. The tangible element of being in the water is still just as pacifying for him today as it was years ago.
"The point is it seems like autistic kids are meant to be in the water," Paskowitz said. "I would imagine it would be like me taking every one of Isaiah's anti-anxiety, anti-depression, and anti-psychotic medications and taking them all at once. I'm sure he feels that way all the time, and when he's in the water, a calm comes over him that is significant."
Surfers Healing_the Izzy Paskowitz Story from Gabriel Noble_TRU FILMS on Vimeo.