Study sheds light on how Zika infects the placenta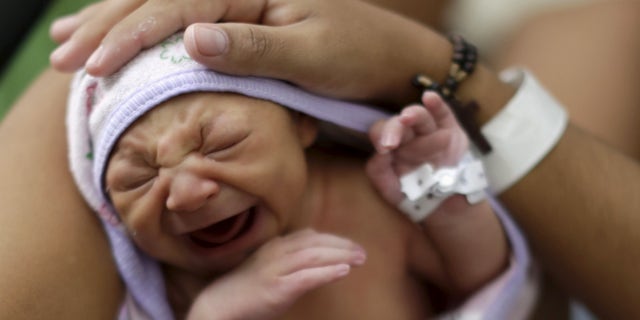 NEWYou can now listen to Fox News articles!
Researchers have gained new insight on how Zika crosses the maternal-fetal barrier to infect the placenta. The study, which was published online Thursday in the journal JCI Insight, may help scientists develop new approaches to prevent infection of the fetus. The Zika virus can cause birth defects, including microcephaly, a condition wherein babies are born with underdeveloped heads and brains.
The layer of cells that comprises the maternal-fetal barrier serve to protect the fetus from harmful substances, but somehow Zika travels through it. To try to figure out why, researchers at Yale University analyzed three cell types in placental tissue: Hofbauer cells, cytotrophoblasts and fibroblasts. They drew the cells from normal pregnancies.
In isolated cultures, fibroblasts and Hofbauer cells were vulnerable to Zika infection, according to a news release. The Hofbauer cells also were susceptible to Zika infection within whole placental tissue.
"These placenta-specific cells could potentially serve as a reservoir for Zika virus production within the fetal compartment," first study author Kellie Ann Jurado, a postdoctoral fellow at Yale, said in the release.
Study authors, led by senior author Dr. Erol Fikrig, an epidemiology, infectious diseases and microbial pathogenesis professor at Yale, wrote in the study that the Hofbauer cells, which are thought to reside around the placenta, could aid in delivery of the Zika virus to the fetal brain.
Jurado said these findings help elucidate the possible routes of viral generation and travel within the placenta— information that may be instrumental in identifying new preventative strategies against the virus.