Study analyzes why more people are having twins these days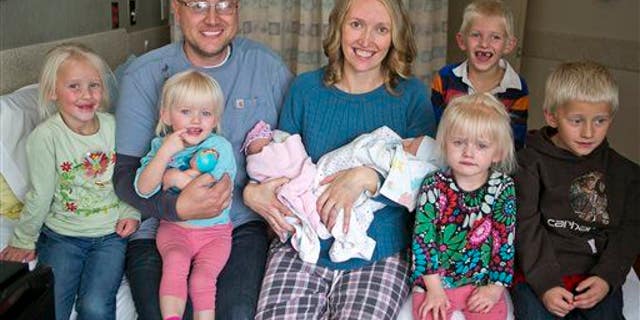 NEWYou can now listen to Fox News articles!
It's not your imagination—more people are having twins these days. A recent study found that the rate of twin births in many developed countries has nearly doubled (or more than doubled, in some cases) in the past few decades, the Atlantic reports.
The study, published in Population and Development Review, looked at data on twin births per 1,000 deliveries between 1975 and 2011. During that period, twin births increased from 9.5 to 16.9 in the US, 9.9 to 16.1 in England and Wales, 9.2 to 17.2 in Germany, 9.3 to 17.4 in France, 9.6 to 21.2 in Denmark, and 5.0 to 14.6 in South Korea.
As the Atlantic notes, these rates apply to fraternal twins, when two eggs are released and fertilized by two different sperm. The rate of identical twin births has remained consistent.
The study pinpoints two primary reasons for what the Atlantic terms the "twincrease" in wealthy countries. First, women in developed countries are more likely to have children later in life, and older mothers are more likely to have fraternal twins than younger ones.
(In England and Wales, women between the ages of 35 and 39 were the most likely to have twins, the Independent reports.) Second, fertility treatments, such as in vitro fertilization, increase the chances of a woman becoming pregnant with more than one baby.
However, cases of fraternal twins (which peaked between 1998 and 2010 in about 25 percent of the countries studied) linked to fertility treatments may be declining as doctors become more precise in how treatments are applied (such as transferring a single embryo at a time, rather than several).
Nonetheless, the increase in twin births is a public health issue, according to the study's authors. Risks include a higher risk of premature birth, stillbirth, and infant mortality; lower birth weights and more complications at birth; and a higher risk of gestational diabetes, pre-eclampsia, and postpartum depression in mothers.
This article originally appeared on Newser: Here's Why There Are a Lot More Twins These Days
More From Newser