South Carolina church uses Bible and prayer to help faithful fight opioid addiction
A South Carolina church is waging its own war on the opioid crisis – with the power of prayer.
First Baptist of Lexington's Celebrate Recovery Program has helped people overcome their devastating addiction, not by using other drugs or through detox. At the program, the addicts fight their demons by finding God.
"I've tried many ways myself to get clean but it was not until I asked God to help me…. I was in detox and I asked God either let me die right now or help me live a life free of drugs and that was when I got clean," Bobby Brazell told Fox News.
Brazell began using drugs 20 years ago after a two of his high school friends died in a car a crash.
"I didn't want to feel anything, so I started taking pills, drinking a lot, taking Zanax, pain pills, just basically anything I could, so that I didn't have to feel reality," he said.
Brazell said that for years he tried Alcoholics Anonymous and Narcotics Anonymous-type of programs.
But it wasn't until he joined the church that he was able to stop using. He has been drug-free for the past three years, he said.
"My faith is a huge part of who I am and my recovery. Without it I would not be sober today," Brazell said.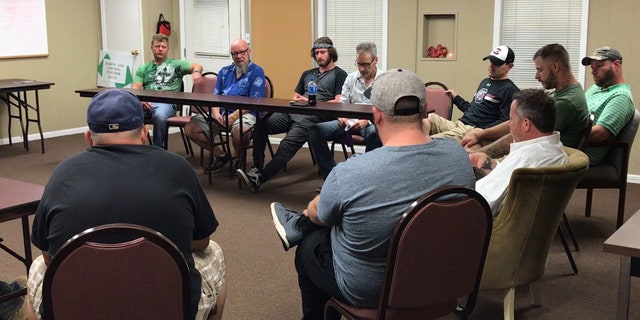 The church uses a 12-step system complemented with scripture, eight principles based on the Beatitudes and the belief in a higher power.
"For me, I can go to other fellowships and they talk about higher power. But here, that higher power has a name and it's Jesus Christ," Brazell said.
The program says its mission is to bring "hope, freedom, sobriety, healing, and the opportunity to give back one day."
Brazell and other group leaders, like Rebecca Jones, are using their experiences to give back to men and women who are attending the Alcohol and Chemical Dependency Group.
"If someone comes up to me and gives me their troubles, I'm not going to call up Mary-Sue and say so and so needs your help. I go to pray and then I sit back and I watch what God does," Jones told Fox News.
Jones and Brazell meet once a week with those addicted to heroin and prescription painkillers like Oxycodone and Fentanyl.
"The fact of the matter is that all of the funding and treatment that is being offered up today is focused on Suboxone, Narcan or some other medically-assisted treatment program and no one is looking at faith-based, abstinence-based treatment as a viable option," Brazell told Fox News.
When the program started at the church 12 years ago, there were at most six members attending the weekly meeting. Now, more than a 130 current and former addicts from across the state attend Tuesday night meetings at the church.
"I came here eight years ago in August and I have been coming ever since," Jones said.
At 51, she began drinking heavily after her mother was diagnosed with bladder cancer. Jones says she began taking her mother's painkillers because she believed the pills gave her the energy to continue being her mother's caretaker.
"Whenever I see someone's Hydrocodone sitting there, Oxycodone sitting there I'm tempted to take it….and I have over the years," Jones said.
She stopped drinking alcohol eight years and has been free of pills for more than two years.
"The struggle is still there, the temptation is still there," Jones said.
When she is tempted, she says the first thing she does is pray to God.
"Usually it brings tears to my eyes," Jones said. "Then I say thank you, Lord. Thank You for helping me there and it makes me think of others and pray for them."
There were more than 33,000 opioid-related deaths in 2015, according to the Centers for Disease Control and Prevention. Since then, nearly 400,000 people have sought help in 30,000 churches in the U.S. and worldwide that have made Celebrate Recovery as part of their ministry.