Son of family who adopted girl without limbs dealt devastating cancer diagnosis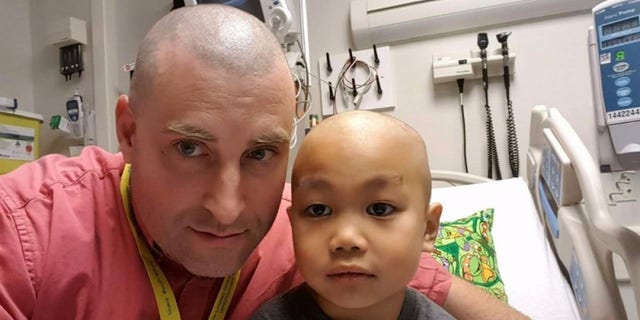 A Utah family whose blog post about the adoption of their 3-year-old daughter went viral was dealt a devastating blow recently when their young son, who is also adopted, was diagnosed with leukemia.
Adrianne and Jason Stewart, who first adopted 6-year-old Joshua from the Philippines, later returned to adopt 3-year-old Maria who was born without limbs. The couple are also parents to two biological daughters, ages 13 and 11, and shared their adoptive experience on the Facebook page "Love What Matters."
According to an April 24 post on the family's public Facebook page, in March the Stewarts took Joshua to an urgent care facility for a suspected case of the flu. In April, subsequent testing led to a diagnosis of acute myeloid leukemia (AML).
TEEN DIES AFTER BEING PULLED FROM FOOTBALL CONDITIONING
"They ran a leukemia test and it came back positive with signs of a really aggressive cancer," Adrianne told PEOPLE. "So with aggressive leukemia, comes aggressive treatment."
AML is an aggressive form of cancer that starts in the bone marrow but in most cases it quickly moves into the blood. It can sometimes spread to other parts of the body, including the lymph nodes, liver, spleen, central nervous system and testicles, according to the American Cancer Society website.
"And just like that our perfect world was shattered," she told PEOPLE. "Our entire world was turned upside down."
FIDGET SPINNER GETS LODGED IN GIRL'S THROAT
According to a post on a GoFundMe page set up for the family, Joshua will spend the next six months in the hospital receiving chemotherapy. Doctors have given him a 65 percent chance of survival, PEOPLE reported.
"It's hard to look at that percentage and think positively," Adrianne told the news outlet. "We're just trying to take one day at a time."
She said that Joshua knows that he is sick but does not know the extent of his illness.
"We do not know what is to come in the future, we hold high hopes of what he will become," the post on the family's Facebook page said. "While we are aware of the possibilities, we choose to focus on the positive. This has been beaten before and will be beaten again."