Sisters give birth hours apart in neighboring hospital rooms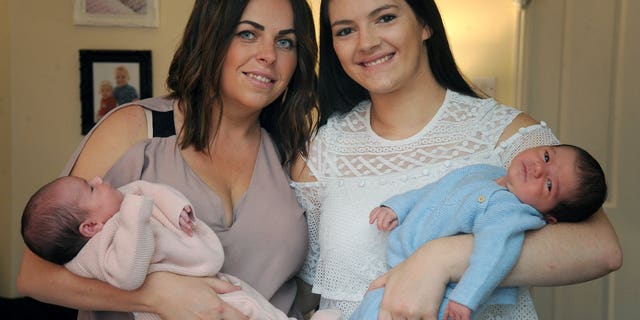 Two sisters have defied odds of 2,000 to 1 by giving birth to babies on the exact same day in neighboring rooms.
Sisters Natalie, 32 and Lyndsay Ashley, 24, gave birth in the same hospital just a few hours apart on Oct. 11.
Natalie introduced daughter, Isla into the world at 11.27 a.m. and little sister, Lyndsay then welcomed baby Jack into the world at 5.54 p.m. later that day.
Astonishingly both babies were delivered by the same doctor on the same ward at Blackpool Victoria Hospital, Lancashire.
The sisters, who do everything together, were not even aware one another were trying for a baby but discovered they were pregnant just a day apart.
VIRAL OUTBREAK AT NEW JERSEY REHABILITATION FACILITY LEAVES 7 KIDS DEAD, 11 OTHERS SICKENED
Natalie, who has two other children Harry, 7, and 3-year-old Ava, kept her pregnancy secret for a week.
She said she didn't want to take the attention away from her sister who would be giving birth to her first child.
"Lyndsay told me she was pregnant and I had just discovered I was pregnant the day before," Natalie said. "But as it was her first baby I decided to wait a week before I told her my news. I didn't want to step on her toes. When I told her she was shocked and couldn't believe it."
Both sisters, who also work together as nursery nurses in Blackpool, went through their pregnancies together and went off on maternity leave at the same time.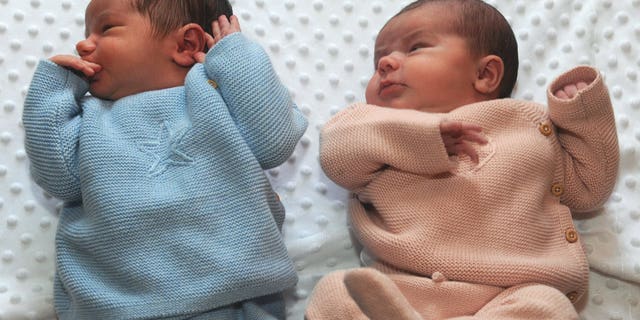 But they never expected their bundles of joy to arrive on exactly the same day.
Lyndsay had been given the due date of Oct. 14 and Natalie was originally given a due date of Oct. 18, but this was changed to a c-section on Oct. 11.
However, Lyndsay went into labor on the same day as her sister's planned c-section took place – meaning they gave birth to babies Isla and Jack just hours apart.
"The nurses couldn't believe we were both sisters having babies at the same time," Natalie said. "Because we were in the same hospital I was able to go and give Lyndsay a kiss and a cuddle. They managed to get us a room next door to each other."
Third sister Stephanie Ashley, 29, a care worker, took care of Natalie's children so partner Scott McCabe, 36, an electrician, could be by her side.
Lyndsay's partner Leigh Cocker, 29, an accountant, was also on hand to welcome the little cousins into the world.
9/11 SURVIVOR SHOCKED BY BREAST CANCER DIAGNOSIS: 'BUT I'M A MAN'
"We are a close family and so we will be going to the same baby groups and doing lots of things together," Natalie said.
The proud grandparents Lynette Ashley, 54, and her partner Ben Cookson were on holiday in Lanzarote in the Canary Islands when both babies arrived and received the news over the phone.
"I think they needed a few extra drinks that night!" Natalie said.
"We had joked about it happening but didn't realize it actually would," Lyndsay said. "It was all so overwhelming and lovely, Jack and Isla are going to be so close. We just can't believe it and we are absolutely thrilled and over the moon."
Amy Jones, from Betting and Sports News firm PaddyPower, said the odds of two sisters giving birth on the same day are 2000 to 1.
"That's incredible and Paddy Power make it a 2000 to 1 shot," Jones said. "Congratulations to them both."
Shelley Piper, Head of the Families Division at Blackpool Teaching Hospitals NHS Foundation Trust, said: "Family centered care is a priority in the division. On this occasion, the teams were able to make sure the sisters were being cared for near to each other. It was a pleasure to be involved in such a special time for the family.''