Scientific review finds asthma drugs suppress child growth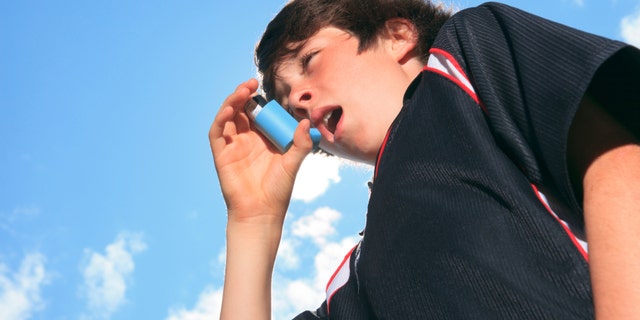 NEWYou can now listen to Fox News articles!
Corticosteroid drugs given via inhalers to children with asthma may suppress their growth, according to two systematic reviews of scientific studies on the issue.
Health experts who conducted the review and published it in The Cochrane Library journal found that children's growth slowed in the first year of treatment, although the effects were minimized by using lower doses.
Steroid-containing inhalers are prescribed as first-line treatments for adults and children with persistent asthma.
They are the most effective asthma control drugs and have been shown to reduce asthma deaths, hospital visits and improve quality of life by cutting the number and severity of attacks.
Yet their potential effect on children's growth is a source of worry for parents and doctors - a factor which prompted the Cochrane reviewers to analyze the evidence more closely.
"The evidence... suggests that children treated daily with inhaled corticosteroids may grow approximately half a centimeter less during the first year of treatment," said Linjie Zhang at the Federal University of Rio Grande in Brazil, who led the review. "But this effect is less pronounced in subsequent years, is not cumulative, and seems minor compared to the known benefits of the drugs for controlling asthma."
According to data from the World Health Organization (WHO), some 235 million people worldwide suffer from asthma, a chronic disease which inflames and narrows the air passages of the lungs. The disease is common among children.
The first of the two systematic reviews focused on 25 trials involving 8,471 children up to 18 years old with mild to moderate persistent asthma. These trials tested almost all the available inhaled corticosteroids and showed they suppressed growth rates when compared to placebos or non-steroidal drugs.
Fourteen of the trials reported growth over a year and found the average growth rate, which was around 6 to 9 centimeters (2.4 to 3.5 inches) per year in control groups, was about 0.5 cm (0.2 inch) less in the groups of children being treated with inhaled steroids for asthma.
In the second review, researchers looked at data from 22 trials in which children were treated with low or medium doses of inhaled corticosteroids.
Only three trials followed 728 children for a year or more and the reviewers said they showed that using lower doses of inhaled corticosteroids, by about one puff per day, improved growth by around a quarter of a centimeter (0.1 inch) at one year.
Francine Ducharme of the University of Montreal in Canada, who worked on both reviews, said the findings were important and should prompt more frequent and detailed tracking of childhood asthma patients' growth.
"Only 14 percent of the trials we looked at monitored growth in a systematic way for over a year," she said. "This is a matter of major concern given the importance of this topic."
She said her team would recommend the minimal effective dose be used in children with asthma until further data becomes available. "Growth should be carefully documented in all children treated with inhaled corticosteroids, as well in all future trials testing (them) in children," she said.
Experts not directly involved in the reviews cautioned, however, that the growth effects were minimal and should not prompt asthma patients to stop taking their medication.
"These studies confirm what many have suspected, that inhaled steroids can suppress growth in children," said Jon Ayres, a professor of environmental and respiratory medicine at Britain's Birmingham University.
"However, the effect seems... small and non-cumulative and many may consider this a risk worth taking compared to the alternative, which is poorly controlled and therefore potentially life threatening asthma."