'Princess parade' for 5-year-old girl with terminal cancer draws hundreds of supporters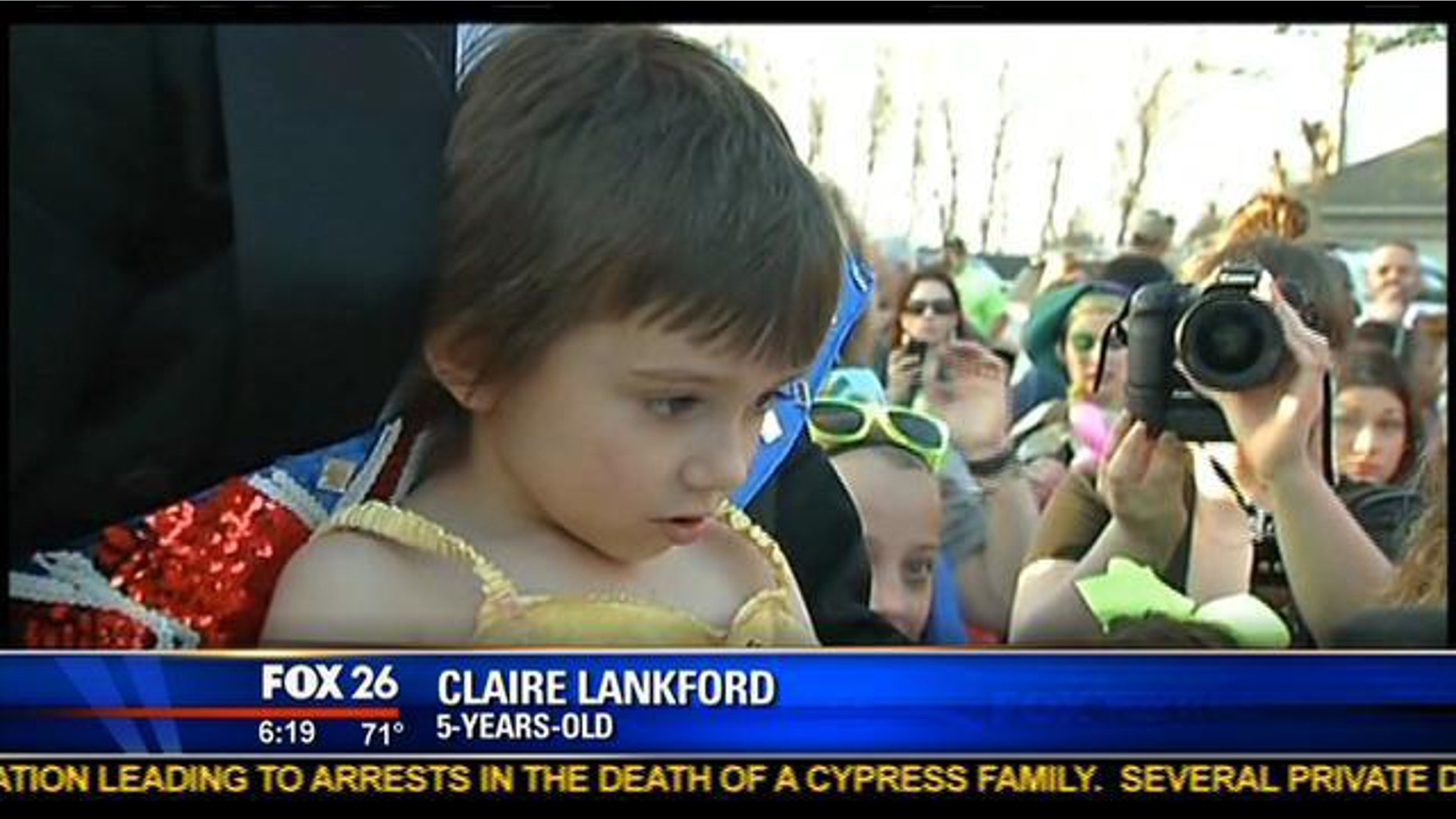 A 5-year-old girl with terminal cancer lived out her dream of becoming a princess when family and friends organized a 'princess parade' in her home town of Dickinson, Texas on Wednesday, KHSB Kansas City reported.
Claire Lankford has been battling a rare, incurable cancer called rhabdomyosarcoma since she was 3 years old.
"She went through 42 weeks of chemotherapy and four weeks of radiation on her chest and six weeks of radiation on her spine," Claire's mother, Patricia Lankford, the principal at Hughes Road Elementary School in Dickinson, Texas, told KHSB. "Throughout her treatments she did not have her hair, her eyebrows or eyelashes but she was a source of joy for the doctors and nurses. She would walk around the hospital saying, 'Good evening, good afternoon.' She walked the hallways receiving chemo and at the same time spreading joy."
On Wednesday, Claire's parents planned a surprise for their daughter: A horse-drawn carriage ride around her neighborhood. Both Claire and her mother dressed up as Belle from 'Beauty and the Beast' – Claire's favorite princess.
Hundreds of people lined the streets of the family's neighborhood, carrying signs and tossing flowers to cheer on Claire.
"I envisioned a carriage, maybe a few people from the community and the school district to come out and support us," Patricia said. "This was incredible – incredible to think that people would want to come out and support my child. It's beautiful."
According to My Fox Houston, Claire's cancer took a turn for the worst last month, after doctors found five tumors on her lungs and lymph nodes.
"We just want her to know she is loved. I think that's what anyone would want to know in their lifetime," Kevin Lankford, Claire's father, told KSHB. "No matter how long or how short it may be and that they were here and they had friends and family and people that care about them."