Portland's fluoride debate: Is adding fluoride to drinking water dangerous?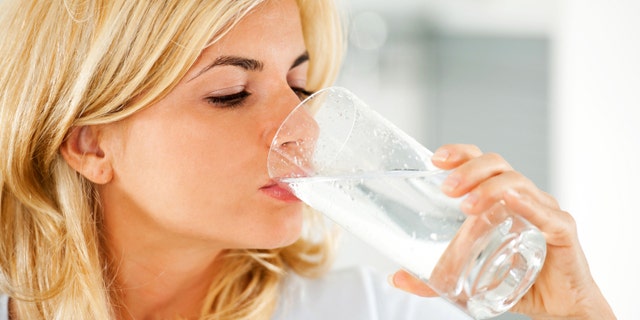 On Wednesday, the city of Portland, Ore., overwhelmingly voted down a proposal to add fluoride to the city's drinking water – making it the largest city in the United States without fluoride in its water supply or any plans to add it.
In what turned into a highly contentious matter, both supporters and opponents of water fluoridation raised a combined $1 million to rally support for their respective sides, and the opposing groups even accused one another of stealing each other's yard signs.
While proponents of fluoridation outnumbered the opponents three-to-one, Portlanders rejected the proposal, with a 60 percent to 40 percent vote. The main reason given by anti-fluoride voters? Concern over adding a potentially dangerous chemical to the city's natural water.
But what does the science say? Does community water fluoridation pose dangerous health concerns? Most studies say 'No.'
"As of yet, we have not found any problems," Dr. Evan Tetelman, a dentist for University Hospitals Case Medical Center in Cleveland, Ohio, told FoxNews.com. "The concern with adding any chemical (into water) at any time is (adding an) excess. But (fluoride) is safe as long as the (levels are) monitored."
Community water fluoridation was implemented in 1945 in order to better improve the overall dental health of U.S. cities. Since then, major epidemiological studies sanctioned by the Centers for Disease Control and Prevention (CDC) and other medical organizations such as the American Dental Association have found that the initiative has led to the significant reduction of tooth decay in American children and adults.
According to recommendations from the U.S. Public Health Service (PHS), optimal fluoride concentration for community drinking water ranges from 0.7 ppm to 1.2 ppm, with a maximum limit set at 4 ppm and a secondary limit at 2 ppm. These ranges are meant to minimize any risks associated with excess fluoride intake.
Currently, the most well-established side effect of too much fluoride consumption is fluorosis – which results in the discoloration of tooth enamel. Fluorosis symptoms can range from barely visible white spots to severe staining and erosion of the teeth. However, many experts agree that fluorosis is an uncommon and often mild condition.
"This is the only health condition we're aware of," Dr. Barbara Gooch, from the CDC's oral health division, told FoxNews.com. "It's a cosmetic condition, and other than that, there are no other documented health conditions in relation to water fluoridation."
But some experts maintain that fluorosis is a bigger problem than people perceive it to be.
"In my professional opinion, fluoride use is a serious public health concern and requires a major 'redress' based on the startling research that continues to now emerge," Dr. Gerald Curatola, a dentist and owner of Rejuvenation Dentistry in New York City, told FoxNews.com. "Four out of 10 adolescent children now have defective enamel (called fluorosis) from too much fluoride exposure. The irony is that these teeth are more prone to decay – the very reason they were given fluoride to protect."
Adding to the debate, there is a great divide among experts regarding which fluoride studies are more credible than others – and a lot of research has been done on the topic. One highly polarizing study cited by fluoride opponents in Portland is a 2012 meta-analysis from Harvard School of Public Health indicating that fluoride may impair cognitive development in children. Yet, since the Harvard study's publication, it's standing among other fluoride studies has been harshly disputed.
But amidst all of the controversy surrounding fluoride, Tetelman said it's important to remember that fluoride can hardly be considered a dangerous chemical at all, as it is found in many untouched water supplies.
"Fluoride is derived from the fluorite of the fluorite crystal – so it's a natural substance," Tetelman said. "So if the particular aquifer that water is being taken from or that water ruins through has a lot of fluoride, it might increase the level of fluoride in that water supply."
Both Tetelman and Gooch maintained that before community water fluoridation efforts begin in any area, water supplies are tested to determine the amount of fluoride concentration naturally occurring in the water. If fluoride levels exceed the ranges recommended by the PHS, then efforts are made by community officials to reduce fluoride concentration.
And while some opponents might argue that supplemental products – such as toothpaste and mouth wash – negate the need for added fluoride, Gooch said that community water fluoridation has been found to significantly aid those without access to such dental products.
"You have to remember that there are vulnerable individuals in our society and maintaining a healthy mouth can be challenging for them," Gooch said. "Of course community water fluoridation reaches everyone just by drinking the water."
While health experts continue to argue, Tetelman noted that the fluoride opponents in Portland are still considered outliers, as the majority of dentists and government officials continue to accept water fluoridation as a safe and effective method for improving dental health.
"The fluoride issue has really been laid to rest for 50 years now – that it is safe, and it is creating better health in the children. We see fewer people with decay today than we saw in the 50s, 60s and the early 70s, and it's basically been attributed to one thing – fluoride. It's the easiest thing we have."
Click to learn more from the Fluoride Action Network.
Click to learn more from Health Kids, Healthy Portland.