Philippines' Duterte bans smoking in public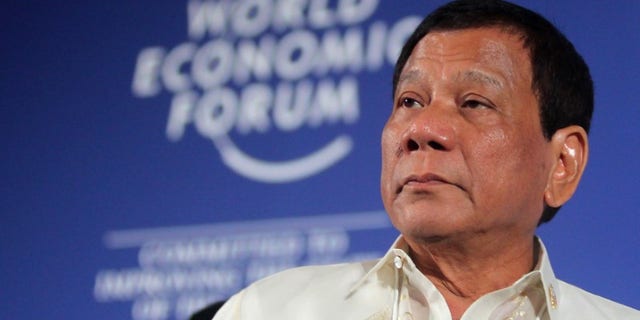 Smoking in both indoor and outdoor public spaces has been banned in the Philippines, with those who disobey the law facing a maximum penalty of four months in prison and a fine of $100. Philippine President Rodrigo Duterte, who was once a heavy smoker but quit after a health scare, signed the executive order on Tuesday.
The ban is one of the region's strictest anti-tobacco laws and mimics the 2012 ordinance Duterte created in his hometown of Davao City, Reuters reported. Under the law there will be designated smoking areas set up for adults and the creation of police-led anti-smoking task forces in towns and cities.
TECHNOLOGY IN EARLY CHILDHOOD DEVELOPMENT: GOOD OR BAD?
The ban also includes vaping and e-cigarettes and is expected to impact an estimated 17 million Filipino smokers, Reuters reported.
Health advocates have long-battled tobacco lobbyists and the eight firms currently making cigarettes in the country. The executive order also prohibits anyone from selling, distributing and purchasing tobacco products to minors in the country.
Nearly half of all Filipino men and 9 percent of women smoke. Experts estimate the habit costs the economy nearly $4 billion in annual health care and productivity losses.
The Philippine Tobacco Institute was not available for comment, Reuters reported.
Duterte's campaign promises had centered on eradicating drug pushers, tough punishment for criminals and hitting hard on smoking and illegal gambling.
Human rights groups said 7,000 to 9,000 suspected drug dealers and addicts have been murdered during Duterte's "war on drugs." The government refuted the statement, releasing data on May 2 that showed nearly 4,600 people have been killed in police anti-drug operations and homicides found to be drug-related.
Duterte's actions caused a rift between him and the European Union. He has repeatedly lashed out at the EU for raising human rights concerns over his deadly crackdown.
"If you think it is high time for you to withdraw your assistance, go ahead, we will not beg for it," Duterte said in a speech in October, referring to aid from the U.S., EU and other critics.
The Philippine government informed the EU delegation on Wednesday that it will no longer accept new grants from the EU. The country is forgoing possibly more than $287.7 million in funds for development projects.
The Associated Press and Reuters contributed to this report.