Parents of boy killed by alligator at Disney launch transplant program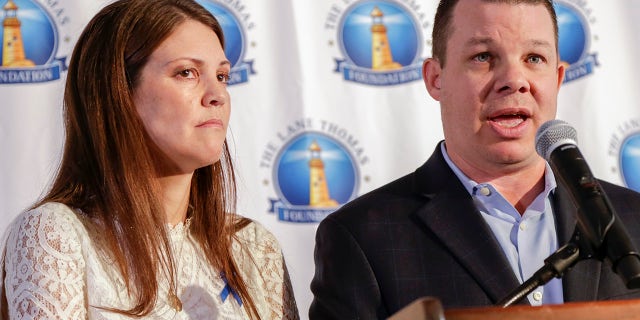 The parents of a Nebraska boy who was tragically killed by an alligator during 2016 family trip to Disney World have launched an organ transplant program in his honor. Matt and Melissa Graves announced the Lane Thomas Foundation initiative on Wednesday, in conjunction with Nebraska Medicine and Children's Hospital & Medical Center.
"Melissa and I created the foundation in honor of our beautiful boy, Lane, in order to do something positive for other families" Matt Graves said in a news conference, according to WOWT. "We have been overwhelmed by the support and love we have been shown from across the country. We believe we have found an impactful way for us to help others in similar circumstances and ease some of their burdens so these parents can focus on their child."
WOMAN DIES AFTER CONTRACTING FLESH-EATING BACTERIA INFECTION FROM HARVEY FLOODWATERS
The foundation aims to ease financial burdens associated with transplant cases such as transportation, lodging and food, as well as educate others about the importance of organ donation and research. Graves said that he promised his son after his death that he would turn the family's tragedy into good for others. Fifteen families have already benefitted from financial support from the foundation.
"It allows parents to just be parents and take care of their sick child," Dr. Alan Langnas, transplant coordinator at Nebraska Medicine, said.
Lane, 2, was playing on a beach outside Disney's Grand Floridian Resort and Spa last year when an alligator grabbed him and dragged him into the lake. Graves jumped into the water to try and rescue him but was unable. His body was found 16 hours later, with officials ruling his death an accident.
The Associated Press contributed to this report.