Paralyzed Georgetown linebacker walks across stage at graduation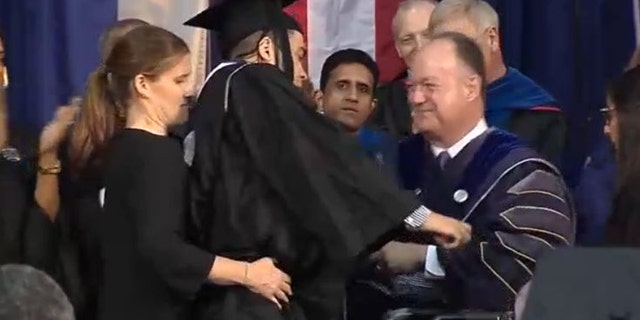 NEWYou can now listen to Fox News articles!
A Georgetown University grad received a standing ovation on Saturday when he stood up out of his wheelchair and walked across the stage with the help of an aide and a walker to receive his diploma, two years after breaking his neck in a football game.
Ty Williams, who played linebacker for the Hoyas at the time of his injury, received a hug and his diploma from University President John DeGioia. The touching moment was later shared on social media.
According to a tweet from the university, the occasion marked the first time that Williams had walked in two and a half years.
Tragedy struck for the Montgomery County native during the Hoyas' 2015 season opener. While going for a routine tackle, Williams sustained a fractured vertebrae and lost the ability to move his lower body, Fox 5 DC reported.
He underwent several surgeries and spent the last two years in and out of medical rehab facilities as he worked toward learning how to walk again while completing his undergraduate degree in government.
Williams, who gave a moving speech at his former high school's graduation ceremony last year, remains on the Hoyas roster and players wear a No. 2 sticker on the back of their helmets in his honor.