Osprey recalls 87,000 child backpack carriers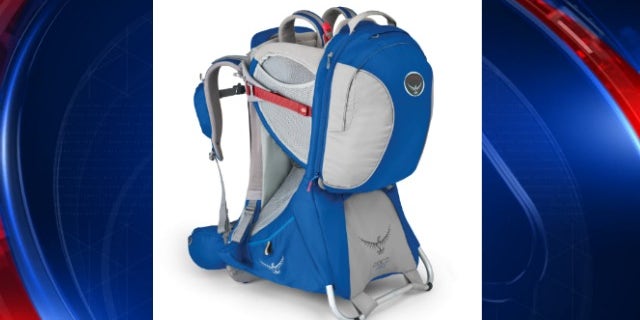 A fall hazard has prompted Osprey to recall of more than 87,000 child backpack carriers.
According to the U.S. Consumer Product Safety Commission's website, the company received four reports of children falling through the carrier's leg openings, including one report of a child suffering a skull fracture and another report of scratches to the head.
COMPANY RECALLS ORGANIC DOG FOOD THAT MAY CONTAIN EUTHANASIA DRUG
The recall involves all models of Osprey's Poco, Poco Plus and Poco Premium child backpack carriers manufactured between January 2012 and December 2014. The nylon child carriers were sold in three colors: "Romper Red," "Koala Grey," and "Bouncing Blue, and they were purchased at REI and specialty outdoor stores nationwide and online at Amazon.com for between $200 and $300.
The recalled carriers have a production date code of S12SBPR1, S12SBPR1B, S12SBPR2, S12SBPR3, S12SBPR4, F12SBPR1, F12SBPR2, S13SB IPO, S13SBPR1, S13SBPR2, S13SBPR3, S13SBPR4, F13SBPR1, F13SBPR2, F13SBPR3, S14SBPR1, S14SBPR2, S14SBPR3, S14SBPR4, S14SBPR5.
NATIONWIDE READY-TO-EAT CHICKEN BREAST RECALL; MAY BE UNDERCOOKED
Consumers should stop using the carriers and contact Osprey for a free seat pad insert for use with the existing safety straps to secure the child in the carrier, according to the website.
For more information about the recall, click here.
This article first appeared on Fox 5 Atlanta.