Oklahoma man urges breast cancer screening for men after personal diagnosis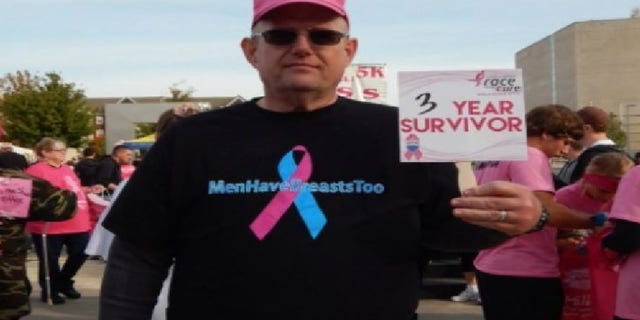 Four years ago, Anthoney Merka's wife and daughter were trying to tickle him when his wife suddenly stopped because she thought she felt something. Six months later, Merka went to the doctor, where he was diagnosed with breast cancer.
"Breast cancer … I didn't think guys could get breast cancer," Merka told Fox 25.
The Oklahoma City man, who lost his grandmother to the disease, is now sharing his story to urge everyone, regardless of gender, to check for lumps. An estimated 2,600 new cases of male breast cancer occur in the United States annually, according to the American Cancer Society. Of that, about 440 men will die.
"There was no information when we started looking," Lisa Merka, Anthony's wife, told Fox 25. "When the doctor said it could be, we started to find research. Couldn't find anything."
Merka underwent a double mastectomy. His four children, who have a 50-50 chance of inheriting the disease from him, were all tested, and tests for his daughter Angela came back positive.
"I almost didn't want to believe it," Angela Kolander told Fox 25. "But at the same time it was, 'OK, now we know. Now I can be proactive.'"
Kolander now sees her doctor every six months to monitor her health.
Merka is a Real Men Wear Pink ambassador with the American Cancer Society. Oklahoma governor Mary Fallin declared the week of Oct. 16 as "Male Breast Cancer Awareness Week."