Ohio town celebrates Christmas early for toddler dying of brain cancer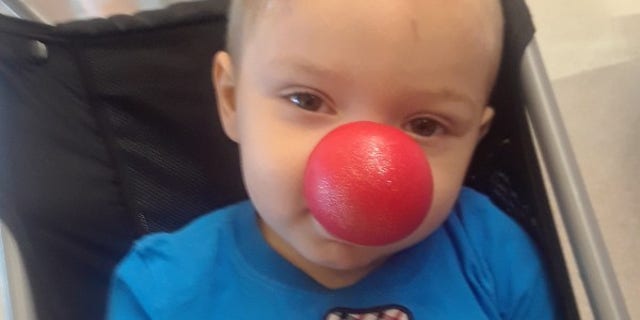 An Ohio town has eagerly ushered in the holiday season this year after answering the call for Christmas decorations to help a dying toddler celebrate one last time. Brody Allen, 2, was diagnosed with an aggressive brain cancer in May and stopped treatments in August.
"When Brody's chemo treatment journey ended, we made a promise to each other that we were going to make each and every single day that he had left better than the next," McKenzie Allen, the boy's 21-year-old sister, told CBS News. "And we wanted to do everything that we could and give him as much joy and happiness that we could, even though he only has a short time left."
FOOTBALL PLAYER WITH CEREBRAL PALSY SCORES FIRST TOUCHDOWN AGAINST RIVAL TEAM
Brody's illness began with a fall, which doctors suspected may have been an inner ear infection, which resulted in a visit to Cincinnati Children's Hospital that revealed a tumor on his brain stem. Later scans led to a diagnosis of Embryonal Tumor with Multilayered Rosettes, which are fast-growing tumors in young children that form in the brain and spinal cord.
The decision to stop chemotherapy was shared on the family's GoFundMe page.
His family said the youngest of six siblings loved seeing the Christmas lights during his first holiday season last year. Allen said that while Brody can't walk anymore, and that he's lost the use of his left arm, his Colerain Township neighbors have helped to lift his spirits.
"Our neighbors, they put up their decorations right next door to us, and it just keeps growing," she told the news outlet. "He absolutely loves it. His speech is impaired, so he has trouble talking now, but he has the cutest little froggy voice. So the first night we put out lights – which compared to now is nothing – we rolled him out in his little wagon and he just let out the biggest 'Wow!'"
Shilo Allen, the boy's mother, started the "Team Brody" Facebook page, where supporters from around the country have shared photos of their own early Christmas displays in support of the boy. Word reached the Cincinnati Bengals, whose running backs had a special message for the toddler.
"Hey Brody!! We heard Santa was making a special trip to see you, so the Bengals Running Backs wanted to wish you a very Merry Christmas!! Who Dey, Brody!!!" Kyle Caskey, the team's running backs coach, posted on the Facebook page.
LAB TEST MAY IDENTIFY DANGEROUS GENE MUTATIONS, STUDY FINDS
The boy's father, U.S. Army veteran Todd Allen, said that his son does not know how sick he is, but "just wants to have fun and enjoy every minute."
"Thank you for all the love, encouragement and prayers," Todd Allen wrote on the Facebook page. "Three months ago we were strangers to each other. Today your [SIC] helping us through, until 4 months ago, the unimaginable. Thank you for taking the time to care."
His siblings have also shared photos of the boy receiving Christmas cards and gifts from supporters. A superhero Christmas parade has been planned for Sept. 23.