OB-GYN under fire for posting patient info on Facebook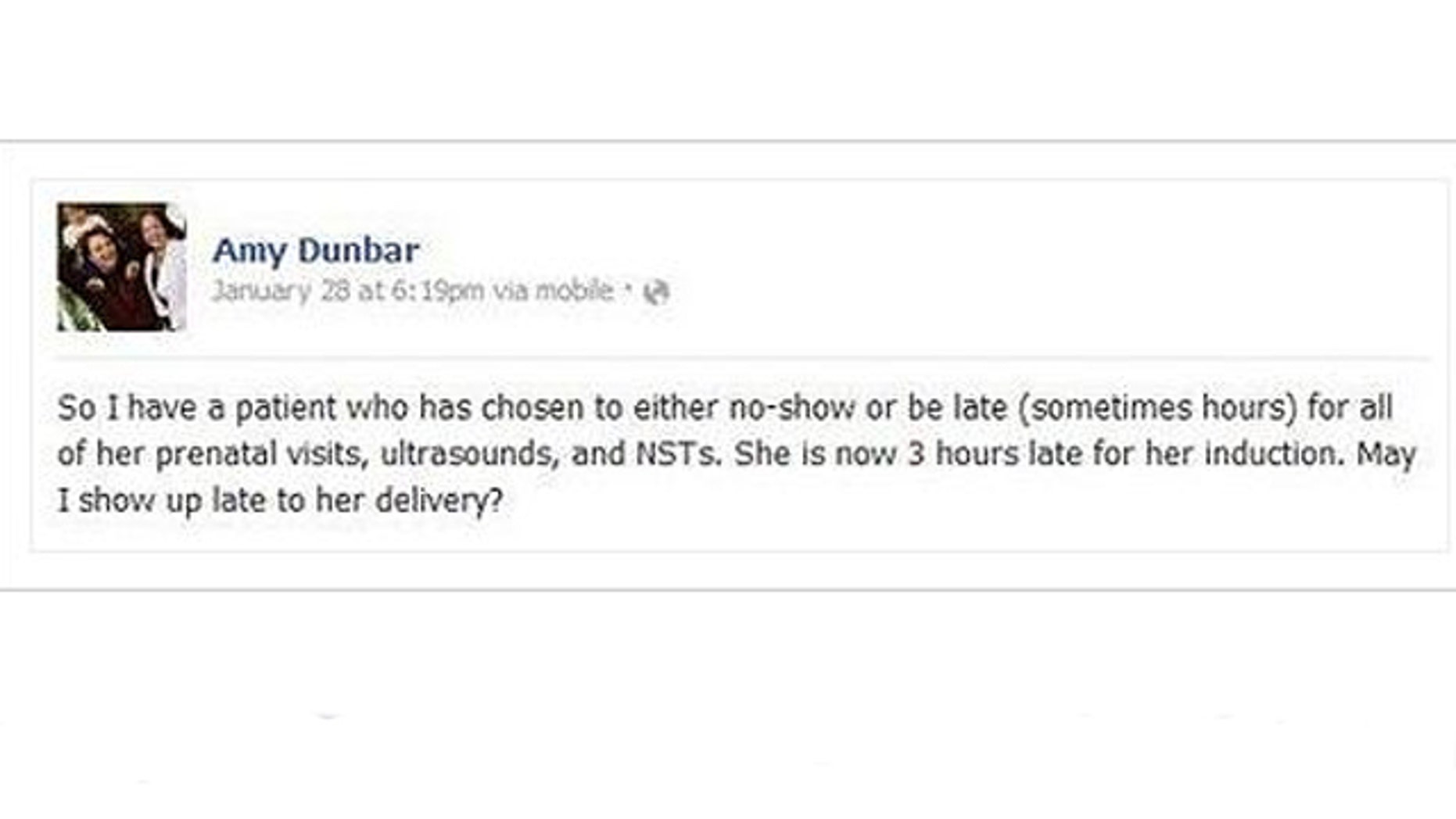 A St. Louis OB-GYN is sparking controversy after she posted negative comments about one of her patients on Facebook, according to various reports.
According to TheBump.com, a popular website for moms-to-be, Dr. Amy Dunbar of Mercy Medical Center posted the following on Facebook:
"So I have a patient who has chosen to either no-show or be late (sometimes hours) for all of her prenatal visits, ultrasounds, and NSTs. She is now three hours late for her induction. May I show up late for her delivery?"
Critics around the blogosphere are saying Dunbar violated the patient's privacy – even though she never mentions the patient by name.
"I hope immediate disciplinary action is taken against each of these individuals," Mands Glover wrote on Mercy's Moms-to-Be Facebook page.
[pullquote]
Another poster disagreed with Glover, saying, "The patient's name was never mentioned . . . there are still thousands of women that match that description."
A person known as "Jan" wrote this on Greta van Susteren's blog GretaWire: "I have a solution. Give the inconsiderate patient the last appointment of the day. When she shows up 3 hours late, the office will have been closed for hours, and no one will be there. Problem solved."
Kylie McConville, who wrote the article on TheBump.com, said, "The situation here is amplified because the patient is pregnant, and the doctor is the one responsible for delivering the baby (and let's get real, there's no way we're okay with the delivering doctor showing up LATE to (the) baby's birth)."
Hospital reacts 
Mercy has not fired Dunbar, but released the following statement:
"Our physician leadership has already called Dr. Dunbar. Her comments were definitely inappropriate. We are also reviewing them to determine if they violated privacy issues, etc. That process requires a more thorough review, but we will determine the appropriate response as quickly as possible. In the meantime, know that our physician organization holds its members to the highest standards and strives to improve our service and clinical care through that process."
Mercy's statement said its privacy compliance staff did not find the posting to be a breach of privacy; but the hospital added it will use this opportunity to educate its staff about the appropriate use of social media.
"…We are very sorry that this incident occurred," according to Mercy's statement, which appeared on several news sites, including KMOV.
Dr. Manny Alvarez, senior managing health editor of FoxNews.com, said the doctor should have had a private discussion with her patient.
"The answer is not to get mad at the patient or to launder your frustrations in public," said Alvarez, who is also the chairman of the Department of Obstetrics and Gynecology and Reproductive Science at Hackensack University Medical Center in New Jersey.
"As a doctor, our role is to heal the sick – but also educate them," Alvarez said. "One of the biggest challenges I have as an OB-GYN is to make my point on the significance of a good relationship between a pregnant woman and her obstetrician. This has to start very early in the relationship."
Alvarez said he has found most patients understand the importance of prenatal visits rather quickly – but in the case they do not comply with the doctors, then it may be time to find a new one.
"If, for whatever reason, there is a lack of compliance, then you can help the patient find another physician, so she can get the care she feels she may not be getting from you," he added.
TheBump.com added the patient may have a valid reason for being routinely late, which is why a private discussion is that much more important.
Click here for more from TheBump.com.