NYC health officials ban unvaccinated kids from school amid measles outbreak in Orthodox Jewish community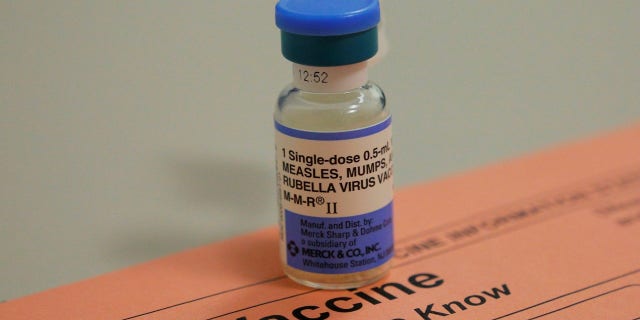 Health officials in New York are requiring students who attend Jewish schools in certain zip codes to get the measles-mumps-rubella vaccine amid a measles outbreak that has sickened at least 39 children in the Orthodox Jewish community since October.
According to the New York City Department of Health, the outbreak stems from an unvaccinated child who contracted measles while on a trip to Israel, which is currently combating a viral outbreak of its own.
FORMERLY CONJOINED TWINS HEAD HOME AFTER 7 SURGERIES
"Effective Friday, December 7, every student attending a yeshiva in the below zip codes in Borough Park and Williamsburg who is not vaccinated with the required number of doses of measles-mumps-rubella (MMR) vaccine will not be permitted to attend school, regardless of whether a case of measles has occurred in the school," a Thursday letter sent by the NYC Department of Health and Mental Hygiene, said.
"Students cannot return to school until they are appropriately vaccinated, or until the outbreak is declared over, even if they have an approved religious or medical exemption to measles immunization," the letter said. "If a person in your school develops measles, additional restrictions apply."
Measles is a highly contagious viral illness that is typically rare in the United States due to available vaccines, but is still relevant in Europe, Asia and Africa. It can be spread through the air when an infected person sneezes or coughs, and can remain active on surfaces for up to two hours.
COMPANY RECALLS INFANT IBUPROFEN SOLD AT WALMART, CVS
The letter stated that children attending day care and pre-kindergarten in the 2018-2019 school year are required to obtain one dose of the MMR vaccine, while those attending kindergarten through 12th grade are required to get two doses.
"Students who are sick with measles must stay home from daycare or school until the 5th day after rash onset, as advised by the Health Department," the letter stated.
Officials said it will be on the principals or directors to enforce the requirements. Affected zip codes include 11204, 11205, 11206, 11211, 11218, 11219, 11220, 11230, 11249.